Welcome to Fall 17 Semester Central!
New myGateway
Register for Classes
Getting to Class
Parking Registration & Where to Park
Student Resources
Frequently Asked Questions
New myGateway
This summer, the North Orange County Community College District launched the updated and modernized myGateway platform for all students, faculty, and staff at Cypress College, Fullerton College, and North Orange Continuing Education (formerly the School of Continuing Education).
A number of myGateway users have reported login and other issues. If you are experiencing problems, including login or PIN resets, contact the District Information Services Helpdesk at  ishelpdesk@nocccd.edu or (714) 808-4849. For quick help, please refer to the District-provided below:
Register for Classes
Need to fill out your schedule, or forgot to waitlist and want to know if that class you were hoping to take opened up? Check out the Fall 2017 Open Class list.
You can register for classes up to the first day of school, Monday, August 28. Be sure to attend the first class meeting! Professors are obligated to drop students who do not attend the first class. If your class does not meet on Mondays, you do not need to attend the first Monday of the semester — just the first day of the class.
Getting to Class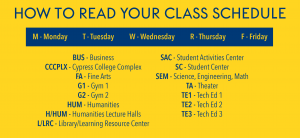 Click here for a map of the campus.
Parking Registration and Where to Park
After you've paid your all of your fees, please activate your parking permit in myGateway. Remember, your license plate is your parking permit.
Note: You may have two vehicles registered to your account, but only one vehicle may be active at a time. Please be sure the vehicle you are parking on campus is the active vehicle in your account.
If you're a new student and unsure how to register or change your active vehicle, please refer to this guide with screenshots and tips to help you through the process.
For returning students, if you're unsure how to renew your permit or change your active vehicle, please refer to this guide with screenshots and tips to help you through the process.
Lot 1 for:
the Business Building
CCCPLX 216 (College Complex Lecture Hall)
administrative offices, including the Foundation Office
the Theater
the Bookstore
the Student Center
the Student Activities Center
Lot 4 for:
Tech Ed 1
Tech Ed 2
Tech Ed 3
the School of Continuing Education Building
Gym 2
Lot 5 for:
Gym 1
Gym 2
the Library/Learning Resource Center
Lot 7 for:
the Library/Learning Resource Center
the Science, Engineering, and Math Building
the Humanities Building or Lecture Halls
Lot 9 (all student parking) for:
the Humanities Building or Lecture Halls
the Fine Arts Building
the Theater
the Science, Engineering, and Math Building
Please Note: Lot 2 and Lot 8 are faculty/staff parking only. Lot 3 is designated for dental lab patients.
Student Resources
Be sure to purchase your textbooks and school supplies at the on-campus Bookstore! You can even order your books online and pick them up in store.
Get involved with the campus community, find your passion, and make new friends!
Associated Students
Clubs
Student Activities
Learn more about programs to get you moving in the right direction and jumpstart your success like EOPS, Honors, Legacy, Puente, and (STEM)2!
If you require disability-related accommondations and/or services during the Fall semester, visit Disability Support Services (DSS) in CCCPLX 100 or call (714) 484-7014.
Disability Support Services
EOPS (Extended Opportunity Programs & Services)
Special Programs
Study Abroad
Be sure to take advantage of our library and tutoring services for a successful semester!
English Success Center
Library
Math Learning Center
Smart Thinking (Online Tutoring)
Tutoring
Many Cypress College students transfer to a four-year university, or find employment right after receiving their degree or certificate. Make sure you're on the right track by visiting counselors who will help you plan your path.
Career Planning Center
Counseling
Cranium Cafe (Online Counseling)
Transfer Center
Looking for other resources to make sure you're starting off on the right track physically and mentally?
Campus Map
Health Center
Online Workshops
Frequently Asked Questions
I'm a new student and need some help getting oriented. Where do I go first?
The Student Center (Building 19) should be your first stop when you have questions. It houses Admissions & Records, where you'd go for questions pertaining to enrollment and registration, transcripts, name and address changes, etc.; the Bursar, to pay fees; the Counseling Center, to make appointments and meet with a counselor; the Career Planning Center, to figure out your long-term path and assist with employment; and the Transfer Center, to assist with preparing to transfer to a four-year university.
New students are highly encouraged to attend New Student Welcome Night on the Friday before classes begin (Aug. 25). There you'll have an opportunity to meet your division dean and faculty members, ask questions of current and former Cypress College students, tour your division of interest, and learn about all the student and academic support services the college has to offer. It's also an opportunity to beat the first-week-of-school crowds to pay fees and purchase textbooks, pay for a student ID card and Associated Students sticker (for great discounts and benefits on and off campus!), and pay for a parking permit.
Student Ambassadors are also on campus to help you with any questions you may have throughout the semester. Visit them at the Welcome Center in the Student Center at the first counter next to Admissions & Records.
I'm having a problem logging in to myGateway. Who do I contact?
Please contact Admissions & Records regarding any problems with myGateway. They can be reached by phone at (714) 484-7346.
How much is a semester parking pass at Cypress College, and how do I register my vehicle?
A semester parking pass costs $35.00 for an automobile and $20 for a motorcycle. Cypress College has an automated parking system that does not require a physical parking pass or decal. This link provides a step-by-step guide showing how to register your vehicle.
Note: This semester, there is a two-week grace period for permit enforcement at the beginning of the semester (Aug. 28-Sept. 10). All other parking violations will be enforced during this grace period.
For other parking-related questions, see the Parking FAQ.
I want to add a class, but had to go on the waitlist. 
If you're attempting to add a class and myGateway asks for an add authorization code, it means the class is full or is not available for registration because it has already begun (or is about to begin). Distribution of these codes is at the discretion of the faculty member, and is generally done on the first day of classes. If a waitlist is available for a full class, you should be given the option to add to it.
When you are on a waitlist (or waitlists), we strongly encourage you to check your myGateway messages channel on a regular basis. If a spot opens up for you, a notification will appear in your messages. We'll also attempt to send you an email. However, some providers (ahem, Yahoo!) aggressively block email from cypresscollege.edu and nocccd.edu.
Waitlists expire at midnight on the day the class begins. That means that on the first day a class meets, there's no longer a waitlist. Instead, the list is included in priority order on the instructor's roster as a tool to help faculty with the petition process. So, if you're on a waitlist, you'll need to attend the first class meeting in hopes of obtaining an add code. Likewise, if you're petitioning a class, you'll want to arrive early to the first class meeting. Since your name isn't on the roster or the waitlist, you'll want to let the instructor know before class that you're petitioning.
I need help paying for textbooks. What assistance does Cypress College offer?
There are a number of ways Cypress College helps you to be as prepared for class as possible. The Bookstore offers a textbook rental program for a number of classes offering savings up to 80%. Check to see if your course textbook is included.
The Cypress College Foundation may be able to assist you with purchasing textbooks by providing a book loan. Visit the office on the 3rd Floor of College Complex in CCCPLX 301 starting the first week of school. Call (714) 484-7126 for more information.
Finally, stop by the EOPS (Extended Opportunity Programs & Services) Office to find out if you qualify for their book service program. Call (714) 484-7368 for more information.
Does Cypress College offer scholarships?
Yes, the Cypress College Foundation offers a number of scholarships for students; however, the application period for the 2017-2018 school year has already passed. Applications for the 2018-2019 school year will be available towards the end of the Fall 2017 semester online and in the Foundation Office on the 3rd Floor of College Complex in CCCPLX 301.
The Foundation Office also keeps a binder of external scholarships for students to look through year-round.
For more information, please call (714) 484-7126.
Have a specific question not addressed here? Check out our Contact Us page or Campus Directory to get in touch with someone who can help!