Accreditation, Strategic Plan Top IR & P Discussion List at Opening Day Meeting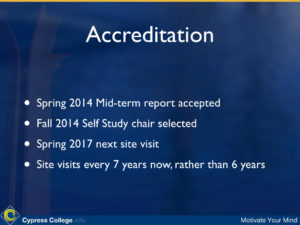 Phil Dykstra, the College's Director of Institutional Research and Planning, reported at Opening Day that Cypress College's 2014 mid-term accreditation report was accepted by the Accrediting Commission for Community and Junior Colleges this summer. Approval of the document closes the last accreditation cycle.
This semester, the campus will select a self study chair in preparation for the 2017 site visit. Among the changes to the accreditation process, site visits will now take place every seven years rather than six. The process now includes new standards for the self study. These include one on institutional integrity.
Dykstra also indicated that work on development of the 2014-2017 Strategic Plan is wrapping up. Comments on the draft document are due on Tuesday. Visit http://www.cypresscollege.edu/sp1417 and use your normal computer log-in information to access the draft version of the strategic plan, which was developed at last semester's colloquium.
The plan and the comments will be presented to the Planning and Budget Committee on Thursday, September 4.
The new plan is streamlined — featuring three directions instead of five. They are: student success; organizational effectiveness and excellence; and strong community connections. The plan also features 13 objectives, down from 16, and has 36 objectives, an increase from 29 in the previous plan.
Questions should be directed to Dykstra at ext. 47311 or via email to pdykstra@cypresscollege.edu.
Update: The deadline to submit comments has passed and the links in this post are no longer active.