Cypress Bistro
---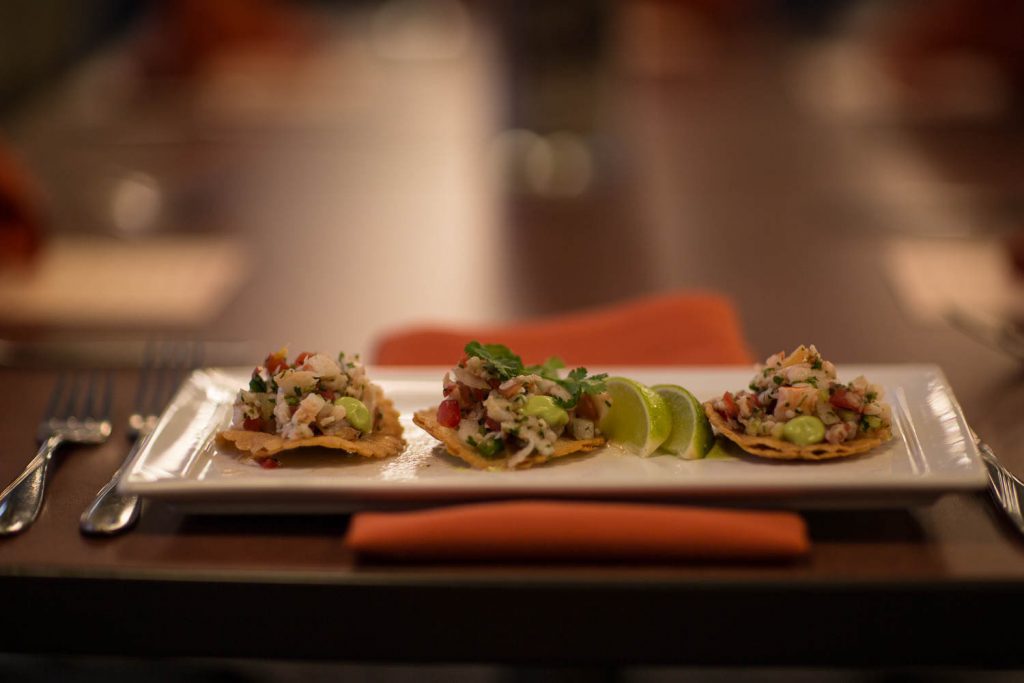 Welcome back to our classroom, Cypress Bistro, a student-run restaurant featuring dishes prepared by our World Cuisine advanced culinary students and served by our Restaurant Management class from Cypress College's Hotel, Restaurant, and Culinary Arts Department.
Lunch is served on Thursdays with one seating time at 12 p.m. Please allow for a leisurely experience of at least 1 hour and 15 minutes. Each meal consists of a three-course cuisine for $20 (includes tax and beverages, specialty beverages incur an additional charge). Gratuities are graciously accepted for student activities. At this time, we are only able to accept cash payments.
To create the optimal learning environment for student success, we prefer parties no larger than four guests. We cannot accommodate to-go orders. For reservations, please email your full name and phone number to Tracey Heine, theine@nocccd.edu. If your plans change, please cancel within 24 hours to allow guests on our waitlist the opportunity to enjoy this dining experience.
---
February 23: Sicily (Opening Day)
Table Set
Braided Sesame Semolina Bread.
Sun-Dried Tomato Pesto Butter.
Starter
Grilled Fennel & Citrus Salad
Green Olive. Ricotta Salata.
Crispy Pancetta. Pistachio Vinaigrette.
Entree
Porcini Mushroom Braciola
Creamy Gorgonzola Polenta. Garlicky Broccoli Rabe.
Marsala Reduction.
Dessert
Bittersweet Chocolate Olive Oil Cake
Strawberry Marsala Coulis.
Lemon Basil Cannoli Cream.
March 2: Lebanon
Table Set
Fire-Roasted Naan. Whipped Garlic Dip.
Starters
Olive Wood-Smoked Falafel Bites
Roasted Garlic Yogurt. Pickled Grapes.
Spicy Pomegranate BBQ Sauce.
Fattoush
Compressed Cucumber. Crushed Pita. Feta Mousse.
Purple Beet Fluid Gel. Kalamata Olive Vinaigrette.
Entree
Grilled Chicken Shish Tawook
Israeli Pearl Couscous. Pickled Pearl Onion.
Creamy Tzatziki Sauce.
Dessert
Brown Butter Tahini Blondie
Greek Yogurt Sorbet. Black Garlic Caramel.
Orange Blossom Crème Anglaise. Walnut Soil.
March 9: Monaco
Table Set
Herbs de Provence Focaccia. Dipping Oil.
Starters
Creamy Mushroom Bisque
Mushroom Medley.
Smoked Crème Fraiche. Black Garlic Foam.
Warm Duck Confit Salad
Bitter Greens. Forelle Pear. French Breakfast Radish.
Roquefort. Champagne Vinaigrette.
Entrees
Moules & Frites
Steamed Mussels. Tarragon Cream Sauce.
Parsley Fries. Lemon Truffle Aioli.
Crispy Porchetta
White Bean Cassoulet. Sautéed Asparagus.
Dijon Beurre Blanc.
Dessert
Lemon Crème Brulee
Blackberry Cassis Compote. Fresh Lavender.
March 30: Vietnam
Table Set
Sesame Roll. Red Bean Butter.
Starters
Rainbow Summer Roll
Watermelon Radish. Carrot Pickle.
Avocado Puree. Mango. Tamarind Ginger Sauce.
Mini Banh Mi Slider
Caramelized Pork Belly. Duck Liver Pate. Walnut Mustard.
Daikon Radish & Purple Carrot Slaw. Sriracha Aioli.
Entree
Vietnamese-Inspired Pot Au Feu
Braised Beef Short Rib. Roasted Rainbow Carrot.
Fingerling Potato. Spiced Pho Broth.
Desserts
Coconut Cheesecake
Black Sesame Crust. Sweet Corn Mousse.
Lime Curd. Candied Kumquat. Sesame Brittle.
Dark Chocolate Ginger Tart
Coffee Chantilly Cream. Dragon Fruit Coulis.
Ginger Butterscotch. Gingersnap Crumb.
April 6: Ethiopia (Buffet)
Starters
Injera
Sourdough Flatbread
Doro Wat Chicken Wings
Berbere Glaze. Ethiopian-Infused Aioli.
Cured Egg Yolk.
Entrees
Ethiopian-Style Beef Stew.
Sautéed Turmeric Cabbage.
Black-Eyed Peas with Coconut Milk.
Peanut Stew with Caramelized Onion, Tomato & Kale.
House-made Cottage Cheese with Collard Greens.
Berbere-Spiced Grape Tomato Salad.
Desserts
Gooey Butter Cake
Ethiopian Coffee Sauce. Salty Whipped Cream.
Chocolate Espresso Bean.
Sour Cherry Tartlet
Cardamom Crème Anglaise. Ginger Crumble.
Candied Fennel Seed.
April 13: Sweden (5-Course Tasting)
Appetizer
Swedish Crispbread. Smoked Trout Dip.
Soup
Caraway Cabbage Soup. Mustard Caviar.
Buttermilk Espuma. Rye Crumb.
Vegetable
Charred Carrots. Beet Puree.
Parmesan Crisp. Dill Chimichurri.
Entrée
Juniper-Crusted Sous Vide Striploin.
Pomme Puree. Swedish Pickle. Aquavit Demi.
Dessert
Orange Cardamom Bread Pudding. Sour Cream Ice Cream.
Vanilla Sauce. Lingonberry Jam.
April 20: Thailand
Table Set
Crispy Wonton Chips
Peanut Satay Sauce.
Starters
Thai-Glazed Pork Meatballs
Cabbage & Beansprout Slaw.
Sweet & Sour Glaze.
Creamy Thai Coconut Soup
Curried Shrimp. Crispy Rice Noodles.
Spicy Chili Oil. Finger Limes. Coconut Foam.
Entrees
Thai Fish & Chips
Curry-Battered Cod. Cassava Fries.
Roasted Garlic Oil. Kimchi Tartar Sauce.
Tamarind-Braised Beef Short Ribs
Spiced Potato Puree. Sweet Onion Compote.
Thai Chili & Garlic Long Beans.
Desserts
Mango Bar
Ube Mascarpone Cream.
Puffed Black Rice. Kaffir Lime Mint Syrup.
Thai Tea Pound Cake
Date Buttercream. Pink Peppercorn Ice Cream.
Strawberry Pearls. Coconut Sauce.
April 27: Colombia
Table Set
Crispy Plantain Chips. Colombian Spices. Aji Aioli.
Starters
Colombian Cheese Arepas
Masarepa Corn Dough. Mozzarella Cheese.
Avocado Mousse. Hogao Creole Sauce.
Elote Corn Ribs
Herb Butter. Spicy Paprika Crema.
Queso Fresco. Lemon Aioli.
Entrees
Sous Vide Flank Steak
Black Bean Puree. Cilantro Lime Rice.
Chimichurri Sauce. Avocado Dust. Citrus Gel.
Grilled Grouper
Yuca Fritter. Smoky Squash Puree. Coconut Foam.
Yellow Aji Sauce. Pink Guava Beurre Blanc.
Desserts
Passionfruit Pate Sucree
Sweet Orange Tartlet. Passionfruit Cream.
Lime Meringue. Passionfruit Coulis. Coconut Sorbet.
Ginger-Glazed Zucchini Donut
Colombian Coffee Ice Cream. Coffee Cake Crumble.
Candied Aji Dulce Chili. Cinnamon Crème Anglaise.
May 4: Japan
Table Set
Mochi Bread Skewers
Edamame. Cherry. Espresso.
Dragon Fruit Butter.
Starters
Shichimi Togarashi Potato Croquette
Furikake Flakes. Japanese Curry Sauce
Tuna Poke
Dehydrated Jalapeno. Wasabi Rice Crisp.
Mandarin Oranges. Carrot Vinaigrette.
Entrees
Karrage Chicken
Korean Rice Cakes. Miso Mushrooms.
6-Minute Soy Egg. Gochujang Brown Butter.
Pan-Seared Sea Scallops
Dashi Risotto. Spinach Pearl.
Umeboshi Beurre Blanc.
Desserts
White Chocolate Cremeux
Matcha Ice Cream. Popping Sugar. Wasabi Dust.
Charcoal Craquelin Bun
Japanese Kit Kat Chantilly Cream.
Strawberry Shortcake Crumble.
Fresh Berries. Sake Zabaglione Sauce.
May 11: Polynesia
Table Set
Coconut Rolls. Ube Butter.
Starters
Crispy Coconut Shrimp
Purple Cabbage & Carrot Slaw.
Pineapple Mint Dressing.
Spam Musubi Bites
Black Seaweed. Sweet Teriyaki.
Sambal Mayonnaise. Scallion Threads.
Entrees
Banana Leaf-Roasted Pork Shoulder
Sweet Potato Puree. Grilled Broccolini.
Lemongrass Herb Chimichurri.
Ginger-Soy Reduction.
Pan-Seared Mahi Mahi
Yellow Coconut Rice. Grilled Baby Bok Choy.
Mango Beurre Blanc.
Desserts
White Chocolate Cheesecake
Hibiscus Gel. Macadamia Crust.
Strawberry Lime Coulis. Kiwi Sorbet.
Soft Banana Cake
Cashew Dentelle. Cashew Crumble. Lemongrass Syrup.
Ginger Honey Ice Cream. Guava Coulis.
Reservations for our Student Showcases will be made available at a later date.
Cypress Bistro is located on the first floor of the NOCCCD Anaheim Campus, located at 1830 W. Romneya Drive, Anaheim, CA. We appreciate your support and hope to see you this semester.
Cheers! Cypress Bistro Faculty, Staff and Students
Cypress College School of Culinary Arts & Hospitality Management
Follow Cypress Bistro on Instagram: @CypressBistro