Veterans Resource Center
---
Veterans Resource Center Virtual Front Counter
Video chat on Cranium Cafe with Veterans Resource Center
---
Our staff offers guidance with:
Educational Benefit application
College Admissions application
Academic/Career Counseling
Registration for classes
On/Off-campus resources
Other services provided:
English and Math Tutors
Computer Access
Outside the Wire Program—Mental Health Services
Cypress College Veterans Organization
Professional Development-Green Zone Project Training
COUN 150—Academic and Life Skills (transition from military to college life)
Book Loan Program
Book Voucher Program
Peer-to-Peer Mentorship
---
Mission Statement
The Cypress College Veterans Resource Center (VRC) was established in 2010 and provides assistance to active duty, veterans, and dependents seeking to complete an educational degree or certificate of achievement. The VRC and Cypress College Veterans Organization (CCVO) is the primary campus advocate for military and veteran students. It works with them to ensure their unique needs are met by coordinating with offices of various campus services. The VRC and CCVO provide assistance in coordinating with academic counseling, disability accommodations, financial aid, veteran benefits information, and additional referral to campus, local, state and federal resources and services.
---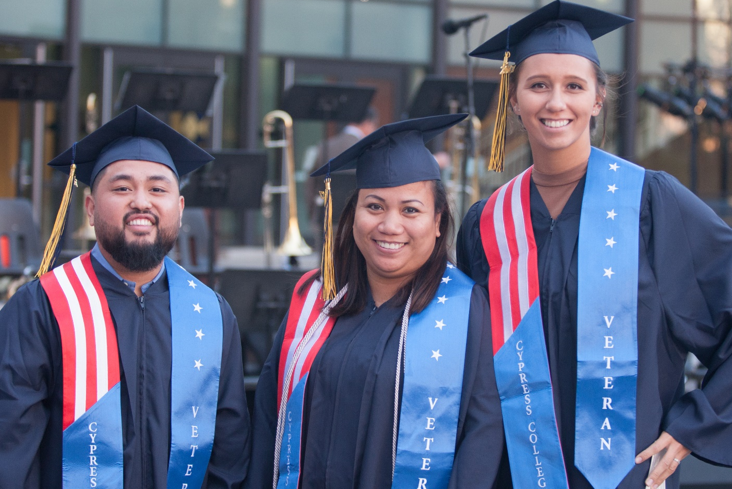 Vision Statement
The VRC and CCVO are committed to ensuring that military and veteran students successfully make the transition from the military environment to campus life, and are assisted in their progress toward completing their academic degree. The VRC and CCVO also provide opportunities for peer-to-peer support for academics and wellness as well as camaraderie, mentoring, and social networking through active participation in campus and local communities. We welcome volunteers from the veteran student community to work with their fellow veterans as mentors to assist them in achieving a successful academic experience.
---
Follow Cypress College Veterans Organization on Social Media!
Facebook: @CypressCollegeVeteransOrganization
---