International Students Program
---
Cypress College welcomes applications for its International Students Program. Our college is authorized under federal law to enroll non-immigrant F-1 visa students. One of the goals of our program is to provide positive educational opportunities for international students from around the world in an effort to promote and improve the global community.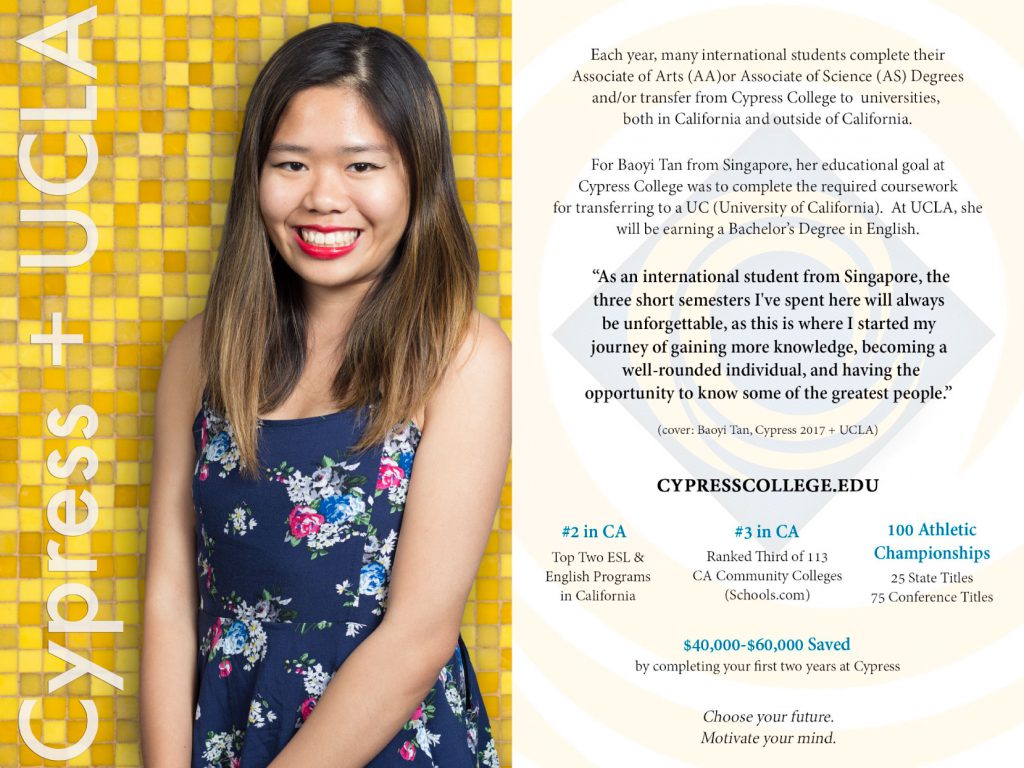 ---
Our staff offers assistance with:
Application processing
Academic advisement
Orienting students to living in Southern California
Cypress College is a 2-year community college that offers:
Transfer programs to 4-year universities
Associate degree programs
Cypress College also offers an excellent credit ESL program that has been recognized statewide for its success. Students can find more information about credit ESL courses, including ESL 110C, our transfer-level composition course that meets the same requirements as ENGL 100, on the following pages:
Cypress College has two traditional 16-week semesters that begin in August (fall semester) and January (spring semester). Some of our popular majors include:
Science, Engineering, Mathematics
Accounting/ business/ management
Hotel, restaurant and culinary arts
Airline and travel careers
Complete list of academic programs offered at Cypress College
F-1 Visa students will not be accepted for admission into any program when applications by qualified U.S. citizens exceed space available.
---
---
Follow International Students Program on social media!
Facebook: @cccisp
Instagram: @CypressCollegeISP
---
Location
Student Life & Leadership, Building 8, Room 163
Contact Information
T: (714) 484-7049
E: International@CypressCollege.edu
Yongmi Han, Program Manager
E: international@cypresscollege.edu
Vivian Kim, Administrative Assistant II
E: vkim@cypresscollege.edu
Hours
Monday–Thursday 8 a.m. – 6 p.m.
Friday (remote only) 8 a.m. – 5 p.m.