Financial Aid
---
---
Inside the Summer 2023 Financial Aid reminder email are the resources you need to make sure you're prepared to succeed this semester! We cover some of our most frequently asked questions that we receive at the start of each semester.
For more information about the disbursement process, please visit the Disbursement Information section of our site.
---
---
Registration FAQs
Do I need to reapply for aid each year? What application is used for summer 2023?
Yes, you must reapply for financial aid each year. Fall 2022 is the start of our 2022-23 aid year. If you have not yet applied for 2022-23, it's not too late! You can apply now (see our "Financial Aid Application Process" section for help with applying). 2022-23 will cover fall 2022, spring 2023, and summer 2023. The last day to apply for 2022-23 aid is June 30, 2023.
My CCPG (fee waiver) isn't working, it is charging me enrollment fees?
There could be several reasons why your California College Promise Grant (CCPG) hasn't posted:
You haven't applied yet for 2022-23 (the 2023-24 application will not cover summer 2023).
You forgot to add Cypress to your FAFSA or CADAA
The class(es) you registered for are at Fullerton College – if this is the case, you just need to add Fullerton to your FAFSA or CADAA and resubmit so that they can post the CCPG for you.

If you see an "F" next to a course number, that is a Fullerton course. (Ex: Math 40 F)
If you see a "C" next to a course number, that is a Cypress course. (Ex: Math 40 C)

You have been disqualified – get information on the standards and how to regain eligibility.
Please note for summer registration: the CCPG posts to eligible student accounts within 48 hours after the student registers for a summer course. Students will not be dropped for nonpayment while waiting for the CCPG to post to their account.
When registering, the system says I will be dropped from my classes if I don't pay all fees right now?
As of January 10, 2023, any* student who is paying non-resident tuition with a balance over $100 will be dropped for non-payment for the spring 2023 semester. Students will be notified via email prior to being dropped.
*The following non-resident students who have been classified by Admissions and Records as Veterans, International Students, AB540, Promise, and students who have applied to graduate are exempt from being dropped.
California residents and students in the exempt group above: If you're in the process of applying for aid or completing your financial aid file, you can wait to pay the fees until you have completed your financial aid file. You will not be dropped for nonpayment; however, if you have an unpaid balance greater than $100, you will receive a hold on your account. The hold will prevent you from being able to register for classes in the future until the balance is paid.
What if I paid for my enrollment fees, and then qualify for the CCPG (fee waiver) after? Will I get my money back?
If you qualify for the CCPG (fee waiver) after you've already paid for your enrollment fees, you will receive a reimbursement check in the mail from the Bursar's office. Each semester, refunds are processed automatically after the last day to drop classes with a refund (this usually is around the same date as the financial aid freeze date). If any issue arises and you do not receive your refund, please check directly with the Bursar's office.
Please ensure that your mailing address is up-to-date in myGateway (if you're not sure how to view/correct your mailing address (as well as email address), please view our short tutorial.
I am a non-resident and have to pay out-of-state tuition – how can I put my Pell grant towards my non-resident fees?
If you are eligible for Pell grant funds, you can wait for your Pell grant to pay out (see disbursement schedule) and you will be required to pay the remaining balance. You will not be dropped for nonpayment, but you will have a hold on your account until the balance is fully paid off. If you do not want the hold on your account, you can contact the Financial Aid Office to request a Non-Resident Fee Deferment Form – however, you will need to pay the remaining balance up front.
How do I check the status of my Charger Experience (Promise) Program / North Orange Promise?
If you have already completed your financial aid application and file, check the Student Success checklist in myGateway. If you have questions regarding your checklist, please contact the Promise Center at chargerexperience@cypresscollege.edu. Complete either the FAFSA or CADAA. The 2022-23 year applies for the current school year (through summer 2023) and the 2023-24 year begins fall 2023.
Once you submit and we receive your application, you may need to complete additional required documentation through our online software at cypresscollege.studentforms.com. (You'll receive an email with instructions once we receive your application). Please review our Financial Aid Application Process for a step-by-step guide of what to expect after you apply.
How does an Excused Withdrawal impact my financial aid?
Students may select an Excused Withdrawal (EW) with a refund via myGateway. For Financial Aid purposes, EW's are treated similarly to a Withdrawal (W) from a class and will impact your Satisfactory Academic Progress (SAP). Receiving an EW will directly impact the completion rate portion of your SAP since you attempted the class and did not complete it.
Important note: Cypress College has a COVID-19 SAP exemption for W and EW grades earned during the spring 2020 semester through end of fall 2021. W and EW grades earned during the exemption period are excluded from the 67% completion Rate and Maximum Timeframe calculations. W and EW grades earned before or after the exemption period will still count against you when SAP is calculated.
Students who are disqualified due to SAP, whether as a result of GPA below 2.0, completion rate below 67%, and/or reaching the maximum timeframe, are encouraged to submit a SAP appeal. COVID-19 extenuating circumstances can be considered via a SAP appeal if they happened during spring 2022 and after.
For more information on how your SAP is calculated, please review the SAP link provided above.
---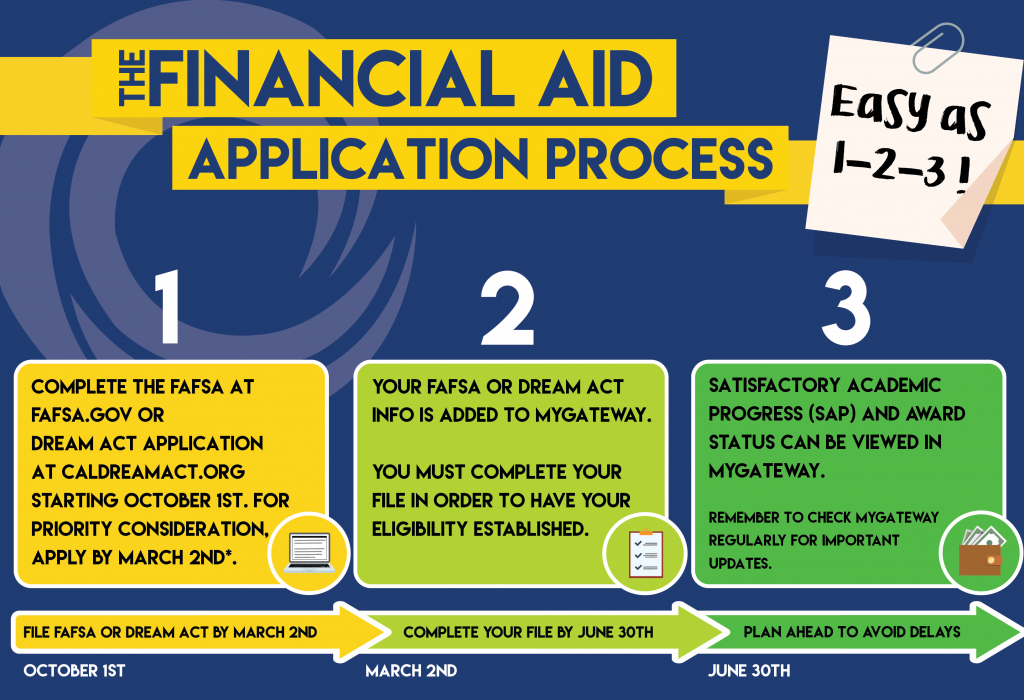 The financial aid application process can be done in three steps:
Complete the FAFSA or Dream Act application (CADAA) starting October 1. For priority consideration, apply by March 2. (Ex.: for the 2022-23 aid year, apply by March 2, 2022.)
Your FAFSA or CADAA info is added to myGateway. You must complete your file by June 30 in order to have your eligibility established.
Satisfactory Academic Progress (SAP) and award status can be viewed in myGateway. Remember to check myGateway regularly for important updates.
Students in good standing typically graduate and transfer on time. Maintaining good standing is essential if you plan on receiving financial aid when you transfer.
Students on financial aid warning are provided one semester to improve their academic performance being being disqualified. Students who have exceeded the maximum timeframe are automatically disqualified and do not receive a warning semester.
Disqualified students are provided specific instructions regarding the appeals process, timeline, and procedures for requesting additional eligibility via email and myGateway.
---
Get Help with Financial Aid Questions
Our offices are currently open to in-person visits. Please view our office hours below. We are also available remotely (phone, chat, email) during office hours to assist you as quickly as possible. Please remember to include your student ID number in your message (or bring your photo ID if visiting in person).
If you require in-person accommodations, please contact our office one business day in advance so that we can make appropriate arrangements to best serve you.
Email: financialaid@cypresscollege.edu
Live Chat: Cranium Café (sign in with your myGateway login)
Social Media: @cypressfinaid
Phone: (714) 484-7114
For more information regarding the Campus and Coronavirus Updates and Planning, please visit cypresscollege.edu/coronavirus/.
---
Location
Cypress College Complex (Building 6), 1st Floor, Room 120
Contact Information
T: (714) 484-7114
F: (714)-484-6061
E: FinancialAid@CypressCollege.edu
Hours
Monday – Thursday 8 a.m. – 6 p.m. (in person & remote)
Friday 8 a.m. – 5 p.m. (remote services only)
Summer Office Hours (June 5 – August 11):
Monday – Thursday 8 a.m. – 6 p.m. (in person & remote)
Fridays: Closed