Budget Outlook Brighter than 2013-14; M&O Projects Completed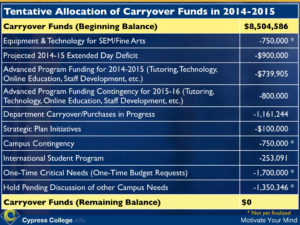 Vice President Karen Cant delivered her most-upbeat Opening Day budget presentation since moving into her current role in 2007. The best news: there are no budget cuts for the 2014-2015 academic year.
Other highlights:
Access (growth) 2.75% (NOCCD target is 5%)
COLA .85%
Categoricals: $100m for SSSP, $70m for Student Equity, $30m for DSPS
$30 million for Deferred Maintenance and Instructional Equipment
Prop 39 Energy Grant — $47 million to be allocated to sites based on FTES
Concerns about the enacted budget include:
Match requirements for categoricals are high
Proposition 30 is temporary

Sales tax increase ends 2016.  Income tax increase ends 2018.
Potential long-term loss to NOCCCD is approximately $24 million annually

STRS obligation increase of 19.1% projected w/no resource ID'd
All of last year's one-time budget requests were funded. This year, $1.7 million is planned for that program. The projected deficit in the Extended Day budget is approximately $900,000. Both of these will be funded from the College's carryover balance of $8.5 million.
Facilities projects completed during the summer include: lighting retrofit project; parking lot repair and re-striping; refinishing of the gym floors; HVAC projects in TE-II, TE-III, and Gym 2; and a fire alarm upgrade in Humanities. In addition, the new marquee should be installed by the end of the calendar year.
Cant also highlighted the conversion of all campus email to the Microsoft 365 platform, a project that was two years in the planning.