Enrollment, FTES Projections Shared at Opening Day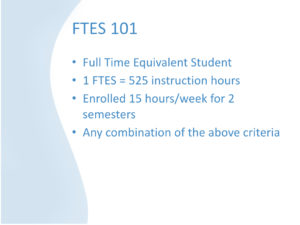 Cypress College plans to increase enrollment by 5% this academic year, the first significant growth since the state economic downturn began restricting funding late last decade.
Executive Vice President Santanu Bandyopadhyay discussed the college's enrollment plans during last Friday's Opening Day meeting. The college is targeting a 2014-2015 enrollment of 11,375.82, up from an actual 2013-2014 enrollment target of 10,982.12 full-time equivalent students (FTES).
The presentation included a segment on "FTES 101" to provide context for the enrollment measure used by the state to determine funding for Cypress College.  One FTES is comprised of 525 instructional hours, the result of calculating 15 hours per week for two semesters (based on a 17.5-week semester). A single FTES is derived from any combination of this criteria — for example two students enrolled in 15 units for a semester each, or 5 students enrolled in 3 units for both the fall and spring semesters. The District is funded at $4,636.49 per FTES, though the FTES number is capped.
Among the enrollment-management challenges faced by the college, Bandyopadhyay identified that:
Demand is not uniform across divisions
Seat availability is constrained by:

Facilities
Cost
Effective Pathways

Unmet demand (not a complete list)

Communication– 712
English – 1,213
Math – 2,001
Biology – 994
Psychology – 360
The list is long…..