Dr. Simpson's @Cypress Weekly Newsletter for September 5, 2014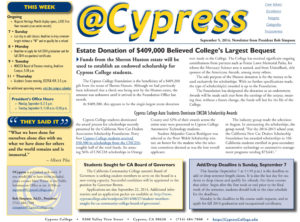 The September 5, 2014,  edition of the @Cypress newsletter from Cypress College President Bob Simpson is now available.
This week's headlines:
Estate Donation of $409,000 Believed College's Largest Bequest
>   Funds from the Sheron Huston estate will be used to establish an endowed scholarship for Cypress College students.
Cypress College Auto Students Dominate CNCDA Scholarship Awards
Students Sought for CA Board of Governors
Add/Drop Deadline is Sunday, September 7
Study Abroad in Rome for Spring 2015 Application Deadline is November 1
Transfer Center Schedules TAG Workshops, 1-on-1 Appointments
California Community Foundation Selects Tsuno for Prestigious Fellowship
"This Week," "They Said It," and "Chargers" Features
Plus @Cypress Bonus Material, including photographs from "Welcome Back," men's soccer, and the CNCDA scholarship presentations.
View the complete @Cypress archives if you want to have a look at previous editions.