September 12, 2014, @Cypress Newsletter from Dr. Simpson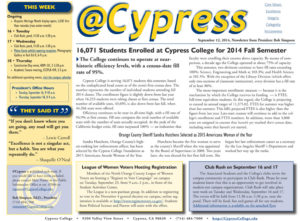 Here is the September 12, 2014, edition of Dr. Simpson's @Cypress newsletter.
This week's headlines:
16,071 Students Enrolled at Cypress College for 2014 Fall Semester
> The College continues to operate at near-historic efficiency levels, with a census-date fill rate of 95%.
Orange County Sheriff Sandra Hutchens Selected as 2015 Americana Woman of the Year
League of Women Voters Hosting Registration
Club Rush on September 16 and 17
"This Week" and "They Said It" Features
Plus @Cypress Bonus Material, including a photographs from the STEM mentoring lunch, and information about the League of Women Voters registration drive.