Charger Cafe Offering Heat and Serve Thanksgiving Dinner
For the first time ever, Charger Café is offering a "heat and serve" Holiday Dinner Menu. This is how it works:
You confirm your order and pay for it by 5 p.m. Wednesday Nov. 19, 2014.
The Charger Café staff hand picks all ingredients and prepares your order from scratch.
They chill it and have it ready for pick up by 8 a.m., Wednesday, November 26, 2014. The pick up window is 8 a.m.-8 p.m.
Take it home, along with heating and serving tips and heat it up on the day of your dinner.
Why order from us instead of the other stores or supermarkets?
1. You're already at the pick-up location — no need to make an extra stop.
2. The meals are prepared in small batches, which allows allows them to be cooked the week of Thanksgiving, not weeks before in a factory like other places.
3. The Charger Café never refreezes your food after its cooked. (Please note certain ingredients comes frozen, i.e. turkey, and out of season vegetables)
4. All Charger Café items are made from scratch, using proven recipes
5. The turkey is submerged in a brine with fresh herbs and spices for 72 hours
6. The house BBQ sauce is made from scratch, BBQ ribs are slow baked all day until they fall off the bone
7. The hickory smoked spiral ham is slow baked with honey and pineapple slices
8. The prices are very competitive, about $8 a serving!
9. This is a great way to support the Cypress College community, especially the Charger Café staff who are mostly part-time college students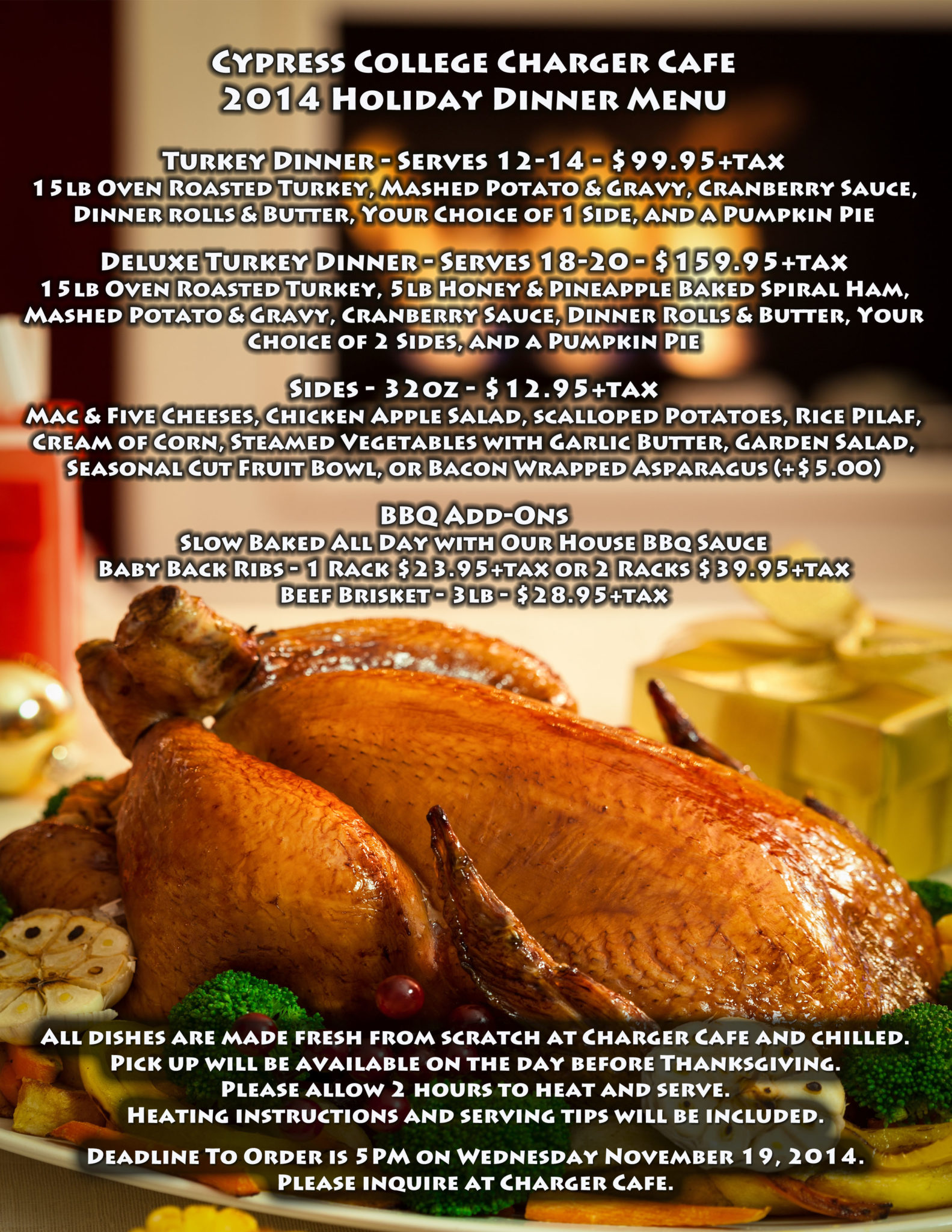 The 2014 Holiday Dinner Menu is included above. Please submit all orders in person at Charger Café. The café is open Monday-Thursday from 7:45 a.m.-8 p.m.