LA Times: 'Game changer': 4-year degrees from some California 2-year colleges
On Friday, Cypress College officially submitted its application to state officials to become one of the 15 programs selected for California's pilot program to offer baccalaureate degrees at community colleges. Earlier, Trustees for the North Orange County Community College District had selected Cypress College's Mortuary Science Program to represent the NOCCCD in the process.
Today's Los Angeles Times covers Cypress College's bid with an article by Jason Song and photography/videography by Mark Boster.
Steve Crawford recently graduated from the mortuary science program at Cypress College in Orange County. If he passes state tests, he could get a job in a coroner's office, which was once his dream job.

But Crawford has decided he might want to work as a funeral director or operate his own business, which would be easier if he had a four-year degree. He would have to move, however, since no California schools offer baccalaureate mortuary degrees.

"I'd rather stay here," said Crawford, 28. "But I want to see how far I can go in this field, too, and if that means more school, I have to consider" leaving the state.

Under a new state law, Crawford might be able to stay put and get a four-year degree at Cypress. The community college is one of 36 campuses and districts that have said they plan to apply for an opportunity to offer four-year degrees. It would be the first time community colleges in California would be eligible to offer more than associate's degrees.
The article includes interviews with Cypress College faculty and students, as well as from others unaffiliated with the campus.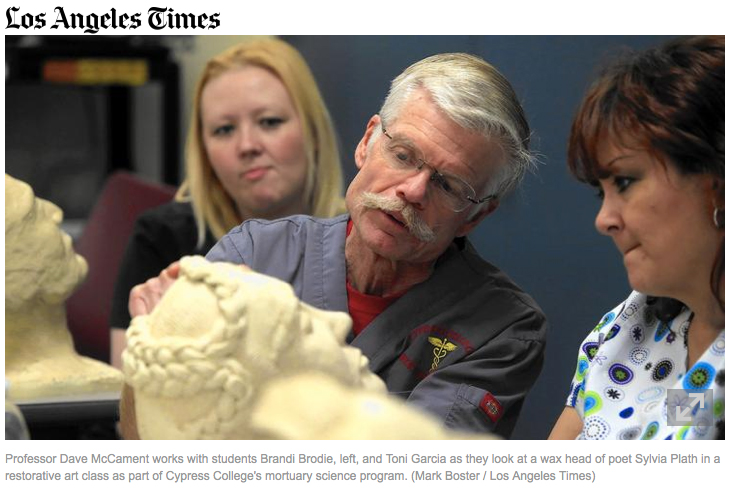 Cypress College's Mortuary Science is well regarded that the HBO series "Six Feet Under" repeatedly referenced it to add authenticity to the show. It is one of two such programs in the state. If Cypress College's application for the program is approved, instruction would begin by the 2017-18 academic year. To be considered, programs must not conflict with bachelor's-degree programs already offered in the Cal States or UCs. Legislation approving the pilot program was signed by Gov. Jerry Brown in September. Programs will be selected according to their ability and interest in establishing rigorous undergraduate programs that confer degrees in high occupational demand among regional employers.
A decision is anticipated in January.