1-in-200 Opportunity to Win Yamaha Raptor 700 RFL ATV Now Available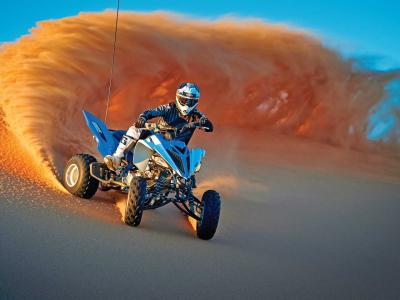 The Foundation is selling opportunity drawing tickets for a brand new Yamaha Sport ATV. The Raptor 700 RFL (with reverse) is arguably the best sport ATV ever.
The vehicle was donated to the College as part of the 40th Annual Americana Awards.
Only 200 tickets will be sold, each ticket for $50. These tickets are available on a first-come, first-sold basis at the Foundation.
To purchase tickets, please mail in/drop off your checks to the Foundation office or, easier yet, pay online through this link to the Americana webpage. You can also access the payment form directly.
The 2015 Americana Awards take place on Saturday, February 28, 2015, in the Grand Ballroom of the Disneyland Hotel. In addition to O.C. Sheriff Sandra Hutchens as Woman of the Year, the Americana Awards recognize Citizens of the Year from the eight communities in Cypress College's primary service area.