Wall of Remembrance Returns as Veterans Appreciation Week Opens

Veterans Appreciation Week is underway at Cypress College. Events kicked off early this morning with the return of the Global War on Terror Wall of Remembrance to campus. The wall — the work of Vision2Victory, a local veterans advocacy group — previously visited two years ago before embarking on a nationwide tour.
The wall will remain on display in Gateway Plaza until Thursday evening.
Employees and veteran students also participated today in "Green Zone" training. The Green Zone Project is a workshop to for staff, faculty, and administrators to learn more about available resources and strategies to better serve our veteran students.
On Wednesday (February 18), veterans will be honored at halftime of the men's basketball game versus rival Fullerton College. The ceremony takes place at about 6 p.m. Veteran students will be admitted to the men's and women's games free with a military ID, VA Card or a DD214.
On Thursday (February 19), an historic closing ceremony for the Wall of Remembrance will take place at dusk. This is the final destination for the Wall of Remembrance's National Tour. A barbecue to honor our veterans starts the ceremony at 4 p.m.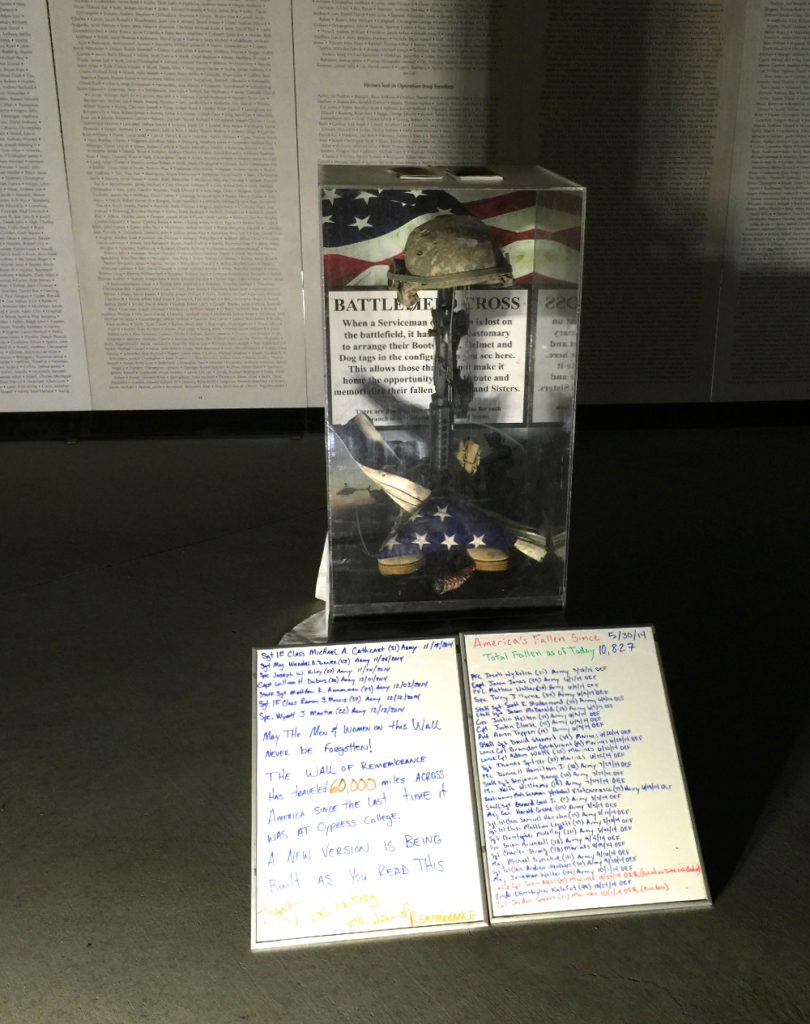 Also of note, the first 100 veteran students to visit Cypress Veterans Resource Center between February 17-19, will receive a Veterans Appreciation $5 Food Voucher Card redeemable at the Cypress College Chargers Café, coffee cart or convenience store. One voucher per student. Additional veterans benefits (with a military ID, VA Card or a DD214) between February 17-19 are:
Receive a 10% discount at the Chargers Café, coffee cart and convenience store
20% discount on Cypress College Veterans T-Shirt at Cypress College Bookstore
For additional information call the Cypress College Veterans Resource Center at (714) 484-7150.