48th Commencement: Amber Stoebe is 2015's Outstanding Graduate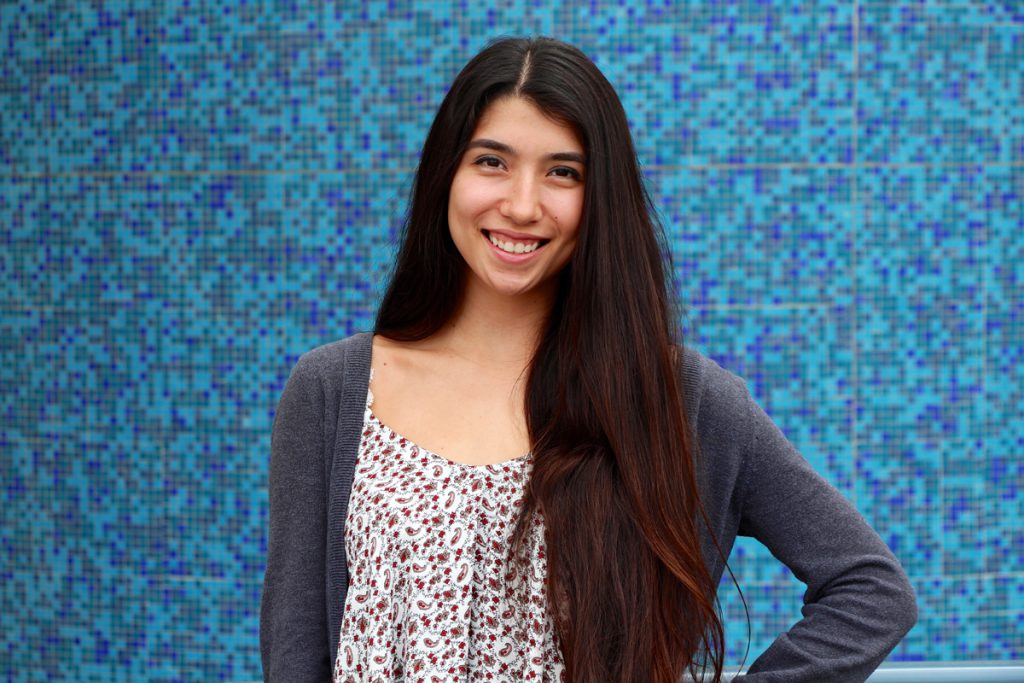 Spend just a few minutes with Amber Stoebe and you quickly understand that she genuinely cares about others. This compassion for individuals has guided her to the field of health sciences, in which she plans to craft a meaningful career in physical therapy. The recipient of an Associate in Arts for Transfer (AA-T) degree, Stoebe will continue her education in the fall with a major in Kinesiology: Exercise Science at California State University, Fullerton. For her efforts both on and off campus, Amber Stoebe has been selected as Cypress College's Outstanding Graduate for 2015. She will be presented with the award during the 48th Commencement on Friday, May 22. The ceremony takes place at 6 p.m. in Gateway Plaza.
Amber's drive to enrich the lives of those around her is evident in her volunteerism. At the California Rehabilitation and Sports Therapy Clinic in Anaheim, she applies her knowledge of human anatomy to her personal interest in others' well being, "I do what I can to fix a problem," she says. "I feel a strong passion for patients, and an overwhelming desire to help them." She also satisfies her motivation to serve as a sports coach and mentor to young girls. In her "free time," Amber volunteers at the Champions' Quest Volleyball Clinic; she also has a paid coaching position at the So Cal Juniors Volleyball Club where she is Assistant Coach. Next season, she will lead as Head Coach of the Millikan High School freshman/sophomore volleyball team — her first head-coaching position.
At Cypress, faculty from across the divisions praise both Amber's personal character and exceptional scholarship. She is known for her top-tier academic performance, excellent work ethic, willingness to ask questions, and mature demeanor. Since starting at the College as a full-time student in 2013, Amber has maintained a perfect 4.0 GPA. She is a regular at S.I. sessions, participates in the Kinesiology and Chemistry clubs, and meets often with professors. Somehow, she also manages to have an active social life and carve-out time for personal activities and family. "Being in the Health Science field has helped me realize how precious life is and to never take it for granted," she says. Amber's ability to excel in the classroom and take a holistic approach to greater personal growth is inspirational and wise beyond her 20-years.
Cypress College has become a home for the young Buena Park resident. "Coming to the college was honestly the best decision I could have made," she says. "I had a high GPA at Los Alamitos High School, but I didn't apply anywhere else because I knew I was coming here. There is an energy here on campus that you don't find elsewhere. The staff and students all seem positive and happy to be here – the faculty, especially, care for us. It's a really great learning environment." She credits the College as providing a supportive place for her to fully develop and explore different interests: "I did not want to go straight from high school to a four-year university when I was still unsure of my major and career," she explains. "I did not want my parents to spend a lot of money at a large college when I could get the same education — if not better! — at a community college. I was confident in my senior year that Cypress was my school of choice."
Her path is now clear. Following completion of her undergraduate coursework at CSUF, Ms. Stoebe plans to earn her Doctorate in Physical Therapy at USC, Chapman University, Azusa Pacific University or Western University.
Congratulations, Amber Stoebe! You serve as an inspiration to us all, and we are very proud to recognize you as the Cypress College Class of 2015 Outstanding Graduate of the Year.