48th Commencement: Navy Captain Russ Bird is 2015 Outstanding Alumnus
Retired United States Navy Captain Russ Bird has been selected as Cypress College's Outstanding Alumnus Award for 2015. The honor is presented on behalf of the College by the Cypress College Foundation. Capt. Bird will be recognized during the campus' 48th Commencement on Friday, May 22. The ceremony takes place at 6 p.m. in the Gateway Plaza.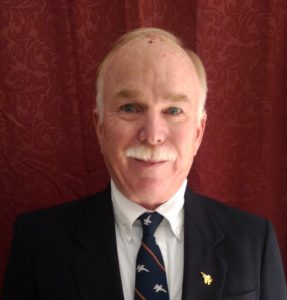 Navy Captain Russ Bird's longtime dream of becoming a pilot took flight at Cypress College. After a brief stint at a neighboring campus, he enrolled in 1977 at Cypress College — where he would earn accolades aplenty for his flying. It was a notable stop on what would result in a career as a Naval Aviator, in which he accumulated more than 4,500 military flight hours (including over 2700 in the F/A-18 Hornet), 100 combat hours and 650 carrier arrested landings.
During his two years at Cypress College, Capt. Bird took aviation courses and was an active member of the Cypress College flying team. He also helped vault the Cypress College flying team to national recognition. During the 1978 Regional Pacific Intercollegiate Flying Association (PCIFA) flying competition, he received six individual flight event awards. His flying prowess contributed to a second-place overall team finish and a first place standing among the community college teams. At that year's National Intercollegiate Flying Association competition, he received five individual awards and was named the number three collegiate pilot in the United States. His performance boosted the team's national ranking to seventh overall and first in the nation for the community college category.
He transferred to San Jose State University, where he joined the flying team. In the 1979 National Intercollegiate Flying Association competition, Capt. Bird was awarded the prestigious award as the top male pilot and top instrument pilot among college aviation students in the nation. He graduated from San Jose State with a Bachelor of Science Degree in Aeronautical Operations in 1980. During his collegiate years, Capt. Bird amassed over 1,500 civilian flight hours and obtained his commercial, multi-engine, instrument and flight instructor ratings. After graduation, he entered the Navy in January 1981 as an Aviation Officer Candidate and was commissioned later in 1981. He graduated from primary flight training number one in his class, and was selected for jet training. In 1982, he received the coveted "Wings of Gold" recognition — again as the top student in his class. He was selected to be the first newly-winged aviator to fly the F/A-18 Hornet.
His deployments came aboard the USS Constellation, the USS Nimitz, and USS Abraham Lincoln — serving deployments over Iraq in "Operation Desert Storm" and "Operation Southern Watch," and over Somalia in "Operation Continued Hope." Capt. Bird graduated from the Army Command and General Staff College in Ft. Leavenworth, which marked the start of a long list of leadership positions between 1995 and his retirement in 2008. Capt. Bird's personal awards during 27-plus years of honorable service include the Legion of Merit, Navy Meritorious Service Medal, with two gold stars, Strike Flight Air Medal, Navy Commendation Medal, with 3 gold stars, Navy Achievement Medal, with one gold star, and various unit, Service and Theatre awards.
Capt. Bird dedicates much of his time raising money to support college scholarships through the Tailhook Association, Rocky Mountain Tailhookers Chapter. He also volunteers with local mountain bike clubs in the perseveration of mountain bike trails in his community. He lives in Colorado Springs, Colorado with his wife Christina. He has three children, Scott, Amy and Courtney.