#CY: Alexandra San Pablo
See Why We're Proud….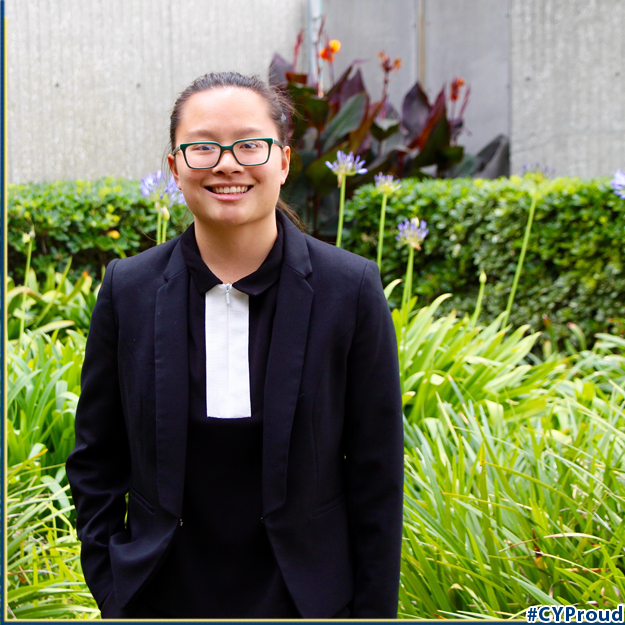 Meet Alexandra – Alexandra has a dream story. She's an extremely bright D.R.E.A.M student bound for UC Berkeley. The California Dream Act (an acronym for Development, Relief, and Education for Alien Minors) has opened higher education opportunities to those like Alexandra who came here as children, are long-term residents, have good moral character and have graduated from a U.S. high school. Born in the Philippines, Alexandra migrated with her mother and two sisters from Manila to Norwalk when she was 11 years old. Despite excelling academically, her post-secondary opportunities were limited. It was difficult, she says, to watch friends from Whitney High continue their studies in prestigious schools and not be able to do the same. Community college was her only chance forward, but because of financial constraints the pace appeared impossibly slow. She couldn't afford more than one class a semester for five semesters. That all changed in July of 2013 when California passed its own version of the DREAM Act. In the fall she was finally able to apply for financial aid and enroll at Cypress as a full-time student. With a clear path ahead – sights set on transfer, she was on her way at last.
@Cypress, STEM2 – Alexandra grew-up with a penchant for science. In her senior year of high school she was one of a select number of students invited to participate in summer research at UCLA. While there, she got her first applied taste of civil engineering and loved it. Her summer of research fueled her academic interests in geotechnical studies and the relationship between soil strength and infrastructure stability. At Cypress, she joined the STEM2 program. She has been a regular at conferences and networking events and has been an inspirational speaker on several program panels. Via STEM2 partnerships she has enhanced her research background with regular work at Cal State Fullerton. Her most recent area of investigation has been paleoclimatology with a focus on ancient earthquakes and tsunamis. She is grateful for the STEM2 program – the workshops, transfer counseling, and research opportunities – as well as the program staff and extraordinary faculty (shout-out to Dr. Armale and Professor Plett) for their mentorship. In addition to her studies, research, and STEM2 program participation, Alexandra was a lab grader in physics.
Best Experience – "My best experience at Cypress was being able to go on the annual northern trip held by the (STEM)2 program. I wouldn't have been able to visit the schools up north, such as Davis and Berkeley. I was able to make friends during that trip and explore different campuses that I wouldn't have expected to apply to, which made the trip worthwhile."
Advice to Future Students – "Have a path and have a timeline. I created an Excel that showed the classes I needed to transfer and helped keep me on-track. I also had a corkboard that I flagged with my progress. Stay motivated – getting involved in a program is a big help. And speak to your professors. They can help you network, get research gigs, and have solid letters of recommendation. Attend their office hours – that's key. The STEM staff are also great help."
Long-Term Vision – Alexandra was accepted into all of her transfer choices, but the final decision was between UCLA and Berkeley. She decided on Cal after looking into faculty research interests – UC Berkeley is a world leader in geotechnical civil engineering.
Congratulations, Alexandra!! And best of luck at UC Berkeley.