Public Invited to First Community Forum About Measure J Bond Program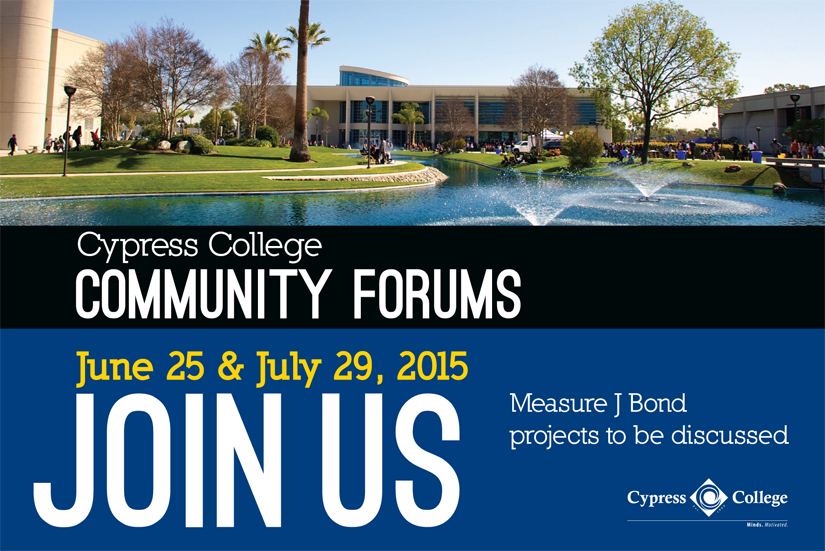 The public is invited to a community forum to learn about the Measure J Bond Program at Cypress College and to provide input into existing plans that will help shape the 20-year renovation of the Campus.
The first community forum is scheduled for Thursday, June 25, from 6-8 p.m. It will take place in the Cypress College Complex Building, Room 414. The forum is free, though an RSVP is requested to help determine a headcount of participants.
For those unable to attend the first forum, the program will be repeated on Wednesday, July 29, also from 6-8 p.m., and also in CCCPLX-414. The RSVP for that date is available here.
The input of community members is an important component of the college's effort to design and build the best possible facilities.
Members of the campus community were invited to participate in a forum on May 18 (read the meeting summary) and an additional internal forum will will be held on August 27, from 2-4 p.m.
Cypress College's educational facilities — including the Science, Engineering, and Mathematics classrooms and labs — will be transformed during the next 20 years as a result of Measure J. In addition to the STEM disciplines, the many other projects include renovation of the Fine Arts Building, expansion of the Library/Learning Resource Center, and construction of a new Veteran's Resource Center. Measure J passed by a supermajority (55%) of the voters in the District on November 4, 2014. The bond will provide $574 million Cypress College and the North Orange County Community College District for facility renovations on each of the District's three campuses: Fullerton College, Cypress College and the School of Continuing Education.
Cypress College's vision for the future of the campus is detailed in the Educational and Facilities Master Plan. Revisions to the projects and goals will be guided by our stakeholders, including students, employees, and the community.