Bruno Serato, 2012 Americana Man of the Year, Honored by Pope

The number of American families that struggle to get enough food has increased in recent years. The impacts of food insecurity have been especially hard on youth. As of 2013, one in five children in the U.S. were at risk of hunger. Here in Orange County that figure is higher: nearly one in four of our youngest residents are unsure of where their next meal will come from. (Source: OC Food Access Coalition)
2012 Americana Man of the Year Bruno Serato has been addressing this issue for over a decade. Since 2005, the restaurateur and owner of the historic, award-winning Anaheim White House has served healthy meals of substance free of charge to disadvantaged children throughout Orange County. He has done so every night of the week for the last eleven years through his nonprofit foundation "Caterina's Club," which he named after his mother, Caterina Lunardi, who inspired Bruno's charitable spirit and the organization's mission. That has equated to over a million hot meals provided to grateful, hungry children throughout our local communities. As CNN so rightly highlighted, Bruno is truly a hero.
For such extraordinary, tireless philanthropy, Serato and his organization have received extensive praise and recognition. Now, adding to the long list of honors is a personal blessing by Pope Francis on behalf of the Vatican.
Following an appearance on Vatican TV this February and a feature in a leading Catholic newspaper, Serato received well wishes and a holy rosary blessed by the pontiff. The Pope also extended his praise and gratitude to the volunteers and supporters of Caterina's Club who have helped the organization do so much over the last eleven years.
In the Orange County Breeze, Serato commented:
"The Pontiff's gift completely floored me…I had no idea that I was even on his radar. I am so honored. My greatest pleasure in accepting this holy rosary is that it calls attention to the very real issue facing one of the wealthiest regions of the nation – innocent children are going to bed hungry each night."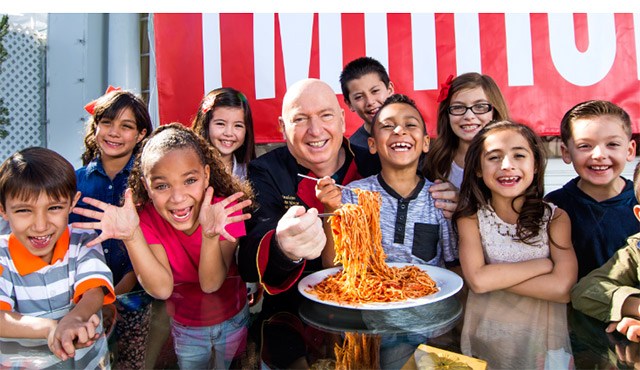 Bruno and Caterina's Club largely focus their efforts on "motel children," whose low-income families face a daily risk of foregoing on meals. In a 2010 interview with the Huffington Post, he described how it all began:
"I became aware of the motel children's plight five years ago when I visited the Boys & Girls Clubs of Anaheim with my mother, Caterina. There was a little kid at 4 p.m. eating potato chips, and the director told me it was his dinner. I said, 'What do you mean it is his dinner?' My mother told me, 'I think we should do it.' I said, 'Do what?' My mother said, 'Serve them pasta.'"
That first night, they fed eighty kids living in local motels. In the years since, the program has expanded beyond Orange County to feed more than 1,200 children every day at 25 sites in 12 Southern California cities. Serato has even expanded the reach of Caterina's Club to Texas, Chicago and New York.
Bruno has demonstrated extraordinary commitment to his mission even at times of duress. During the onset of the Great Recession, greater numbers of children started showing up for meals. At the same time, his restaurant profits fell by nearly 40 percent. To keep the program running, Serato mortgaged his home… twice.
Through Caterina's Club, Serato has expanded his philanthropic work yet further. The recently established "Welcome Home" program helps families with the upfront funds needed – first and last month's rent and security deposits – to leave motel housing and move into more adequate living spaces. To date, Caterina's Club has successfully relocated nearly 100 families.
The honors from the Pope are the latest in a string for Serato, who has also been knighted by the Italian government, named a CNN Hero, given a humanitarian award on the steps of the U.S. Capitol, and been profiled in numerous television programs, newspapers, and magazines.
Congratulations, Bruno, for this recognition, and our sincerest gratitude to you (and your supporters) for all that you do to enhance our communities!
The 41st Annual Americana Awards will be held Saturday, February 27, 2016 at the Disneyland Hotel.