Cypress Supports A2MEND: 9th Annual African-American Male Summit
A strong showing of Cypress College students, faculty, staff and administrators attended the impactful 9th Annual A2MEND summit on African American males, which brought together change-leaders from across the nation dedicated to the work of this year's theme: 'Moving the Needle: from Injustice to Equity.' Over 700 conference participants engaged in three-days of dialogue and workshops to address collaborative ways of transforming institutional policies, procedures and practices to bridge racial equity gaps that exist in California Community Colleges.
A2MEND, the African American Male Educational Network and Development organization, is comprised of African American male administrators who utilize their scholarly and professional expertise to foster institutional change within the community college system. The organization got its start in the summer of 2006 when six young African American male administrators attended a professional conference at UCLA. The conference addressed some of the difficulties facing African American men in higher education, yet presented few strategies to counter trends. Out of this void came A2MEND. It's mission: transform the academic and professional landscape to create affirming environments for African Americans that support success.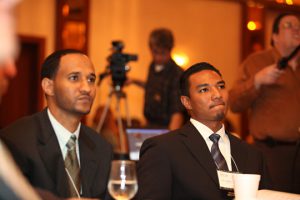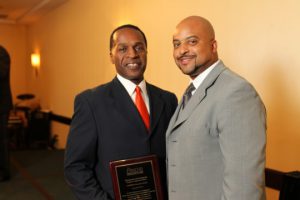 (Pictured: a few A2MEND founders)
A2MEND's founding group of young men organized the first annual African American Male Summit in 2008. Faculty, staff, students and administrators from across the county gathered to share administrative and instructional strategies impacting the success of African American male students. The conversations were difficult, yet critical: Why are there such disparities in student success for African American males as compared to males of every other ethnic group? How can we support our African American men? How can we improve their educational and professional outlook? What instructional strategies and program support models are working? How do we measure success? Since that initial summit, thousands of individuals have had the opportunity to come together to discuss issues, strategies and solutions.
In addition to providing a forum for practical dialogue, A2MEND supports a number of young African American male community college scholars with mentorship opportunities – support, guidance and networking – and scholarships. Mentees are assigned to an administrator who has demonstrated expertise, leadership and scholarship and is committed to the fostering the personal development and academic success of African American males.
The A2MEND Mentorship program and scholarships are open to all African American male community college students. For more information please visit a2mend.org. View additional event photos here.
  (Pictured: 2016 #A2MEND scholars) #CypressCollege