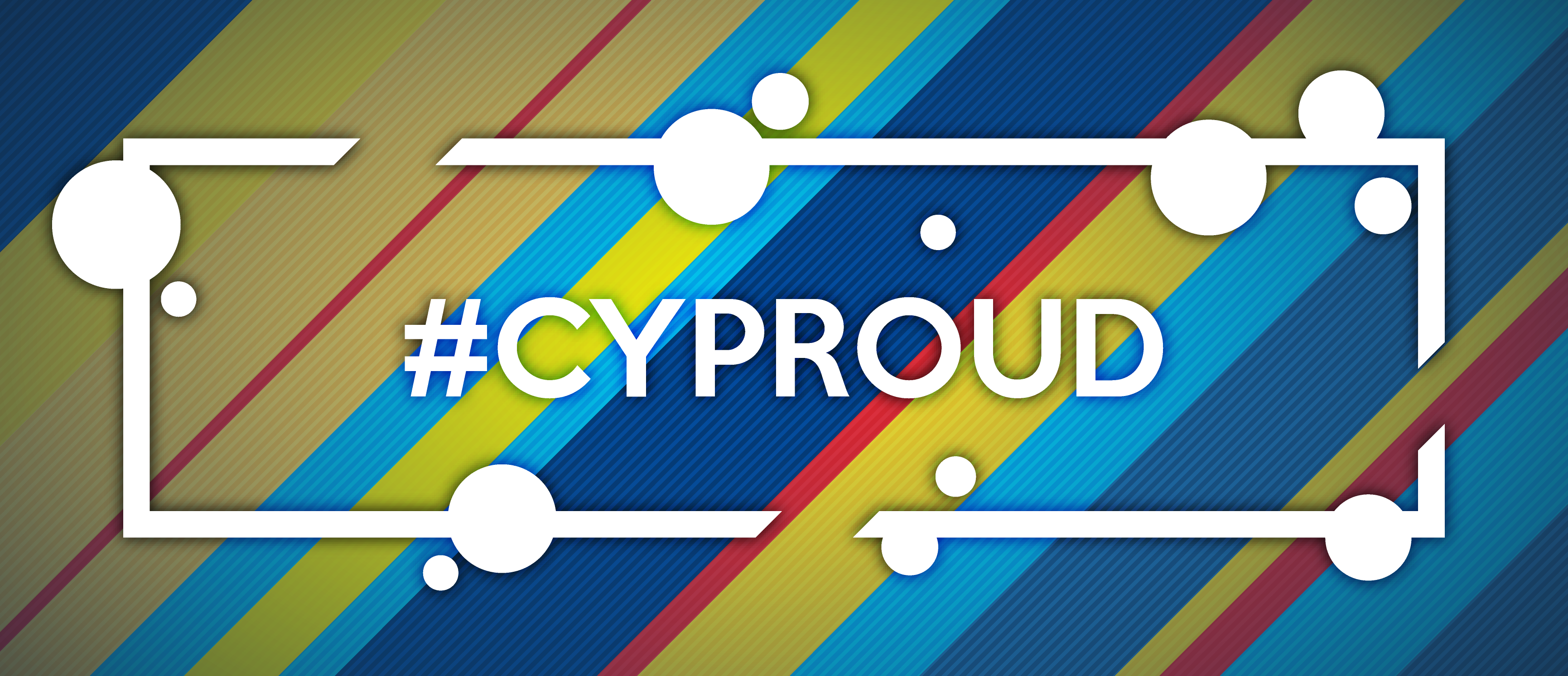 #CYProud: Danila Mendez
Commencement is a celebratory time on campus. To capture this year-end spirit, we asked our faculty to tell us which students they are most proud of. Some of those profiled in this year's #CYProud 2016 feature have overcome significant personal and financial hurdles to reach their educational goals; others have distinguished themselves as exemplars of academic achievement and/or student leadership.
As part of this year's series, we are pleased to introduce Danila Mendez who will transfer to the University of California, Irvine to continue her business and accounting studies. Danila is a 4.0 2016 Graduate of the Year Candidate. She managed to maintain a perfect college GPA while working full-time and being a dedicated single mother to her young girl. Congratulations, Danila! We're proud of your accomplishments and drive. #CYProud 2016
#CYProud: Danila Mendez, Cypress to UCI
Origin — what is your back story (hometown, high school, personal story…)
I was raised locally in Anaheim. I'm one of 4 siblings, three girls and one boy. It was tough growing up as the oldest girl in a Hispanic household. There were many expectations, and unfortunately education past high school was not one of them. I attended Fullerton High School but graduated from Garden Grove High. That was a rough transition. I really wanted to go to UC Irvine at the time, but I also wanted to run from home. I felt very independent because I had worked since I was 15, so at 19 I got married and ran! At 21 I had my first child, a boy, and at 23 I had my second, a girl. At 25 I became a single mother, and that changed everything. I had two choices: get ahead, or get ahead. I redirected my focus in life toward school and enrolled at Cypress College in the spring of 2012. It has been extremely difficult and I have had to make many sacrifices, but I value every one. I appreciate so much in life because of it. I have a long road ahead of me still, but I'm excited and optimistic.
Why Cypress?
To be frank, I chose Cypress because it was convenient. I work full-time and I'm also a single mother. Getting from work to pick up my kids from their school and then dropping them off with a babysitter to make it to class by 6:30 sometimes is TOUGH. Cypress College is only about a 15-minute drive from all the places I have to be so that's been a great plus. I love Cypress College and all the people I've had the pleasure of meeting.
@Cypress — what have you been involved with? How has your path unfolded?
I usually cringe when I'm asked this question. Because I'm a single mom, it's very hard to be involved in anything on campus. My days usually have just about every minute accounted for. If I've ever attended an event on campus it's been to earn extra credit for an accounting class. I'm glad, however, because I've attended some very interesting events and have had the opportunity to listen to encouraging speakers. I usually have to make up time I take off at work, so it's not easy to be involved. I can tell you that I've been involved in coaching my daughters cheer squad in summer and winter. Through coaching the girls, trying to be a good role model for my kids and what I've learned from all the wonderful people I've crossed paths with at Cypress College, I have grown professionally and personally. I used to be afraid to ask a question for fear of sounding dumb or being a burden, but I've out grown those fears.
Faculty or staff that have helped you get where you are today.
I love so many professors at Cypress College for different reasons! Perhaps what stands out the most is that professors like Anne Solis, Michael Lobasso, and Diana Clarke believed I had potential to be good at what I do before I even realized it. When I first enrolled I just wanted to get an accounting certificate to hopefully better my pay as a basic accounts receivable clerk. Because of them and their willingness to teach I am now the staff accountant for my company. It's a huge accomplishment personally. I went from posting payments to preparing financial statements and reconciling bank statements. I've even been offered a promotion to assistant controller! It's gratifying, to say the least. There have also been professors like Samreen Manjra, Parwinder Sidhu, and Kathleen Pinckard who I admire, and aspire to emulate. All the professors I mentioned are people who genuinely care about their students and the quality of education they provide. They have all unknowingly inspired me to be a better version of myself. Mr Lobasso is a 49ers fan… he's just cool.
Post Cypress — what do you hope to do in the near term? What are your plans at UCI?
I hope to continue to have success in reaching my educational goals. I am very lucky to have the support of my boss who allows me to take time off and make up hours to continue my education. I plan to take advantage of that privilege for as long as I can to continue learning! I would like to eventually complete a Masters program. For now I want to focus on UCI and reaching the next milestone, my Bachelors Degree. I plan to transfer and complete the BA in Business Administration with an emphasis in Accounting. I would also like to graduate UCI with a 4.0 GPA.
Advice to Future Students?
Establish balance in your life so you don't drown in a small puddle of water. Working full time, being a single mom and attending college has been difficult, but I've been able to manage it by seeking balance in my life. I've learned that to give myself time to do it all everything has to be synced, and I have to give myself only the right amount of time for everything. Don't be afraid to grow and embrace the past along with any mistakes made along the way. Learn from them! Ask questions! Have conversations about meaningful subjects. Say hello and smile at humans, not your phone! Learn everything you can about everything because you just never know when that knowledge might come handy. Knowledge is power!
Longer-Term Vision — what do you aspire to?
I would like to complete a master's program. I would like to enjoy a movie night with my kids and not have to study for an exam right after! Of course by then they'll be teenagers (they are 10 and 8 now), and mom will be so uncool! I hope to achieve financial stability through my education and offer my children the opportunity to further their education early in life.
What are you most proud of?
I have to say that I'm most proud of my GPA. I have been able to maintain a 4.0 GPA. It's the perfect reward for all the times I've had to sit through my daughter's cheer practice in 50 degree weather trying to study for a test, or 100 degree heat trying to watch my sons football game while reading for English, or the early 5 am shifts at the office so I can make it to Econ at 9 am, or all the times I've fallen asleep at the kitchen table because I swear I won't get sleepy typing a research paper in the kitchen. I've cried, I've laughed, I've wanted to give up, but I didn't and I am so proud of myself for not giving up. Throughout elementary school and for most of my high school career I always maintained a 4.0 GPA and was enrolled in honors and AP classes. I was so afraid that I would not be able to meet my personal expectations.
Anything else you'd like to add…
You mentioned that a faculty member nominated me. I don't know who it was, but if you can, please thank him or her for me. I would like them to know that their nomination has made me feel an incredible amount of joy. I feel grateful and even more motivated to continue going forward. My children and I had a smile from ear to ear when I read the email last spring. =)
___________
Cypress College is recognized as one of California's top community colleges. Recent accolades include:
– #1 in the U.S. | Top Toyota T-TEN Auto-Tech Program in the Nation.
– #2 in C.A. | Top Two ESL & Basic Skills English Programs in California.
– #3 in C.A. | Ranked as a Top Three California Community College (Schools.com)
– #3 in the Region | Ranked Top Three in Greater Los Angeles & Orange County for Student Transfer and Graduation Rates (EdSmart.org)
– 15 of 113 | California Community Colleges piloting a Bachelor's Degree (Mortuary Science)
– #17 in the U.S. | National Ranking on MTV-U's website "Rate-My-Professor"
– Top National Licensure Exam Pass Rates | Perfect state licensure pass rates for students in the following programs: Dental Hygiene, Diagnostic Medical Sonography: Abdomen; Diagnostic Medical Sonography (OB/GYN); Diagnostic Medical Sonography: Physics; and Mortuary Science: Sciences. 90+% state licensure exam pass rates for students in the following programs: Dental Assisting; Mortuary Science (Arts); Radiology Technology. And 85%+ state licensure rates for students in: Health Information Technology; Nursing; and Psychiatric Technology.
– 2/3ds of the Class of 2015 qualified for transfer to a UC or CSU institution.
– 76 Orange Empire Athletics Conference Titles
– 25 California Community College Athletic Association State Championship Titles