STEM Hosts 'A Day with the NSA'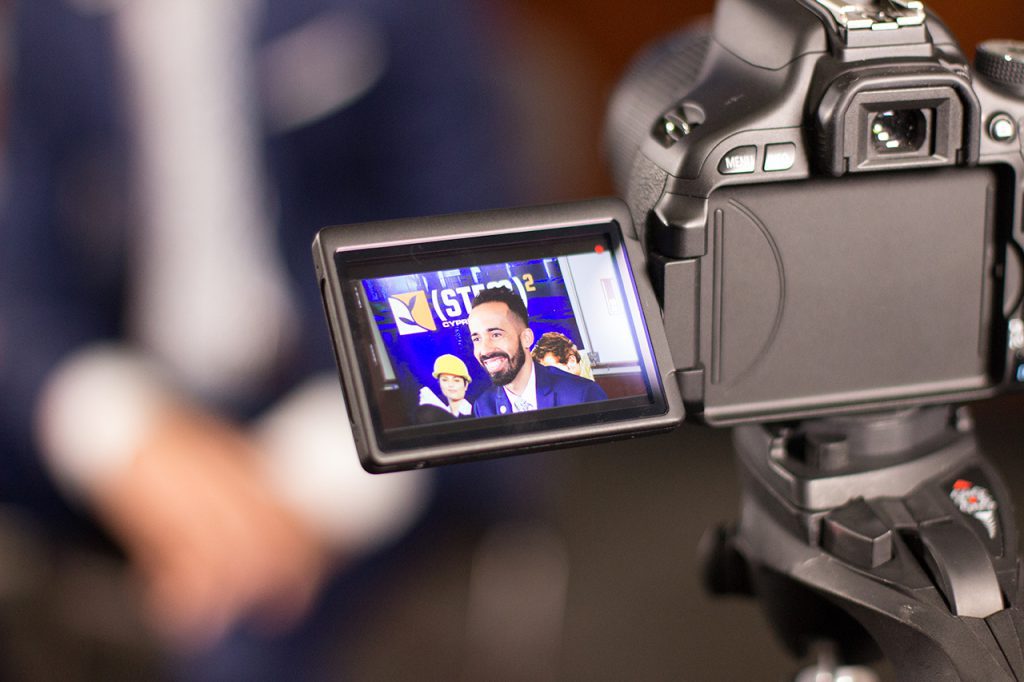 As young adults we often think we have to have all the answers, know what career we want and what paths we need to take to get there. The truth is we don't always know. And that's OK.
The Path that Led to the NSA
Víctor H. Maysonet González was born and raised in Puerto Rico. He didn't grow up knowing he would one day work for the National Security Agency (NSA). He didn't even know the NSA existed, he told a room full of STEM scholars at Cypress College on May 5. However, the paths he took led him there.
The son of divorced parents (his mother a teacher and father a dancer and musician), Maysonet González was exposed to different ways of thinking. His mother pushed him to succeed, impressing upon him the value of doing hard work and getting A's in school. His father incorporated a strong sense of creativity into his life, even teaching a young Maysonet González how to dance.
Maysonet González's background includes a degree in public communication with an emphasis on PR and advertising, and he worked at a hair salon, for Club Med, and for 20+ years as a dancer and choreographer. He was led to the NSA by his then-girlfriend – now wife – who had gotten a job with the Agency. He stressed that the choices you make have impact and to "be intentional with every step that you take."
To read his resume, one might not automatically see how the steps he took prepared him for an NSA career. However, his education taught him strategy and safe-guarding an image. His job at the hair salon showed him how appearance affects lives. At Club Med he learned the value of diversity. And dance? Dance taught him "it's OK to take a step back, but make it a rock step so you can go forward with more momentum."
(STEM)2 student Kayla Calle took Maysonet González's story to heart, saying, "The most important thing that I learned in the workshop was that no matter where you came from or what background you have, you can always use the skills you have to go out and thrive in whatever you want to do."
Fellow (STEM)2 student Kevin Fune added that he learned from listening to Maysonet González that it is important "to be intentional with your actions, because it will always impact someone's life. Be proud of where you came from to learn where you want to go, and surround yourself with cheerful people who will help you be successful."
The National Security Agency/Central Security Service
The NSA/CSS saves lives, defends vital networks, advances U.S. goals and alliances, and protects privacy rights. Established in 1952, the NSA is a service organization that receives requirements, and operates and executes on those requirements using cryptologic components. Through the use of Signals Intelligence (SIGINT) and Information Assurance (AI), the NSA responds "to customer requirements for information relating to the plans, intentions, capabilities, and locations of foreign powers, organizations, terrorist groups, or persons, or their agents, who threaten America's national security," the NSA website states.
Throughout its offices in Maryland, Colorado, Georgia, Texas, and Hawaii, the NSA/CSS is unwavering in its respect for U.S. laws and Americans' civil liberties – and in its commitment to accountability.
How You Can Work for the NSA
Interested in working for the NSA? Courtney Tyler, who works in the Recruitment Office at the Agency, informed students at the event of the various opportunities the Agency has for them. Undergraduates in their junior and senior years of college are eligible to apply to 12-week paid summer internships. Students who successfully complete the recruitment process receive partially paid housing, annual leave, sick leave, and are placed in offices directly related to the NSA's mission.
Students in their second semester of their freshman year of college can enter the cooperative education program. This program, which is currently accepting applicants who are majoring in computer science, computer engineering, electrical engineering, cybersecurity, or Chinese, is an alternating program, meaning it's a semester at work, then a semester at school, and so on. One of the perks is that each time you come back to the NSA you're placed in a different office, giving you the opportunity to try out various areas and see which is the best fit for you.
Full-time employee benefits include travel opportunities, health and retirement, flexible work schedules, an onsite fitness center, relocation assistance (if you live 75 or more miles away), and more.
If you'd like to apply, there are a few requirements. Applicants must be U.S. citizens and undergo a background investigation, polygraph, and psychological assessment.
As (STEM)2 Peer Mentor Cat Aburto said, "It was great to learn about the opportunities available to students at the National Security Agency. The knowledge and experience that Víctor and Courtney shared with us definitely opened my eyes to new career and internship possibilities."