A Buen Cypress! Fall 17 Opening Day
Change, celebrating student success, and examining the ways in which the college and district can further support and facilitate student success, were the major themes of new Cypress College President Dr. JoAnna Schiling's first Opening Day Friday, August 25.
"I'm well aware that this opening day is, for many of you, different and maybe even a little bit sad," she said, acknowledging the large number of retirements at the end of the last school year. "Change is inevitable, but the spirit that is here at Cypress is the same, and as long as we have students who need us, our common goal will still exist."
She continued, "I want to remind you that our common purpose is in serving the students who come here to Cypress and ensuring that they reach their destination."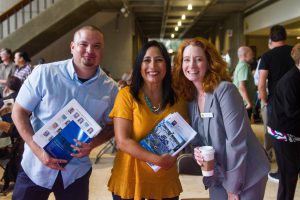 Three current and former Cypress College students still on their educational journeys shared their experiences and appreciation for the academic and life opportunities they now have because of pursuing their studies at the college.
Stevan Vargas, a military veteran and first-generation college student, transferred to California State University, Long Beach and will be starting his first semester as an electrical engineering major next week. A Marine who served two tours of duty in Afghanistan, Vargas said he was diagnosed with post-traumatic stress disorder soon after being discharged and had a difficult time transitioning to civilian life.
"Prior to attending Cypress, I was an alcoholic veteran going down the wrong path in life," he said. "You see, Cypress College didn't just give me an education; it saved my life. Building relationships, having a purpose, feeling like I belonged, and giving legs to my vision were the most important aspects for me and my education."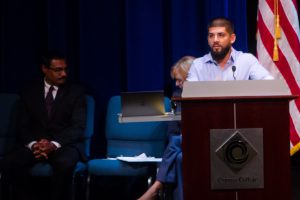 Martha Romero, a (STEM)2 scholar and president of the Cypress College Chapter of the Society for Advancement of Chicanos/Hispanics and Native Americans in Science (SACNAS), emigrated from Nicaragua with her family at age four and grew up in Downey. Though she originally intended to attend Whittier College after high school, certain circumstances led her to attend community college instead.
Prior to coming to Cypress College, Romero had attended three other community colleges. Here she found the support and guidance she needed in the college's faculty and (STEM)2 Program. She also found her passion in food science and technology, and hopes to transfer to California State University, Los Angeles next fall.
Mihir Patel immigrated to the U.S. with his family when he was 11 not speaking any English. Now he is a computer science major at Cypress College working on his AD-T in hopes of transferring to the University of California, Irvine—his dream school since eighth grade—with the eventual goal of working at Blizzard Entertainment as a game developer.
Dr. Schilling presented Dance Instructor Maha Afra with the college's Diversity and Inclusiveness Award for the 2016-2017 school year. She also recognized Albert Miranda, Physical Plant and Facilities director, who was awarded the new NOCCCD North Star Award that recognizes employees for their contributions throughout the district.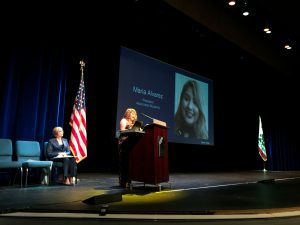 The college's accreditation leads, Phil Dykstra, accreditation liaison officer and Cypress College director of Research and Planning, and Liana Koeppel, self-evaluation faculty chair, reported that the college's Self-Evaluation Report has been completed and was sent to the accreditation team August 1. The 13-person team will visit the college from October 9-12 during the fall semester. Results of the accreditation process will be announced late-January 2018.
There were also presentations about the college's new website and professional development opportunities for faculty and staff across campus, as well as remarks from the college's shared governance leaders, NOCCCD Board President Molly McClanahan, and State Assemblywoman Sharon Quirk-Silva.
North Orange County Community College District Chancellor Dr. Cheryl Marshall talked about the challenges the district currently faces.
She also discussed the implementation of Guided Pathways, a relatively new educational model, to effectively help students "make informed choices about careers" with a clearly defined path and built-in support services to facilitate their success.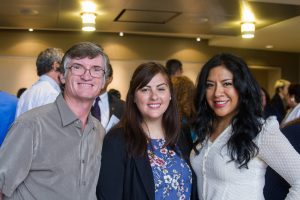 Dr. Schilling—whom Dr. Marshall referred to as "kind of an expert on this"—analogized a trip she made on the Camino de Santiago, a pilgrimage that starts in France and ends in Northern Spain dating back to the Middle Ages, with Guided Pathways.
"I can't think of a better illustration for Guided Pathways than the El Camino de Santiago," she said. "The road exists to lead each traveler to his or her destination, and each way station is there to provide support that ensures the traveler reaches his or her goal."
She finished with a Cypress-tailored greeting from the Camino de Santiago, saying, "And so I want to say to you, Buen Cypress! Each of you is needed in order for Cypress to be the place that we want it to be. Buen Cypress! We are on this good path together. Buen Cypress! Our students need each one of us to be at our best in order to complete their own journeys. Buen Cypress! We walk together, we serve together, and we will succeed together."
🔷
Save
Save