Puente Mural Celebration
To celebrate over 20 years at Cypress College and help increase the program's visibility, a photographic reproduction of a Puente Program mural was donated and hung at the college Library reference desk Thursday, September 14. Members of the college's 22nd Puente class gathered in the Library for the ribbon-cutting ceremony.
The original mural was created in a Humanities building classroom for the college's 50th Anniversary last school year.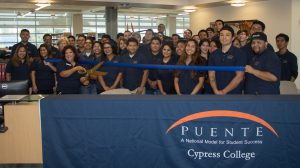 The ribbon-cutting event was incorporated into Professional Development's mixology event, a mixer/social gathering for employees at the beginning of the semester.