Dr. Schilling Accepts Presidential Charge During Investiture
Dr. JoAnna Schilling accepted the presidential charge from Chancellor Dr. Cheryl Marshall and Board of Trustees President Jaqueline Rodarte during the investiture ceremony held as part of Opening Day activities on Friday, January 26, 2018.
In addition to members of the campus community, participation came from across Southern California. California State Senator Josh Newman and Assembly Member Sharon Quirk-Silva were among the elected officials in attendance. Presentations came from three of Dr. Schilling's former colleagues: Dr. Manuel Baca, a trustee at Mt. San Antonio College and a former Board of Governors member; Julio Flores, a former student and current faculty at Rio Hondo College; and Sue Parsons, a retired faculty and management colleague at Cerritos College.
The investiture was emceed by Academic Senate President Bryan Seiling. "You have an ability to inspire and motivate that I find amazing," he said to Dr. Schilling.
In her remarks, North Orange County Community College District Chancellor Dr. Cheryl Marshall praised Dr. Schilling.
"I believe you will take Cypress College to even higher levels of greatness," Dr. Marshall said.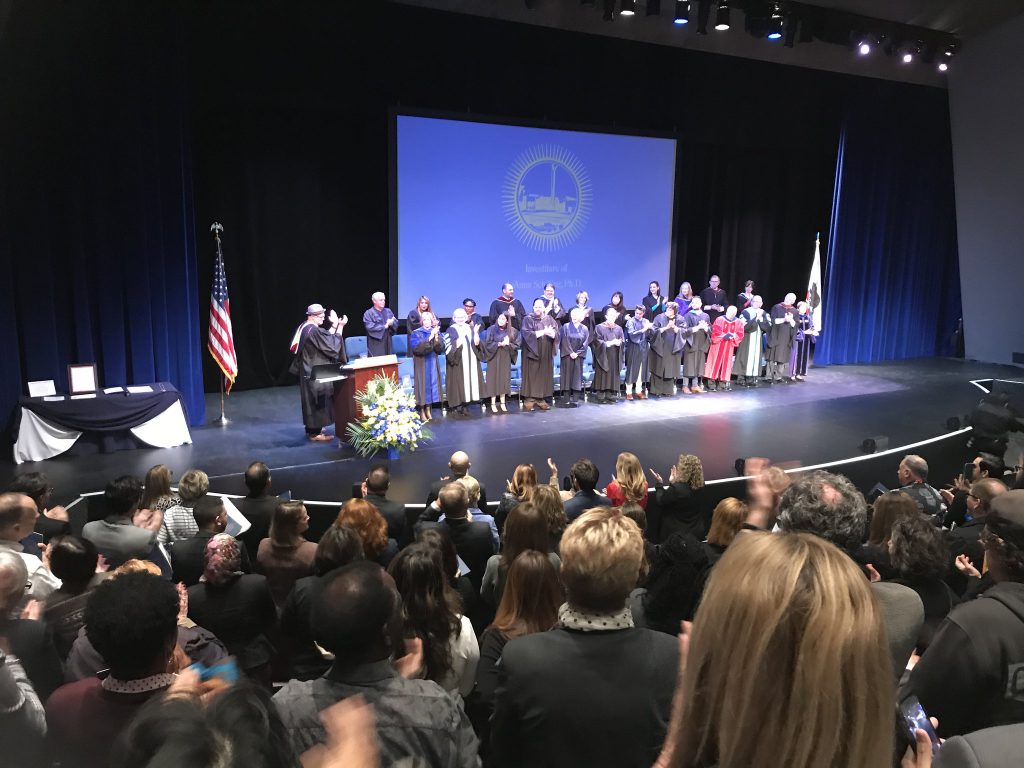 Parsons noted that in her earlier roles, Dr. Schilling forged relationships and partnerships that have resulted in a number of programs and educational opportunities. "Dr. Schilling is your royal flush," Parsons told the audience.
As you continue to take on these priorities, I can't think of anyone else better to lead Cypress College than Dr. JoAnna Schilling, said former colleague Dr. Manuel Baca.
Flores, a former student of Dr. Schilling, recalled a time when Dr. Schilling went out of her way to help a lost student on the first day of class at Rio Hondo College, remarking on her passion and interest in helping students succeed.
After accepting the charge of office as Cypress College's 12th president, Dr. Schilling thanked the college's many supporters. She then shared a takeaway from a recent trip she took with her husband to the Middle East.
On a school door she happened upon was a sign that said Education is the movement from darkness to light. She said, "Education opens our eyes to all the possibilities, not the limitations…"
"I am proud to work at a community college," she said, continuing, there is no other type of institution in the world. "Our doors are open to all, we are a beacon of hope and allow people to go further than their birth may dictate."
She closed, "May Cypress College long be a shining light to the students and communities we serve."