Opening Day Conversation: Providing All Students With a Path to Completion
Guided Pathways — a California Community Colleges initiative to foster student achievement — provided a focal point for Cypress College's Opening Day activities. Because it followed the investiture of JoAnna Schilling, Ph.D. as the campus' 12th president, spring Opening Day featured only the introduction of new and newly promoted employees, a short presentation of former Cypress College president Dr. Bob Simpson's president emeritus status, and the two-part pathways presentation.
Dr. Schilling opened the presentation by illustrating how pathways tie strongly to our core values.
"Many of you have asked me this past semester what my vision for Cypress College is," said Dr. Schilling, who began her service as president in July 2017. "I have struggled with that question. Not because I don't have a vision, but because my vision, is our vision together, and it has been important this past semester to listen and learn and understand what makes this college unique. What makes you unique. And how I can support and serve who and what Cypress is. It is clear to me that our vision is solidly based on our shared core values of excellence, integrity, inclusiveness, and collegiality. We lead together and each of us must be committed to these values in order for us to build and grow upon the strong foundation already in place."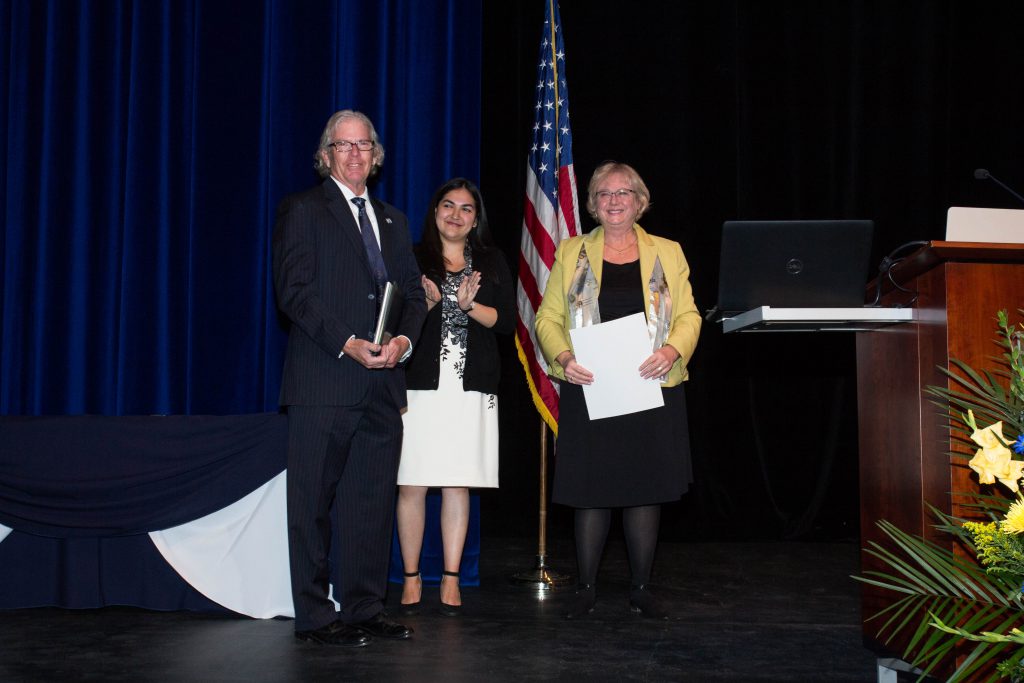 As the state appears headed to performance-based funding for community colleges, Dr. Schilling noted that the CCCCO Scorecard data already indicate the college's excellence. These metrics were included in the Niche, Inc. analysis that designated Cypress College as the top community college in California. Cypress College out performs the state by more than 5% on the Scorecard.
While a college education is the pathway to a better life for our students, rates of success vary by various populations of students. She shared that addressing this situation is imperative. By more-clearly defining options for students, Guided Pathways is a strategy focused on helping those student who don't persist to completion.
Dr. Schilling closed this portion of Opening Day with a video describing Cypress College's philosophy of helping students.
"Buen Cypress, my friends, my colleagues. Education matters, You matter, our students matter. We Take This Journey Together."
The Guided Pathways presentation was followed by Dr. Veronica Neal's "Cultural Humility as a Path to Equity." Dr. Neal currently advises the Office of Equity, Social Justice, and Multicultural Education at De Anza College, and she also teaches at San Francisco State University. She is regarded as an expert trainer and educator in the field of diversity and social justice.
"I spoke earlier about the critical role addressing gaps in our completion rates and the intersection of that with student equity. It is against that backdrop that we invited Dr. Neal to work with us today," Dr. Schilling said. "Her focus on developing cultural humility is an important component of the work ahead for Cypress College and our colleague institutions as we address change needed to bring about true equity."