Taking a 'Choice Architecture' Road to Guided Pathways
As the college moves forward with the important work of Guided Pathways, a few things have become extremely evident: our students want us to help them make more informed decisions about their educational pathway, and our processes are often unintentionally confusing. The students who are successful in navigating their way, are those who know where our resources are, find cohort programs on campus that provide a high-tech, high-touch experience, and know who to ask for help when their confidence wanes or their life becomes overwhelming.
The majority of our students are first-generation college students, receive financial aid, attend college part time, hold full-time jobs, have extensive family commitments, struggle with food and/or shelter insecurity, and do not have the time to join clubs or other extracurricular activities known to help students stay on their path. It is easy to approach these challenges with a deficit mindset — that is, adjusting our expectations downward because we are aware of the many competing demands on our students' time. We are not surprised when a student takes 4-6 years to complete at our college. But what if we, instead, found ways to provide the direction that helps the student navigate our processes more simply and effectively? How do we help our students aim high, when we know they have so many real-life challenges?
Cypress College has responded with many thoughtful and effective interventions to address the real challenges our students face:
high-performing cohort programs such as Honors, (STEM)2, Puente, Legacy, and EOPS;
high-support programs like Veterans Program, ACCESS, the Food Bank, Embedded counseling, and MLC and LRC tutoring support; and
financial assistance in the form of scholarships, Hunger-Free grants, and DACA emergency aid, to name just a few.
These are essential programs with a proven track record of success.  But even with all that, we still only reach a small percentage of our students in need. And that is why looking at our institution through a Guided Pathway lens is so critical.
A recent research brief by Community College Research Center (CCRC) out of Columbia University found that the three most important guided momentum points that help propel students forward are Credit Momentum, Gateway Momentum, and Program Momentum. I encourage you to read this important report by clicking the link.
Below we take a look at the Cypress data on these key elements: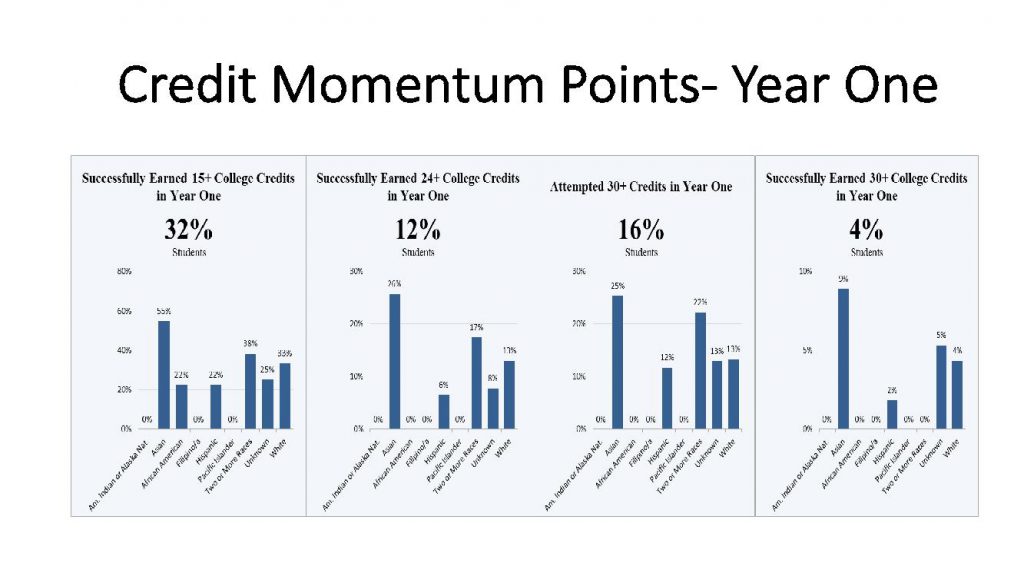 Only 12% of Cypress students completed 24 credits in the first year, and of the 16% who attempted 30 credits in the first year, only 4% were successful. This might lead us to question whether or not we should be discouraging students from attempting 15 credits a semester, or 30 credits in a year. But here's another statistic to consider —  those students who completed 15 credits versus 12 credits each semester had a 9% higher chance to earn any degree, and saved over 20% in tuition and fees per degree earned. For students struggling to stay in college and make ends meet, this can be the difference between succeeding and being just another failed statistic. If our students are not succeeding by taking 15 units each semester, this is an area for discussion.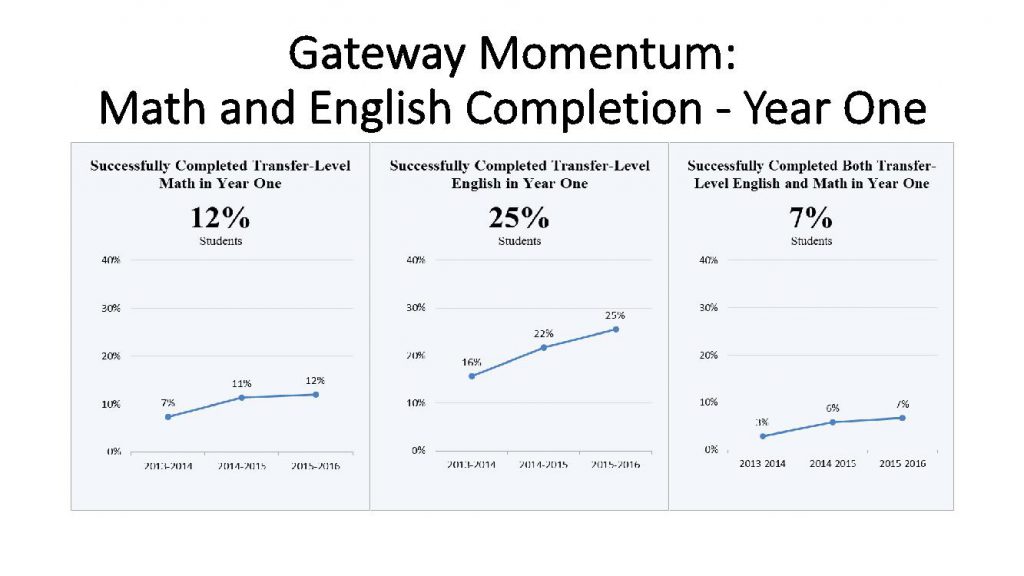 At Cypress only 7% of our students complete math and English in the first year. We are improving each year, so kudos to our faculty for this excellent progress, but we need to find ways to help students complete these critical gateway courses early in their academic career at Cypress. Here's why:
Math and English are often the gateway classes where students get stuck. Either they are delayed in remediation, or they delay entering into their gateway courses (especially math) until they are well into their major courses. Students who pass a college-level math and English course were 50% more likely to complete their degree, than those who did not.  71% of students in transfer pathways who completed a college-level math class completed a degree or certificate and transferred successfully versus only 11% of those students who did successfully complete their college-level math course. The same goes for English courses — 52% of those who complete college-level English went on to complete and transfer successfully, versus 17% of those who did not complete any college-level English course.
Although the study did not look at the data supporting a student completing math and English, recent data in Tennessee showed that in the first three years of implementing Guided Pathways, and asking students to take math and English in their first year, 48% of these students completed their degrees versus 18% of those who did not complete these courses in the first year. A STEM student recently told me she did poorly in her Microbiology course her first semester, because she did not take Calculus first. The math was not a prerequisite, but she realized that she would have done much better if she had taken her math first. And so many students delay taking their English composition course, and then struggle with many of their GE courses that require research, writing, and reading comprehension.
At Cypress, we will be building upon our excellent Charger Experience Program by implementing these early momentum metrics with the anticipated 600 plus students who will be entering Cypress College this fall from AUHSD. As part of our inaugural Pledge class these students will be required to take at least 24 units, including math and English in their first year in exchange for math and English books, free tuition, and counseling support. Non-AUHSD students will still have the same advantages by participating in our Charger Experience Program.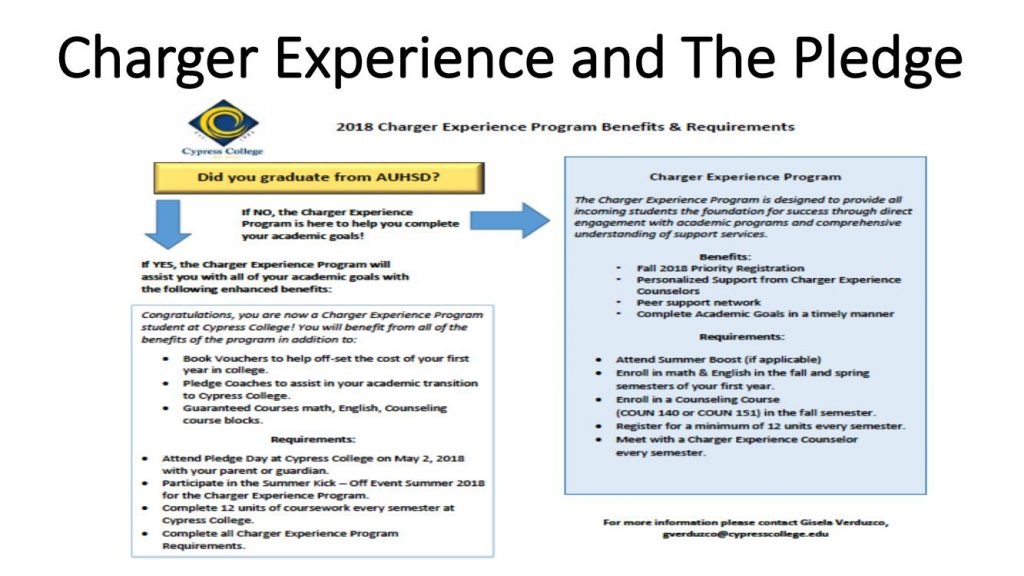 This initial course will allow us to evaluate if these interventions will assist students, and help us expand this initiative to all students in a Guided Pathway model.
As we continue to design pathways that work for our students, let me remind you that we are not changing everything we do. We are looking at what works, and trying to ensure more students, not just those who are lucky enough to find the resources they need, can easily understand the steps needed to reach their goals. Choice Architecture is the process of guiding students toward the choices that will assist them in reaching that goal, rather than confuse them.
For example, Behavior Economics underscores that if people are overwhelmed by choices, they either don't make a choice, or make a poor choice. Check out the graphics below: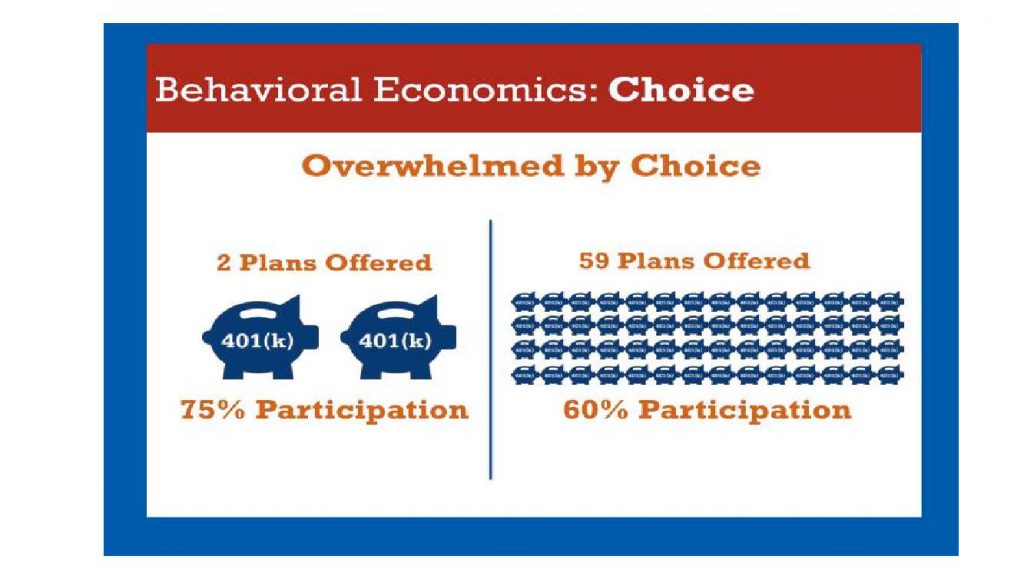 When provided with an opt-out versus an opt-in choice, people overwhelmingly make the choice to participate.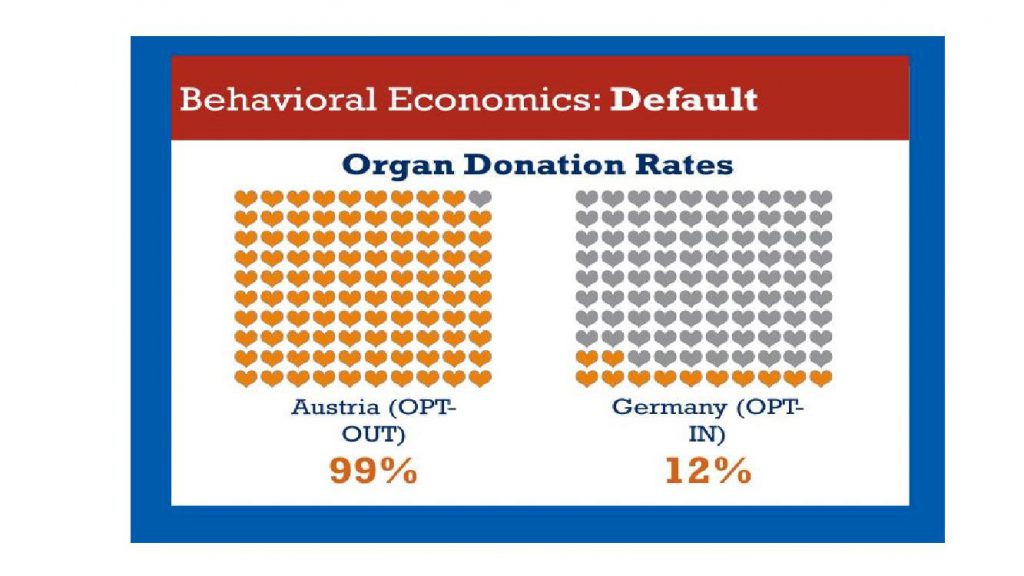 Choice Architecture is not about limiting student choice; it's about creating clear opportunities to make good choices that lead to a strong foundation for success. I believe their futures depend on us getting this right.