Cypress College Highly Decorated as Model for Putting Students into Lucrative Careers
Cypress College's workforce-development programs were highly decorated in the state's new California Community Colleges Strong Workforce Stars program — receiving 20 total awards, including a top honor for the college's Dental Hygiene program. A full 100% of Cypress College Dental Hygiene students earned employment in their field of study. In addition to a Gold Star for the Dental Hygiene Program, Cypress College earned two Silver Stars, and 17 Bronze Stars — an impressive 20 awards for programs that help students move into lucrative careers. "The success of our programs in the Strong Workforce Stars program is extremely impressive," said JoAnna Schilling, Ph.D, president of Cypress College. "We have always known our programs are successful; still, we are proud of our students, faculty, and deans for their work to reach this level of success. Cypress College is known for top-quality career programs that provide an opportunity for our students to attain economic prosperity." Approximately half of Cypress College's enrollment is generated by students in the campus' innovative career-education programs.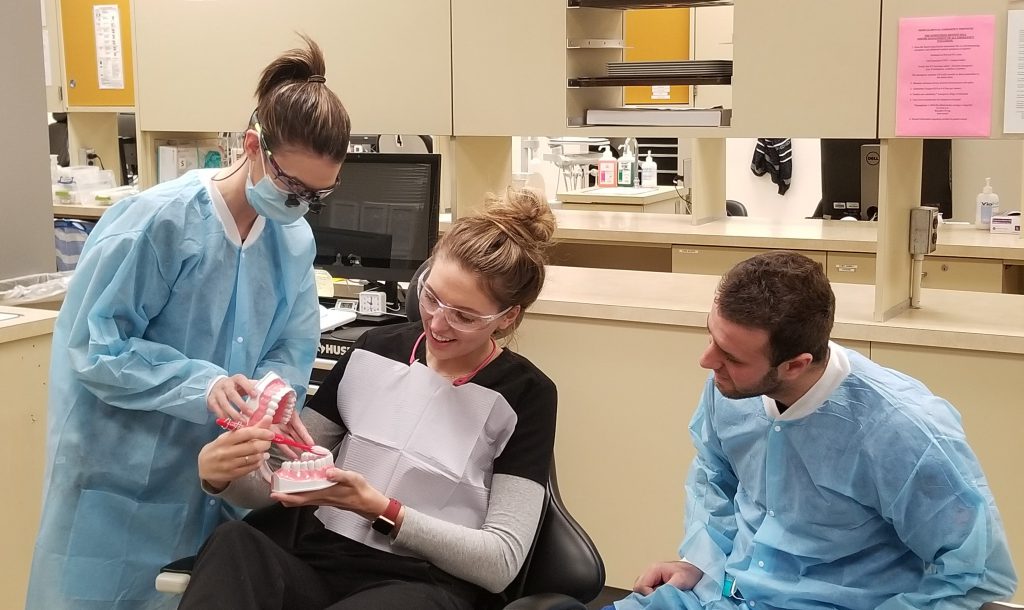 GOLD STARS (attained threshold outcomes on all three metrics) Award recognition is based on recent LaunchBoard data (2015-2016). Gold Star criteria are drawn from across three key employment and earnings indicators
At least 70% of students attained regional living wage
Students experienced an increase in income of 50% or more, and/or
At least 90% of students secured employment in their field of study
Cypress College's outcomes in Dental Hygiene far outpace the baseline metrics for the highest Gold Star honors:
Percent of students attaining regional living wage: 83%
Percent of increase in student income: 648%
Percent of students securing employment in their field of study: 100%
SILVER STARS (attained threshold outcomes on two metrics)
Diagnostic Medical Sonography: 322% increase in earnings and 89% of students attained the regional living wage
Psychiatric Technology: 203% increase in earnings and 100% of students are employed in a job similar to their field of study
BRONZE STARS (attained threshold outcomes on one metric)
Automotive Technology: 89% increase in earnings
Automotive Collision Repair: 58% increase in earnings
Accounting: 60% increase in earnings
Business Management: 58% increase in earnings
Mortuary Science: 175% increase in earnings
Environmental Control Technology: 73% of students attained the regional living wage
Health Information Technology: 51% increase in earnings
Radiologic Technology: 60% increase in earnings
Dental Assistant: 419% increase in earnings
Alcohol and Controlled Substances: 62% increase in earnings
Computer Graphics and Digital Imagery: 94% increase in earnings
Computer Networking: 100% of students are employed in a job similar to their field of study
Culinary Arts: 101% increase in earnings
Hospitality: 106% increase in earnings
Flight Attendant: 104% increase in earnings
Technical Theater: 84% increase in earnings
Human Services: 53% increase in earnings
Launched in 2017, the Stars program is an annual recognition of successful career education programs, also known as career technical education, whose students show significant gains in factors important for advancing social mobility — a substantial increase in earnings, attainment of a living wage, and a job closely matched with the field of study. Newly introduced this year, college programs may receive recognition at one of three levels: Bronze Stars, Silver Stars, and Gold Stars, depending on how many of three outcomes thresholds they meet. The 2018 Strong Workforce Stars were awarded to career education programs in 12 industry sectors, based on earnings gains, living wage attainment, and employment in field of study.
About Cypress College:
Cypress College has motivated the minds of students since 1966. For nearly a half-million people — including actors, athletes, doctors, executives, mechanics, nurses and teachers — Cypress College has been a springboard to their dreams. For some, Cypress College is the ticket into their university of choice and for others it provides essential training for a rewarding career. Just one Cypress College class is often all it takes to provide cutting-edge skills that lead to a promotion or a new job. Cypress College's 16,000 students and the highly qualified teaching faculty are proud of the many excellent academic and vocational programs. Cypress College offers 50 university-transfer majors, 137 career-certificate programs, and degrees in 61 areas of study. The college's traditional semesters begin in January and August, while short-term courses start throughout the year. A Cypress College education costs $46 per unit — $138 for a typical, full-credit class — California's lowest tuition. Financial aid and scholarships also are available to qualifying students. Cypress College is one of three campuses in the North Orange County Community College District and a member of the 110-campus California Community College System. The college primarily serves the cities of Anaheim, Buena Park, Cypress, Garden Grove, La Palma, Los Alamitos, Seal Beach and Stanton. Located at 9200 Valley View Street in Cypress, the college is easily accessible from several Southern California freeways, including the 5, 91, 605, 22 and 405. The campus is just a stone's-throw from Downtown Disney and Knott's Berry Farm.