'Mr. Cypress College' Don Bedard Remembered by Colleagues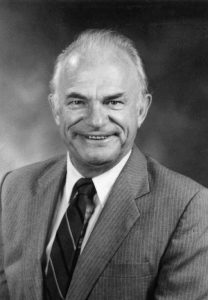 Dr. Don Bedard, former Cypress College president and one of the campus' first employees, passed away this morning. He served two interim terms as the campus leader, was dean, a vice president, and maintained involvement at the college following his retirement. He was 91.
"Don Bedard is known as 'Mr. Cypress College' because of his significant role in the development and growth of our college," said President JoAnna Schilling, Ph.D. "He was here from the beginning and continued creating a path to success for students well into his retirement. The affection for him is evident."
Dr. Bedard, a long-time resident of Seal Beach, is known for his enthusiasm and love of Cypress College. A passage from the official Cypress College history, authored by Professor Emeritus Patricia Ganer, provides an anecdote: In 1966, The Los Angeles Times anticipated a rough start for the athletics teams in their inaugural year. In response, Dr. Bedard was quoted as saying "But the future is promising."
The future always seemed promising to Dr. Bedard.
An Army veteran, Dr. Bedard came to Cypress College when the campus opened in 1966, following a K-12 career in which he served as a teacher, counselor, and vice principal at Orange High School, and principal at Laguna Beach High School. He retired from Cypress College in 1988.
He earned a bachelor's in English from Loyola University, and both a master's and doctorate in education administration from USC.
At Cypress College, he was beloved for his personality and commitment to the campus. His first stint as interim president came in 1977. His second was in 1998, a decade after his retirement from the campus. He also later served as a part-time executive director of the Cypress College Foundation from 1990-1995. And, still, his association continued. He participated in subsequent campus anniversaries, chairing the 40th anniversary celebration planning committee in 2006. He also served regularly on the Foundation Golf Classic planning committee and outstanding alumni selection committee. He also taught part-time at the college and at Cal State Long Beach after his retirement.
The Donald J. Bedard Leadership Award is presented annually to a student who attained top leadership at the college through an extracurricular effort. Not only does this student maintain a commendable G.P.A., but they have contributed to the excellence involved in campus government.
Dr. Bedard was interviewed in an abandoned duplex left on the Cypress College property before construction began. Hired as the dean of Student Personnel Services, he was one of the first employees, perhaps number two or three, on the payroll.
Among his impacts at Cypress College, Dr. Bedard served on the committee that implemented Title IX, federal legislation passed in 1972 to ensure gender equity in higher education. As part of the college's 20th anniversary celebration in 1986, Dr. Bedard was one of 10 people honored for making a significant contribution to the college. In 2012, the Cypress College Foundation made him the second recipient of the The President's Distinguished Service Award — the most prestigious recognition the Cypress College Foundation bestows.
"Everything we do at the College, and at the Foundation, we do standing on his shoulders," Dr. Michael Kasler, Cypress College president from 2007-2012, said in making the presentation. "I am honored to present the President's Distinguished Service Award to 'Mr. Cypress College,' Don Bedard."
Bedard is the father of Dana Bedard, a current member of the counseling faculty at Cypress College. Born in Argyle, MN, Dr. Bedard was the father of six children: Laurie, Renee, Michael, Dana, Carig, and Annette. Services are pending.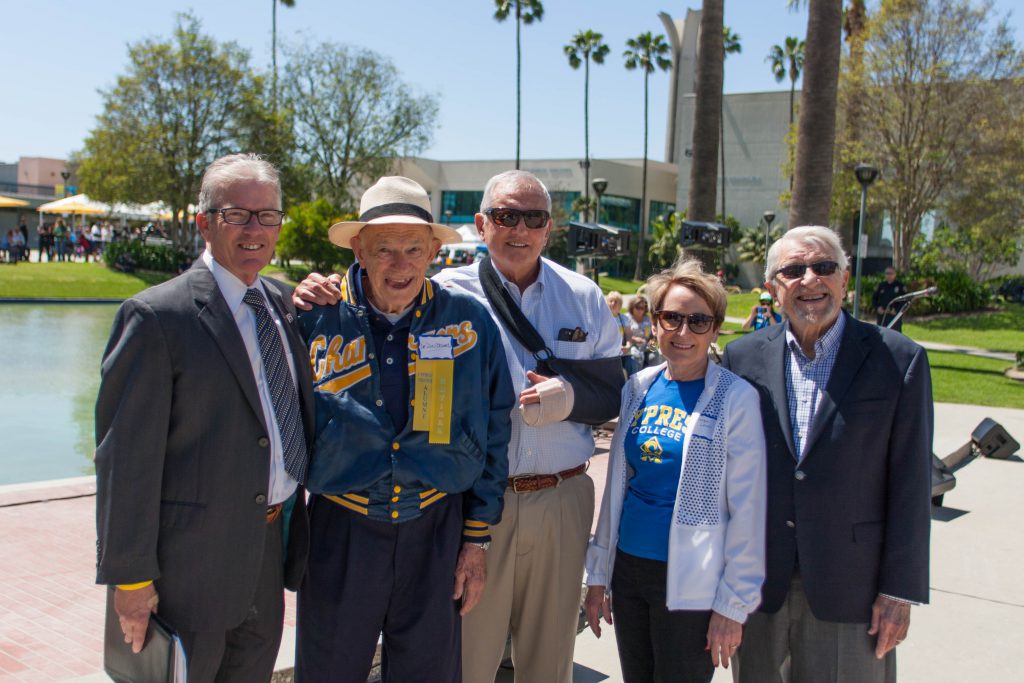 One of Cypress College's founders, Dr. Don Bedard (second from left) served two terms as president. Here, he poses with Cypress College Presidents during the 50th anniversary celebration in April 2017. From left: Dr. Bob Simpson (2012-2017), Dr. Don Bedard (1977-1978 and 1998-1999), Dr. Michael Kasler (2007-2012), Dr. Margie Lewis (1999-2007), and Dr. Jack Scott (1978-1987).
View the full news release (PDF).