My Cypress Story: Brandon Davis
Every person has a story to tell, and Cypress College is excited to share the inspirational, motivational, and aspirational stories from our many students of all walks of life. No matter the path, we accompany each and every one of our students on their educational journeys. Take a walk down the west-side hall of the Humanities Building to explore some of the people who make us a unique community.
We call this project "My Cypress Story."
Hello, I'm Brandon Davis!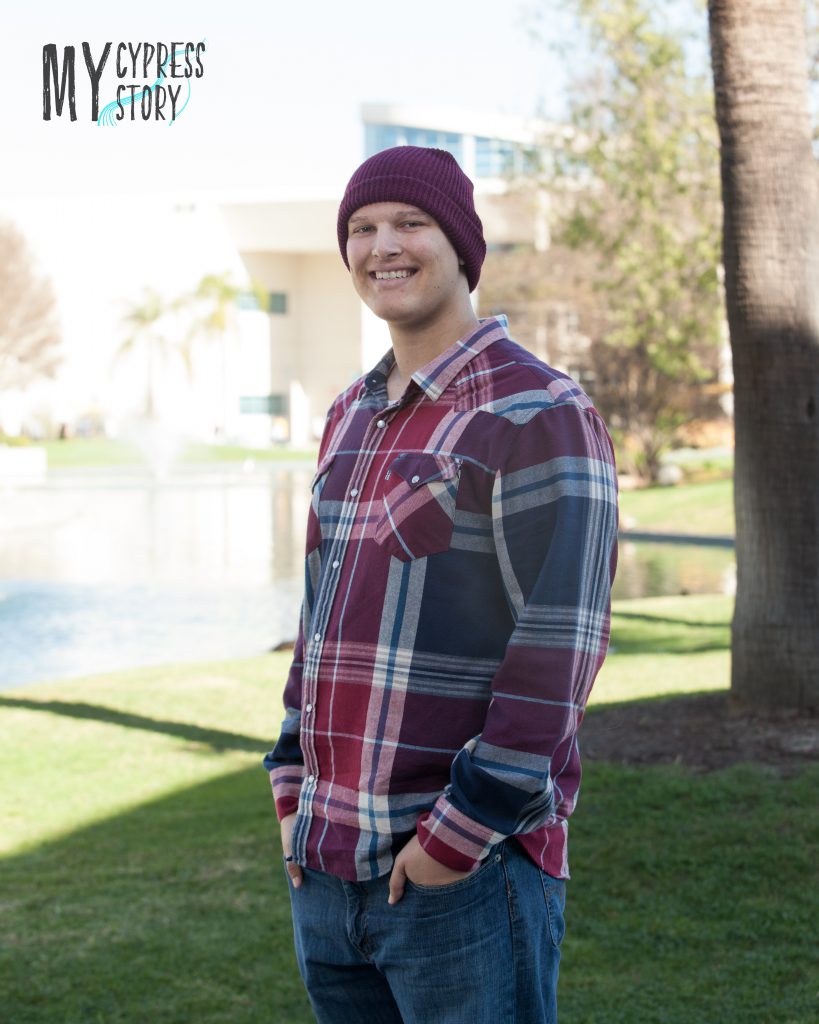 Please tell us a little about yourself. Where did you grow up? What are your interests? What is your story?
I have grown up my whole life in Southern California. I lived in Westminster for about half my life and Garden Grove for the other half. My interests include baseball, camping, and hiking. I played baseball for nine years, ever since I was 10 years old. Throughout the years playing, I've gained lifelong friends, created treasured memories, and learned many life lessons. Even though I no longer play baseball, it will always be a big part of my life and who I am. Since I've played sports, I've always loved being outside. That's what led to my tremendous interest in camping and hiking. Every single hike I go on, I can't get enough of the fresh air, amazing views, and wildlife. I recently went on my first camping trip this past summer to Utah and immediately fell in love. I couldn't get enough of the campfires, cooking, hiking, and sleeping in the tent. Even though I've only gone camping a couple times now, it will always be my favorite thing to do.
My story has been normal up until recently. I went to school, work, and hung out with friends and family just as most 20-year-olds do. Then, I started to develop a pain in the left side of my neck. I went to the doctor and ER multiple times during last fall semester without many answers. The two conclusions they kept coming up with were that it was a pinched nerve or I had just herniated a disk in my neck. Then I had an MRI done on my neck and that's when those conclusions were put to rest. The MRI showed a mass on the left side of my neck. As soon as the ER doctor saw the mass on the MRI images, I was admitted to the hospital so that they could do a biopsy on it. This was on a Sunday and I remember being less concerned about the mass in my neck and more about my child psychology test that next Wednesday. I even asked the ER doctor if I would be discharged the next day because I hate missing class. My wish did not come true, however, as that hospital stay lasted six days. They did the biopsy on my neck and found that the mass was, in fact, a tumor. When I heard the doctor tell me that, my whole world was turned upside down. I went from being a normal 20-year-old college student to having cancer.
Unfortunately, I was unable to complete the last three weeks of last fall semester. After further testing done on my biopsy, I was formally diagnosed with Ewing's Sarcoma on December 8, 2017. Since then, I have undergone three rounds of chemotherapy and can expect to have chemo and radiation until September or October of this year. Even with this life-changing diagnosis, my mindset has not strayed from my goals when it comes to school. During the course of my treatment, I plan to continue my education by completing the incompletes I received for my fall classes and possibly take some online classes.
Why did you choose Cypress College and how is being a student here helping you achieve your goals?
After high school, I was completely ready for college, but had no idea where I was going to go. I was still playing baseball at the time and was contemplating whether I was going to continue playing after senior year. I had some friends who played baseball for Cypress, and they invited me to take the summer baseball class before I made a decision. I took the summer baseball class and came out to Cypress that summer. The time I spent out on the field and on the campus was amazing, and I really enjoyed it. Even though I decided not to continue playing and focus on my studies, I had decided on where I was going to school. Being a student here has helped me tremendously to achieve my goals. Everyone I've encountered in my classes and just around campus has been more than helpful and courteous. Also, with professors as passionate as the ones I've had, it's that much easier to be successful as a student at Cypress.
What do you like most about being a Cypress College student?
What I like most about being a Cypress College student is the overwhelming support and friendliness I've received from everyone on campus. Any time I have any questions, the faculty and services at Cypress are always more than helpful and kind. All of the professors I have had are so passionate about what they teach and are always there to help me if I need help. In addition, the classmates I have had are amazing. They've all been so helpful, and I've gained many friendships through classes I've taken at Cypress.
What have you been involved in at Cypress College? How has your path unfolded and who are the faculty and staff who have helped you along that path?
Due to being so busy with schoolwork and work, I have not had the opportunity to be involved in much. I have attended several supplemental instruction sessions for the calculus classes I have taken, which were extremely helpful. I have also utilized the Learning Resource Center while I was taking English 100, which really propelled my writing.
Brandy Young, my professor for Psychology 101, made my introduction to psychology a lot of fun. From her passion for psychology, I learned more than I could have imagined and received my highest grade because of it. She has also been there and done more for my family and me through my diagnosis and fight than I could ever wish for.
James Lee, my English 100 professor, was my first English professor going into college my first fall semester. The subject I struggled with the most in high school was English, and I ended up with a B every single semester. I was very afraid of English 100 going into it because it was college writing and that was my worst part of English. However, by the end of the class, my thoughts on writing and my confidence levels as a writer were never higher, and I received my first A in an English class. Professor Lee has a gift for teaching writing that has helped me in all of my other classes.
Hoa Tran, my Math 150BC professor, is someone who pushed me in my study of math, especially in my first semester of college. Her deep understanding of the subject really helped others as well as me in a very difficult class.
Christina Plett, my Math 250AC professor, grew my love for math. Every day I sat in class, all I could see was the tremendous amount of love she had for the math she was teaching. That amount of passion and love for math is something that I hope to display for my future students.
What has been the most difficult part of being a college student? How have you dealt with that?
The most difficult part of being a college student for me has been spacing out my time equally between all of my classes. Naturally, because of my major, I tended to spend a lot of my study time on math without even realizing it. When I did this, it left little time to read and study for my other classes. To overcome this, I've made sure to set goals of what I want to accomplish each day for all of my classes. That way, instead of coming home every day and just starting math because it's what I want to do, I'll do math for a little, take a break, and then read for one of my other classes. Once I learned how to overcome going straight to math every day, the quality of what I was learning in my other classes increased tremendously.
What are your long-term goals? What do you aspire to?
My long-term goal is to become a high school math teacher. I have always loved math. I remember whenever I went over to my grandma's house when I was really little, all I wanted to do was count this bag of money she had. I would count the same bag over and over again just because I thought it was fun. In third grade, I was so upset that I didn't get placed in fourth grade math that I would do twice the homework. I didn't receive any extra credit, I just wanted more practice. Then, in fifth grade, we took a test to determine if we would be in the advanced math group or regular instruction one and I tested into the regular one. I was devastated and pouted during math for the next week.
Throughout my education, my math teachers have had a lasting impression on me. So many have showed me how useful and interesting math can be. They are responsible for sparking the passion I have for math. That is where my passion for wanting to teach math comes from. My biggest goal is to spark students' interest in math just as many of my teachers did. I look back and am thankful for what those teachers did for me and want to be able to do the same for my future students.
What are you most proud of?
My senior year of high school, I received an ABC award in AP Calculus for outstanding performance throughout the year. The reason this award means so much to me is that it made my confidence level soar and increased my passion for math. It really solidified my wanting to teach math and I was able to take all the confidence it gave me and apply it to my math courses in college. The award has been a huge catalyst to my success and passion in math.
What one bit of advice would you give to current and future Cypress College students?
One bit of advice I would give to current and future students is to never take a day for a granted. See the beauty in each day and know that each day presents an opportunity to smile or laugh no matter how dark or cloudy it may seem.