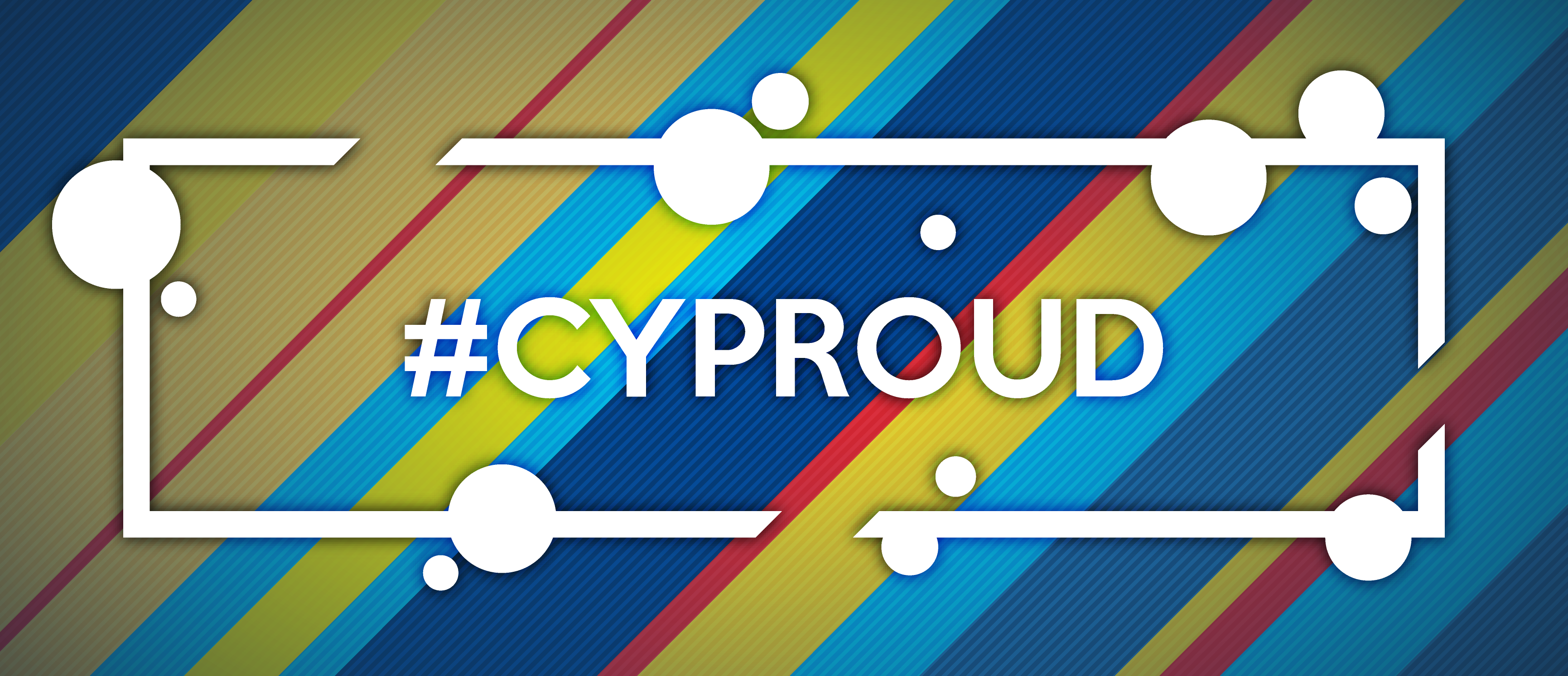 #CYPROUD: Abhiruchi Chaulagain, Biology
Student success comes in many different forms, and Cypress College is proud to recognize and celebrate the variety of paths our students take to achieve their dreams. Whether it's transferring to a four-year institution, or receiving an associate degree or certificate and heading into the workforce, we want all of our students to know we are on this educational journey with them and are pleased to feature distinguished #CYProud students for 2018.
Abhiruchi Chaulagain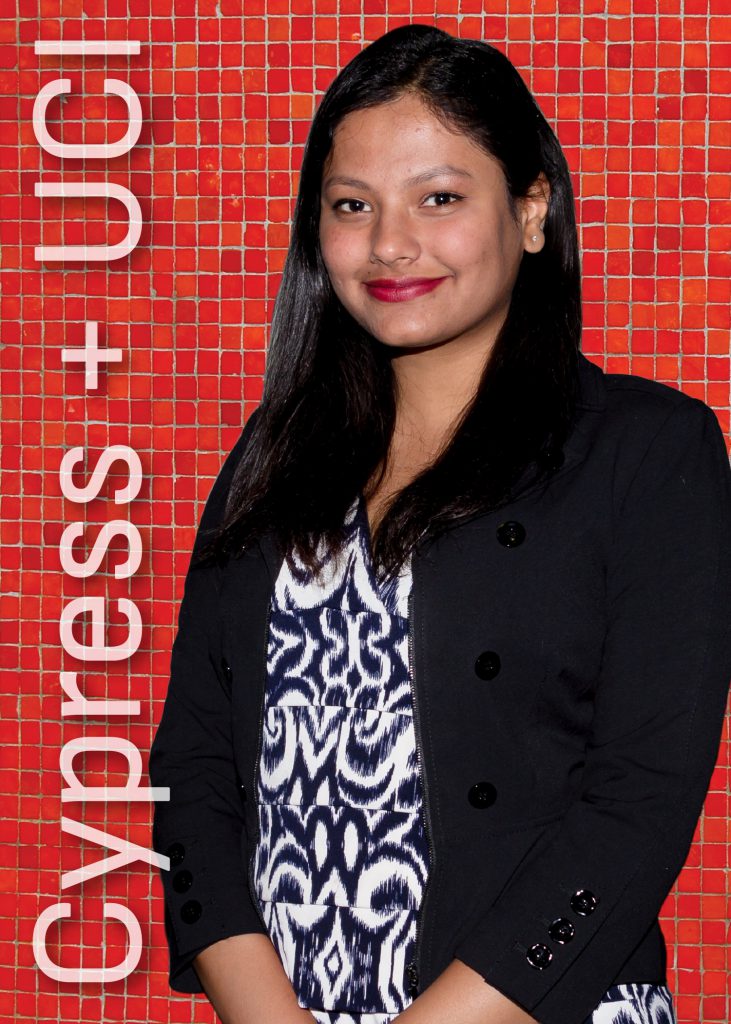 Abhiruchi was a biology major at Cypress College who will continue her studies at University of California, Irvine following her graduation from the college. Named Cypress College's 2018 Outstanding Graduate, Abhiruchi has made a lasting impression on many college faculty and staff with her hard work, passion for education and helping others, and dedication to excellence. She moved to the U.S. in 2015 to pursue a medical career in emergency and disaster medicine, motivated by that year's devastating earthquake in her native Nepal.
Please tell us a little about yourself. Where did you grow up? What are your interests? What is your story?
I was born and brought up in Nepal, a small Himalayan country in South Asia. I graduated from high school there and moved to the United States in 2015. After relocating here, I enrolled myself in Cypress College to continue my higher education. My main hobbies are dancing, watching TV shows and movies, traveling, and trying new foods. I love water sports and would like to be a certified scuba diver someday.
Why did you choose Cypress College?
Community college was the best option for me as I was very new to this country and wanted to start my educational journey in a smaller community. I was unaware of the higher education system here; I had so much to learn. I was searching for a place that would help me grow academically, socially, and culturally. Cypress College was perfect! It was very close to my home and came highly recommended by my well-wishers. It also had amazing student resources and a high transfer rate, a beautiful campus, diverse demographics, numerous academic options, and friendly staff. I was sure this was the right place for me.
What have you been involved in at Cypress College? How has your path unfolded?
My first semester, I was a part-time student, so I wasn't very involved on campus. However, once I became a full-time student, I tried my best to be as involved as I could. I have been employed as a Cypress College student ambassador for two years now, and through this program I have participated in numerous events on and off campus. I have helped organize and execute events like Kindercaminata, New Student Welcome Night, Senior Day, Commencement Ceremony, Americana Awards, 50th Anniversary Festival and Reunion, and the Cypress Golf tournament. I have participated in outreach activities, representing Cypress College at local high school fairs and city events. Likewise, I have worked with special college enrollment programs like Dual Enrollment and Charger Fridays. I also gave campus tours to familiarize students with the campus.
I am an Honors Program student at Cypress and have been actively involved in events organized by the program like the Northern California trip, Honors Book Fair, and classroom renovation. As a biology major, I have been a part of the (STEM)2 program on campus for three semesters. Through this program, I have participated in various workshops and events, learning how to succeed as a science major. I was the Inter-Club Council representative for the Chemistry Club, and a member of the Math and STEM clubs.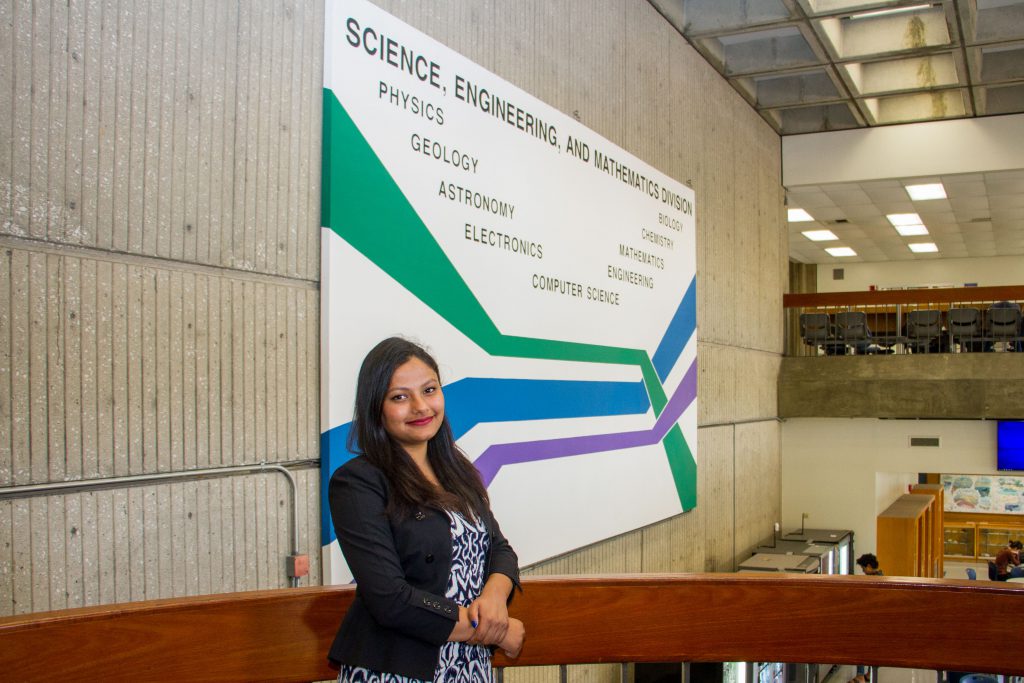 What are you most passionate about? Why?
I am most passionate about education and health care. Growing up, my family made sure I understood the importance of education for the success of an individual and community. I truly believe that higher education promotes growth and development of a society. Therefore, I loved working as a student ambassador for Cypress College. Sharing my experience as a college student and promoting higher education amongst high school students gave me pure joy. Likewise, proper health care, especially in underdeveloped communities, requires special attention right now. Good health care is essential for productivity, and overall progress.
Who are the faculty and staff that have helped you get where you are today?
I have been extremely fortunate to be surrounded by faculty who have gone above and beyond to help me succeed. I owe special thanks to my physics professor, Dr. Brinda Subramaniam, and my English professor, Kendyl Covey Palmer. Their guidance, motivation, and numerous recommendations have played a tremendous role in my success.
I am extremely grateful to Lark Crumpler, my former supervisor, for believing in me, and choosing me to be one of the student ambassadors for Cypress. I am also thankful to my current supervisor, Kassandra Abreu, who has always been considerate, pushing me to achieve higher. The Student Ambassador program helped me build professional and personal relationships I will cherish forever, and paved my pathway to numerous achievements.
Penny Gabourie, the Honors Program counselor, made sure I was on the right track, and was always there to assist me in every step. I am also grateful to the entire (STEM)2 team for providing me with wonderful resources, which contributed to my overall success here at Cypress.
What are your immediate plans after completing your studies at Cypress College (at your transfer institution, in the workforce, etc.)?
I will be transferring to UCI to complete my bachelor's degree in biological sciences. I will also be involved in research and will continue volunteering at St. Mary Medical Center, Long Beach. After my undergrad, I plan on taking the MCAT and applying to medical schools.
What are your long-term goals? What do you aspire to?
My long-term goal is to have a career in the medical field. I aspire to become a physician and contribute my efforts to the improvement of global health care. I would like to provide health care education and training to underrepresented communities in different parts of the world. My peak areas of interest are emergency and disaster medicine and women's reproductive health.
What are you most proud of?
I am most proud of being selected as the Outstanding Graduate of 2018 and being awarded the Associated Student's Outstanding Community Service Scholarship.
What one bit of advice would you give to current and future Cypress College students?
My one advice to fellow Chargers would be to utilize available resources and ask for help. There's plenty of help available at Cypress College like counselling, tutoring, health services, scholarships, the Food Bank, and much more. Just ask away!
Is there anything else you'd like to share?
Cypress College has been my second home these last two years. There were days when I would spend about 14 hours on campus. It isn't just my educational institution, it is my place of work, and my safe space. I built amazing relationships here, and made memories I'll cherish forever. It provided me with a platform to grow academically, professionally, and socially. I will truly miss Cypress.