Storytelling, Adapting to Change are Themes of Fall Opening Day
Storytelling was the centerpiece of an Opening Day that highlighted the student experience and changes the college and its individual employees must make and adapt to in order to better serve students.
"We have to be fiercely devoted to allowing our students to have a voice, to allow them to tell us what we need to do to meet their needs," said Cypress College President JoAnna Schilling, Ph.D., to more than 300 faculty and staff Friday, August 17.
Three Cypress students, who found purpose and connection through programs on campus, spoke of their personal journeys.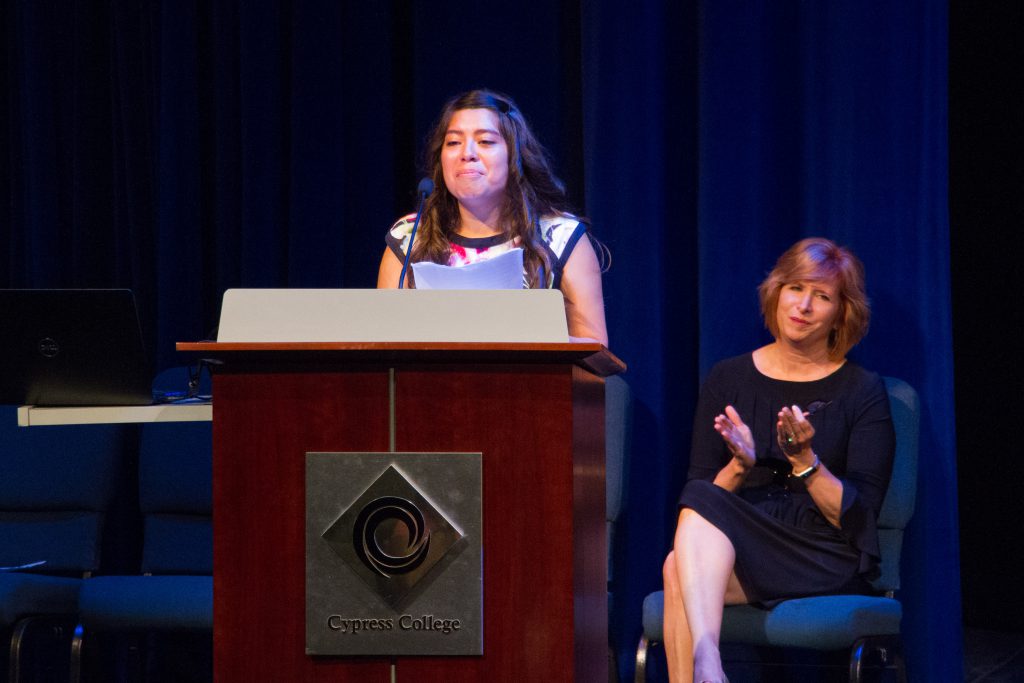 "Every step of the way, I have been extremely fortunate to have support of my professors, faculty, and peers," said Selina Jaimes Davila, an undocumented, first-generation college student majoring in mechanical engineering. "These awesome individuals have encouraged me when I needed it the most, when I couldn't see the light at the end of the tunnel. Even in the most difficult moments, they saw a potential in me that I did not see in myself."
Jaimes Davila was homeless for a time, living out of a car with her mother, and finding a path in higher education proved difficult. She lacked self-confidence and ended up changing her major three times; however, with guidance from EOPS, the Puente Program, and (STEM)2, she finally found her passion.
"I was a timid little freshman when I started my educational journey at Cypress College," Jaimes Davila said, "and now I am a fierce, empowered woman that knows what I want to accomplish in life and feel confident in my ability to accomplish my dreams."
Kenyun Rone also grew up in difficult circumstances as a child in the foster care system. He was immediately kicked out of his foster home when he turned 18 and enrolled at Cypress College in 2008. Struggling without direction and a guiding hand while also taking care of his mother, he ended up dropping out of college.
"But I never quit thinking about, I need to do more with my life," he said. "There has to be something more to my life."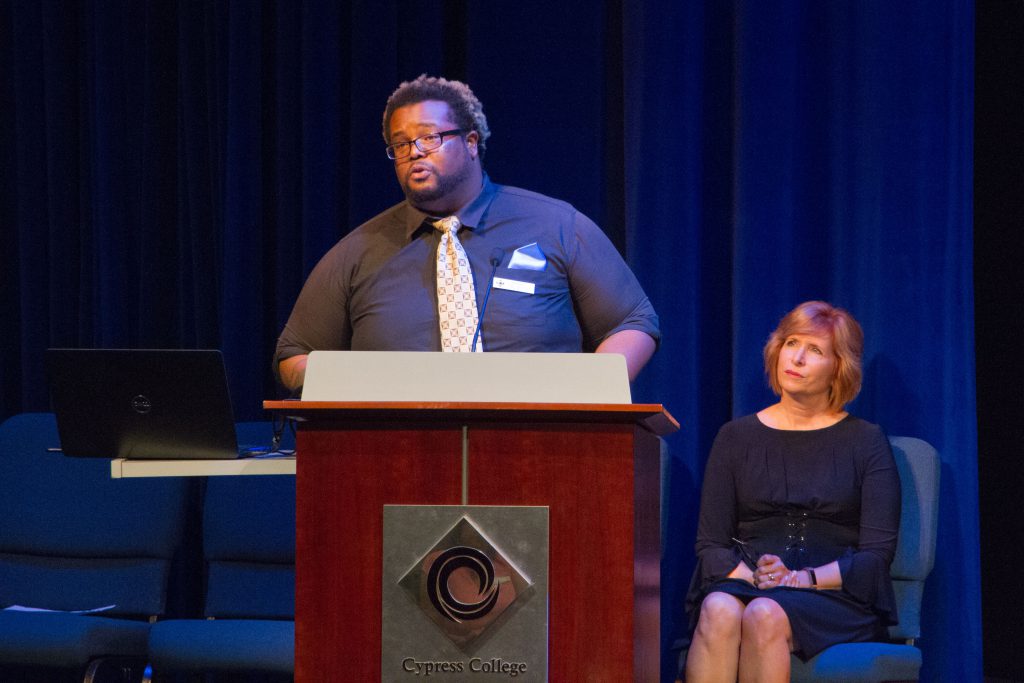 In 2017, Rone received a call from Legacy Program Director Regina Rhymes that lit a spark and motivated him to return to school. He is now a philosophy major planning to transfer to San Diego State University.
David Rodriguez's parents had immigrated to the U.S. from Mexico and emphasized the importance of education in hopes that their children would not endure the same hardships they had. But Rodriguez wanted to pursue his passion for music and the arts, so he "totally put school on the backburner."
Following his high school graduation, he started his studies at Cypress College, "but I didn't have the right mindset," he said.
"Over the next three years from 2012-2015, I felt very lost and just very unmotivated and unconnected from the campus," he added. "So, in 2015, after being kicked out and readmitted, I dropped out with a GPA of 1.9 and I told myself that school wasn't for me."
After gaining some film experience working at the University of Southern California, Rodriguez decided to give higher education another chance. His older brother, a former Puente student, suggested that he speak with Puente Co-Coordinator Therese Mosqueda-Ponce. His involvement in the program led to other opportunities, including participation in a Puente leadership conference, as well as employment on campus working with the college's Dual Enrollment and CyberPatriots programs.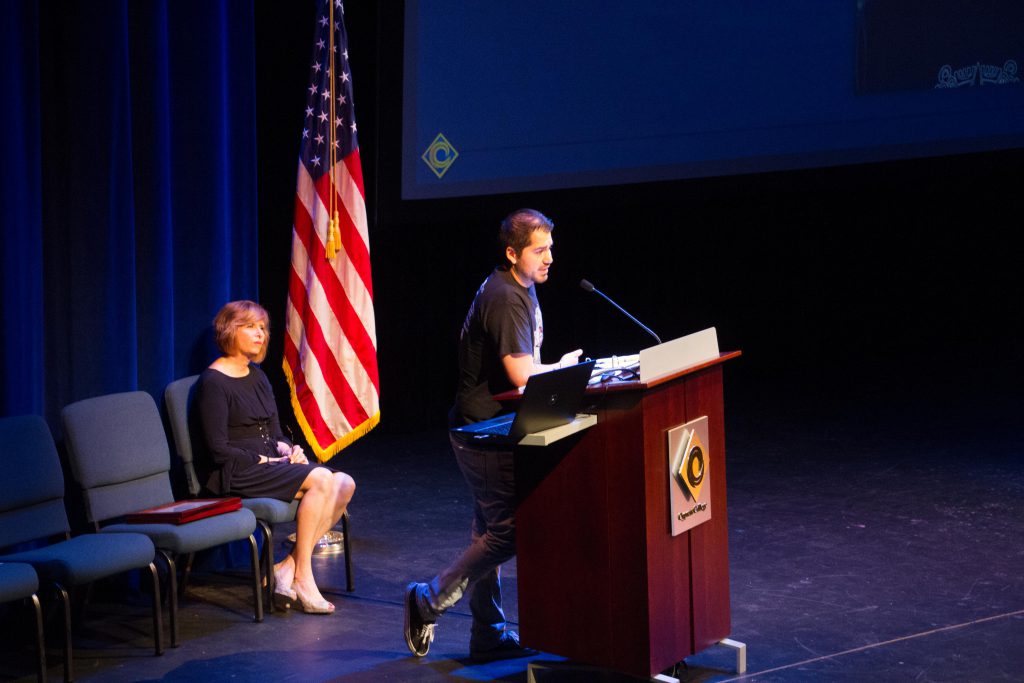 "Throughout this journey, I realized, well, I wanted to be a musician, I wanted to be a filmmaker, I wanted to be a cartoonist," Rodriguez said. "But now, I want to be a college graduate."
Energized by the students' powerful stories, Dr. Schilling said to the crowd, "We share these stories because…it all kind of fades away if we're not actually reaching students."
Disrupt or be Disrupted
Disrupt or be disrupted was a common thread throughout both Dr. Schilling and North Orange County Community College District Chancellor Dr. Cheryl Marshall's presentations, delving further into the significant changes facing Cypress College, along with California's 113 other community colleges.
Dr. Schilling described the six signs that your institution is being disrupted, indicating a need for re-examining the way things are done, and related that to the college's turn to the Guided Pathways model.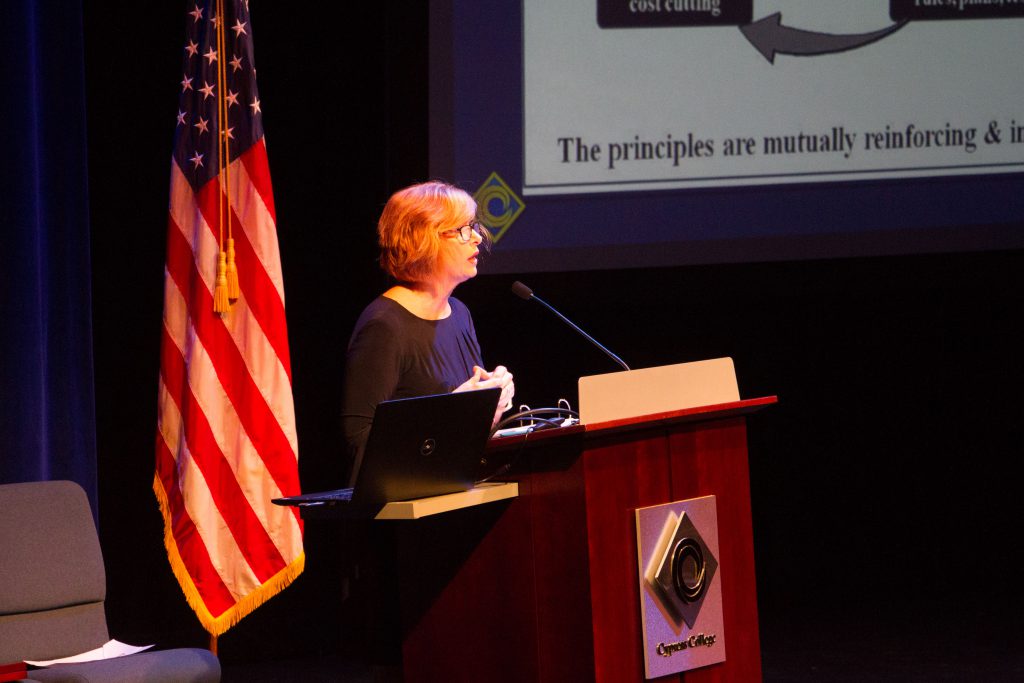 "We are a pretty traditional education institution and that's where we have the opportunity to make changes without actually changing what you do in the classroom, so reframing it from the principles of traditional education to Guided Pathways," she said. "And Guided Pathways doesn't have to be this thing that we do. It's really reframing the student experience."
Dr. Marshall echoed those sentiments and said, "One of the key ideas is that we can either be the disrupters or be disrupted. And so, there are days when we kind of feel like victims, but it also means we have the opportunity to be creative, to try new approaches, and be the instigators in higher ed's new reality instead of just having things happen to us."
In this pursuit of Guided Pathways and adapting to the realities of the times, Dr. Schilling suggested that students need four things from the college and its employees: 1) We must be relentless in improving our students' experience at Cypress; 2) We must base our decisions on long-term student success, not short-term benefits; 3) We must lead by putting our core values into action; and 4) We must be an equity-minded institution.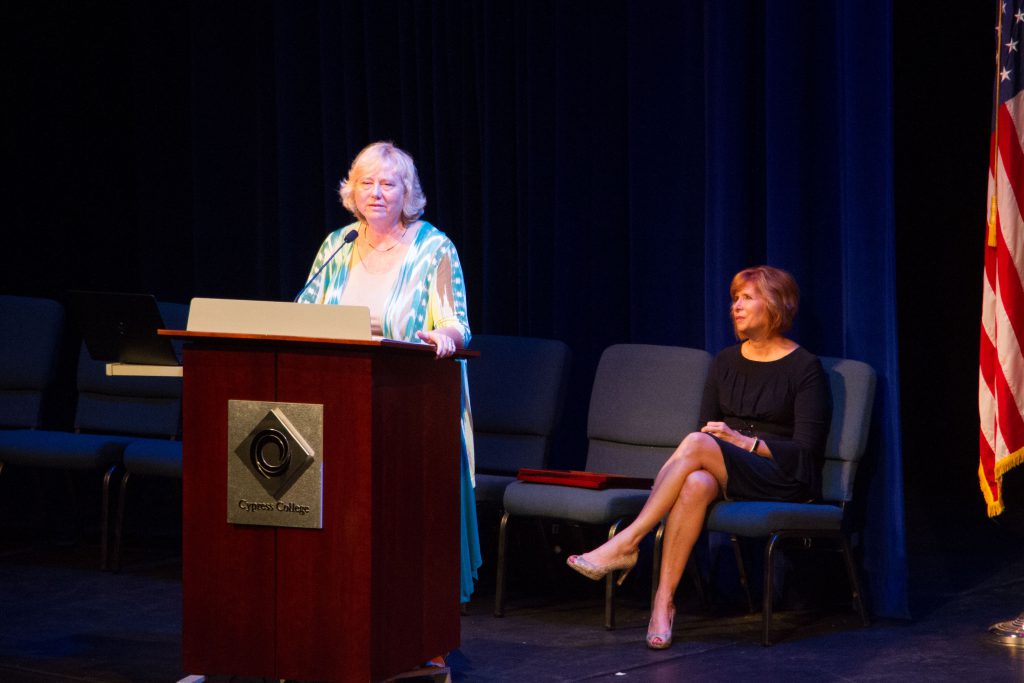 One way Cypress College is working to better serve its students in an environment they are familiar with is through the launch of a new app, Cypress Connect. Cypress College Director of Academic Computing Technologies Peter Maharaj presented the app, currently in phase one of launch, emphasizing that the college needs to think digitally because that's where students are.
Updates and Accomplishments
Opening Day is also an opportunity for the college to celebrate the start of a new semester. Dr. Schilling recognized new and recently promoted employees at the college, spoke of staff and faculty accomplishments from the past year, and presented the Diversity and Inclusiveness Award to retired Photography Professor Clifford Lester.
Lester has worked tirelessly to give voice to Holocaust survivors and ensure that their stories are not lost or forgotten. His work is featured in the Holocaust Memorial Gallery currently located in the second floor hall of the Student Center, and has also been presented during the college's annual Yom HaShoah events.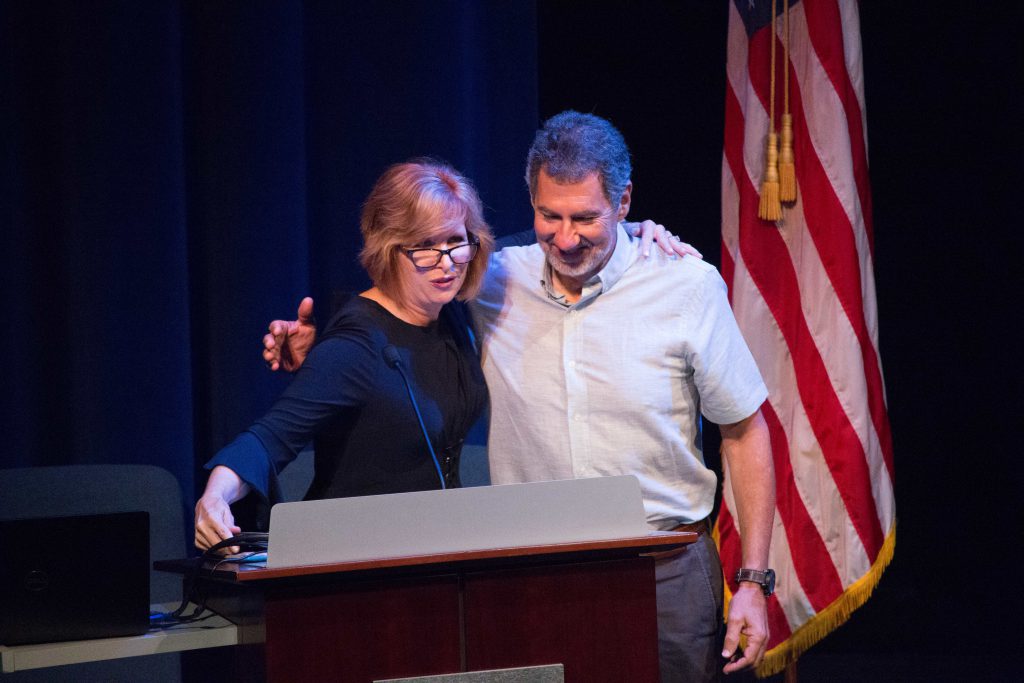 Dr. Schilling and district representatives Dr. Marshall and NOCCCD Board of Trustees member Ryan Bent also awarded Cypress College (STEM)2 Program Director Yanet Garcia and Career Planning Center Coordinator Deann Burch with the North Star Award. The award recognizes employees throughout the district for their outstanding contributions and work performance. Garcia and Burch had previously been honored at the June 26 Board of Trustees meeting.
Accreditation co-chairs Phil Dykstra, Cypress College director of institutional research and planning, and Liana Koeppel, English professor, provided employees with an update on the college's next steps in the accreditation process and institutional set standards. The college's accreditation follow-up report is due March 1, 2019 and is currently in the draft stage. An open forum will be held in mid-October to allow faculty and staff to provide feedback.
The day came to a close with a barbecue lunch by the Pond and division meetings held around campus as faculty and staff buzzed with excitement for the start of a new school year.