Forest Lawn Incorporates $100,000 Donation to Cypress College VRC at Patriots Chapel Dedication
Cypress College's Veterans Resource Center received a second $100,000 contribution this month — this time as the centerpiece of a ceremony dedicating the new Patriots Chapel at Forest Lawn's memorial park in Cypress.
A ceremonial check was presented to Cypress College President JoAnna Schilling, Ph.D. and representatives of the VRC by Forest Lawn President and CEO Darin Drabing during the Patriots Chapel dedication on October 11.
"We are deeply grateful for the generosity of Forest Lawn, CEO Darin Drabing, and Vice President Angie Ray for your support of our Veterans Resource Center." Dr. Schilling said during the event. "Cypress College is committed to ensuring our Veterans Center will be a state of the art facility for our returning veterans, and our services will provide the support they so richly deserve."
"Community outreach and involvement are an essential part of Forest Lawn," said Drabing, who serves on the Cypress College Foundation Board of Directors in addition to his leadership role at Forest Lawn. "Our on-site events, such as our annual Easter Sunrise Service, Veterans Day, Memorial Day, and Dia de los Muertos programs, bring the community together for celebrations of life. The dedication of the Patriots Chapel at the Heritage Mausoleum as a new public space signifies the ways Forest Lawn helps communities thrive."
Cypress College is set to break ground on a new Veterans Resource Center, which will facilitate expanded services for student veterans. In addition, the project will create a public space highlighting the role of military veterans in providing America's freedom and the journeys these individuals take following their service.
Forest Lawn said "the donation will enhance the new brick-and-mortar facility on the Cypress College campus, which is set to break ground in 2019. It will also help establish programs and events, including educational and social services, which will create community and educate the general student population and administration about America's military history and student veteran sacrifices and challenges."
Forest Lawn's contribution comes as the college is raising funds to ensure services at the VRC continue for generations. Earlier this month, Cypress College was named the recipient of a $100,000 competitive state grant intended to expand and bolster the VRC.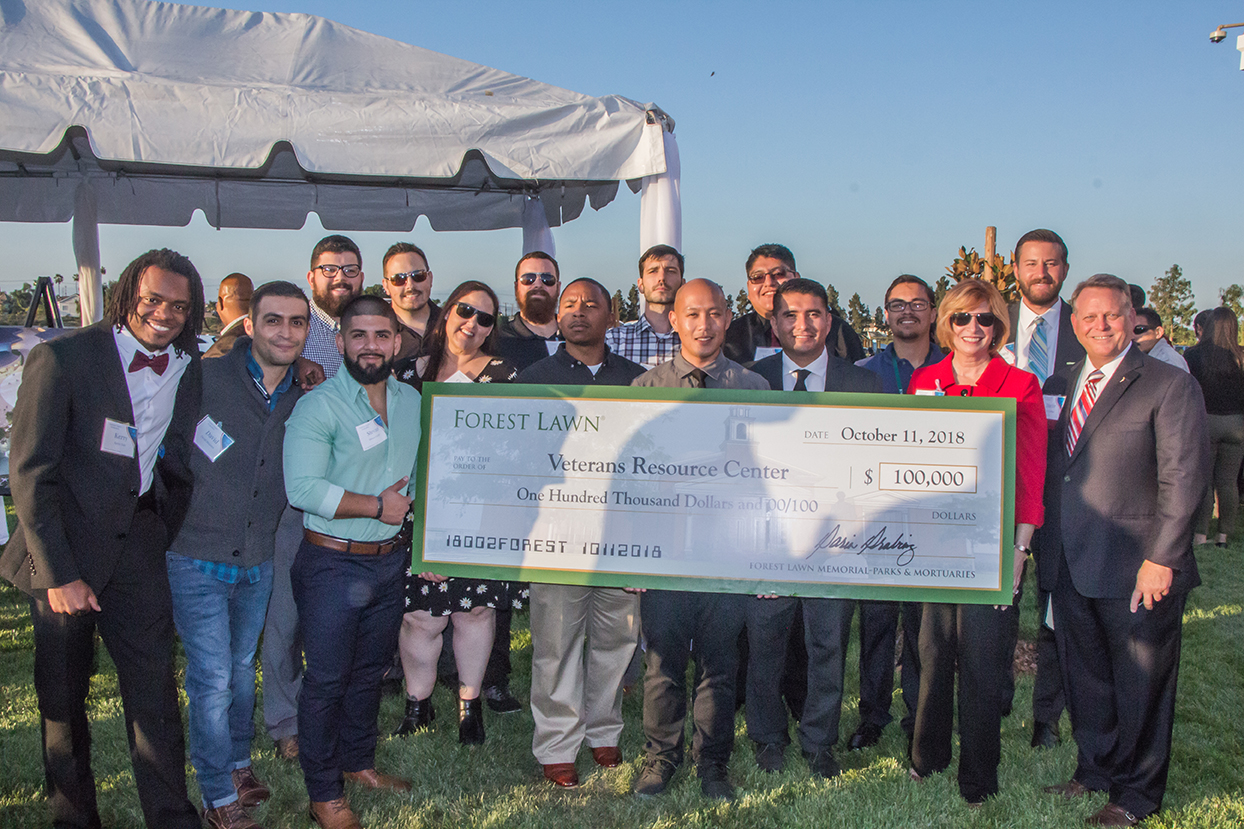 About Cypress College:
Cypress College has motivated the minds of students since 1966. For nearly a half-million people — including actors, athletes, doctors, executives, mechanics, nurses, and teachers — Cypress College has been a springboard to their dreams. For some, Cypress College is the ticket into their university of choice and for others it provides essential training for a rewarding career. Just one Cypress College class is often all it takes to provide cutting-edge skills that lead to a promotion or a new job.
Cypress College's 16,000 students and the highly qualified teaching faculty are proud of the many excellent academic and vocational programs. Cypress College offers 56 university-transfer majors, 176 career-certificate programs, and degrees in 73 areas of study. The college's traditional semesters begin in January and August, while short-term courses start throughout the year. A Cypress College education costs $46 per unit — $138 for a typical, full-credit class — California's lowest tuition. Financial aid and scholarships are also available to qualifying students.
Cypress College is one of three campuses in the North Orange County Community College District and a member of the 114-campus California Community College System. The college primarily serves the cities of Anaheim, Buena Park, Cypress, Garden Grove, La Palma, Los Alamitos, Seal Beach, and Stanton.
Located at 9200 Valley View Street in Cypress, the college is easily accessible from several Southern California freeways, including the 5, 91, 605, 22, and 405. The campus is just a stone's-throw from Downtown Disney and Knott's Berry Farm.