Buen Cypress Theme Resonates at Spring 2019 Opening Day
Buen Cypress! It's a simple phrase—albeit sometimes confusing to those hearing it for the first time—that embodies the core of what Cypress College is about. It is the college's way of building a culture that lets students know that each and every faculty and staff member cares about them, is there to support them, and is invested in their academic and life journeys.
"Phrases are empty if they're just words, but I really believe that Buen Cypress is deeply ingrained in what we do here, and it's just a way to call attention to the work that is already being done," said Cypress College President Dr. JoAnna Schilling during spring 2019 Opening Day.
NOCCCD Chancellor Dr. Cheryl Marshall shared the sentiment of Buen Cypress when she spoke about a Gallup research study on student success, which found that "it boiled down to three basic things: hope about the future; a sense of engagement, which is connection and enthusiasm about the campus or school that they're a part of; and a sense of well-being, physical, emotional, mental, all of that.
"It's those three things," she continued, "that ensure or help students get to the finish line. And so part of our work, and I think the work that we've been doing the past few years, is to really shape an environment where we can give students those three things."
Keynote Speaker Heather Hackman reiterated the Buen Cypress theme during her presentation on "Developing and Utilizing an Equity Lens in Our Teaching."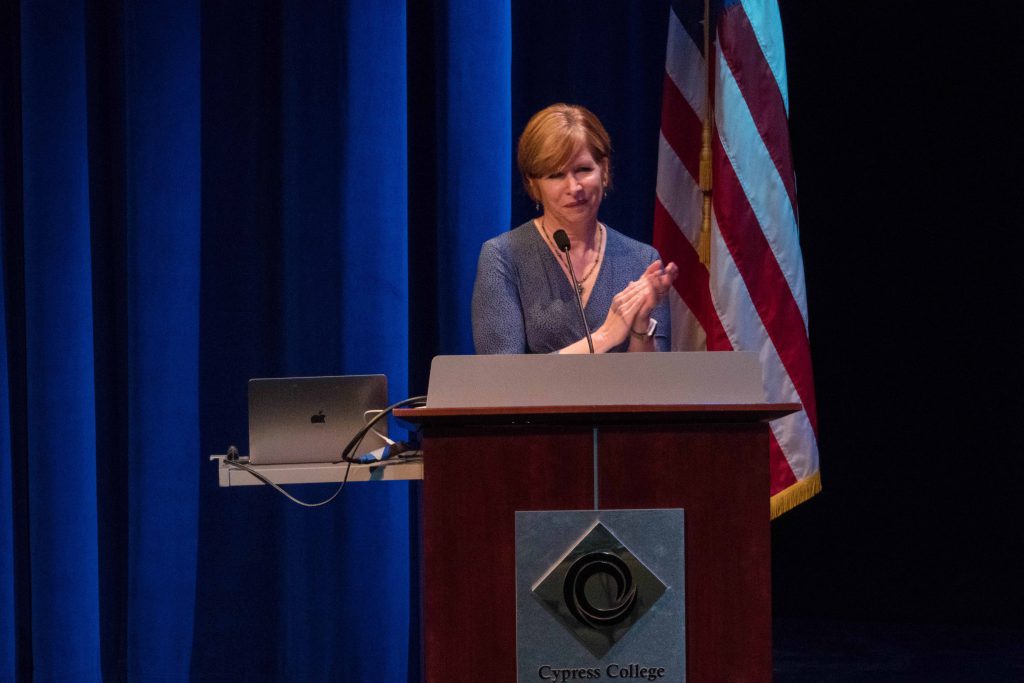 Dr. Schilling originally coined Buen Cypress during her first Opening Day at the start of the fall 2017 semester. It was inspired by the "Buen camino" greeting shared by travelers on Europe's Camino de Santiago.
Continuing, she said, "Nothing really depicts Buen Cypress better than the next student that I'm going to introduce to you," as she invited Brandon Davis, a math student who was diagnosed with a rare bone cancer in late fall 2017, to the stage.
Brandon was a typical college student juggling school with work and a social life when he was faced with a difficult reality: the active 20-year-old was diagnosed with Ewing's Sarcoma in the last few weeks of the semester.
"At the beginning, I went through really hard realities that kind of stick with me today, such as I didn't know if I was going to make it to celebrate my 21st birthday," he said. While undergoing 14 rounds of chemotherapy over eight-and-a-half months, along with 29 rounds of radiation over a span of six weeks, Brandon turned 21 in September 2018. He recently received his first negative scan since finishing his treatment.
Though he was faced with contemplating his own mortality, Brandon continued to be vigorously dedicated to his education. He credited the support he received from family, friends, and college faculty and staff with helping him to keep up with his studies while making it through his long months of treatment.
"Without the amazing professors I had that were so understanding of my situation, there would have been no way that I would have been able to get my incompletes done during my treatment, no matter how much I wanted to," he said. "The message that I wanted you guys to get from this is that students like me, we are aware and extremely grateful for all the effort and time you put into our education. I'm not special. There are lots of us in all of your classes. We are very quiet and shy, so you never hear from us, so I'll take this opportunity on behalf of all students like me to say that we really do appreciate what you guys do."