Remembering Irv Pickler, Long-Time Supporter of Cypress College
Cypress College is remembering long-time supporter Irv Pickler, who passed away at age 98 on Wednesday, July 17, 2019.
Mr. Pickler served for 30-plus years as member of the Cypress College Foundation Board of Directors — during that time, he served in every leadership role on the board — and was a dedicated public servant. He served as a member of the Anaheim City Council for a dozen years, was a World War II veteran, and the father of legendary Cypress College coaches Scott (baseball) and Brad (softball) Pickler.
Irv Pickler became known as the number one fan of those two teams — a fixture seated behind home plate, where he encouraged the student athletes and assisted umpires in their decision making. Mr. Pickler was also seated behind home plate when the Angels won the World Series in 2002.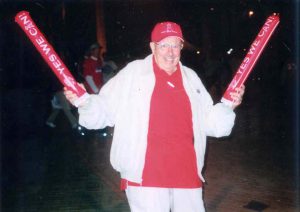 "Irv Pickler embodies the spirit of Cypress College and worked tirelessly to provide assistance to our students," said Cypress College President JoAnna Schilling, Ph.D. "He served in official capacities on the Cypress College Foundation Board of Directors for more than 30 years and is equally known for his informal roles as an athletics fan and as the father of two of our most-successful coaches. As a member of America's 'Greatest Generation,' he was admired and respected by those Cypress College students who had the opportunity to meet him."
In 2006, he was recognized as the Cypress College Foundation's Americana Man of the Year. Five years later, in May, 2011, Mr. Pickler was recognized with an honorary associate's degree from Cypress College — one of only three presented in the college's history.
"The Cypress College Foundation has been shaped by Irv Pickler's leadership," said Executive Director of the Foundation and Community Relations Howard Kummerman. "He served in every leadership capacity on our Board of Directors and set a high bar for other members. When he was honored as Americana Man of the Year in 2006, we set a record for attendance at the event — which is a tribute to him as an individual and a leader."
Mr. Pickler was born in Cambridge, MA in 1921. He married Betty Strauss in 1943. The couple had five children and were married 63 years until Betty Pickler passed in 2006. Mr. Pickler joined the United States Army at the onset of World War II, earning the rank of 2nd Lieutenant before transferring to the United States Air Force. He flew 35 missions during the war, earning the rank of 1st Lieutenant. He was awarded the Air Medal with five Oak Leaf Clusters, and an EAME ribbon with three bronze stars.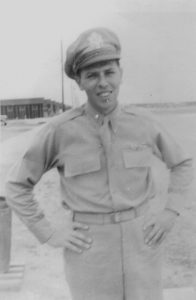 He moved to Anaheim in 1956, started a business, and coached his children's baseball teams. He served as a member of the Anaheim Unified School Board, the Orange County Planning Commission, and then the Anaheim City Council. In addition to his work with the Cypress College Foundation, Mr. Pickler served on many philanthropic boards, the Orange County Transportation Authority, the Orange County Water District, the Anaheim Heart Association, the Anaheim Family YMCA, and the Kiwanis Club of Greater Anaheim.
Mr. Pickler is survived by his five children: Don; Marcia; Scott; Ellen; and Brad; 10 grandchildren; and nine great-grandchildren. Memorial services will be scheduled at a later date.