Professor Jenelle Herman Earns Annual Diversity Award
Faculty member Jenelle Herman is the recipient of Cypress College's 2019-2020 Diversity, Equity, and Inclusion Award. Herman has served as a full-time member of the English as a Second Language Department faculty since Fall 2016. She also is an advisor for the LGTBQ student club, has been a mentor for the Legacy Program, serves on the college DEI Committee, and spearheaded the planning of Coming Out Day at Cypress College.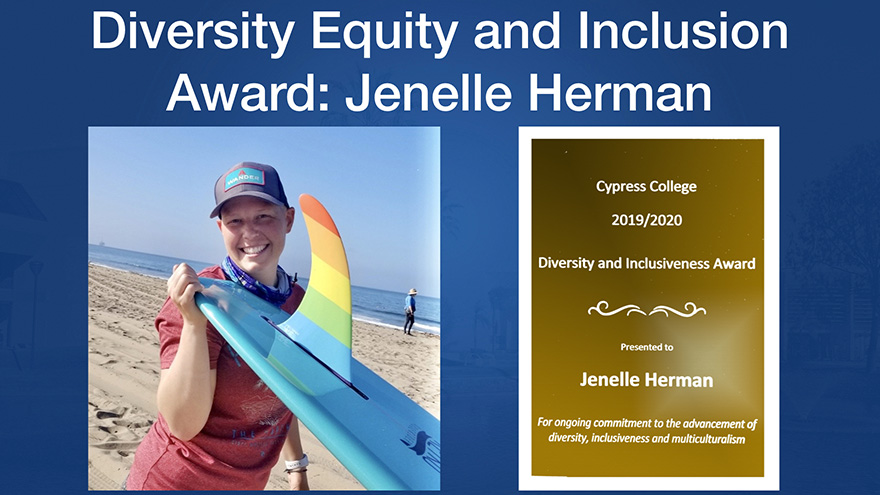 "This year one name rose to the top for her work in ensuring that all voices are heard at our college, for her fierce advocacy on behalf of our LGBTQ community, and despite her own personal fight with cancer this past semester, she has never stopped fighting for our LGBTQ students to be treated with dignity and respect," President JoAnna Schilling, Ph.D., said during the award presentation. "Jenelle has worked tirelessly to advocate for preferred names on our rosters and in Canvas, for the need for gender neutral restrooms and is currently serving as the campus LGBTQ faculty coordinator, among so much more."
The annual award is presented based on nominations made to the college's Diversity, Equity, and Inclusion Committee. Nominations are evaluated for individuals or groups that: Demonstrates outstanding effort in support of advancing the issues of diversity, equity, and inclusion on campus and in our communities.