President Schilling's Board Report for August 25, 2020
The following is a report to members of the North Orange County Community College District Board of Trustees.
Presented by Cypress College President JoAnna Schilling, Ph.D.
on August 25, 2020
Navigating this new world: As we start the fall semester online, we are learning much about our student needs, the support they need to navigate this virtual environment, and building community and connection when we are not able to be on campus together. Challenges like reaching a counselor, financial aid rep, service, or talking to a live person to answer questions, have posed new challenges. To address these barriers, we have opened Express Counseling centers, our Student ambassadors are available at our Zoom Welcome Center to respond in real time to student inquiries, are sending daily social media blasts to inform students of our services and how to access them, and our faculty are reaching out to help guide and direct.  Our enrollment has improved since our last Board meeting and we are now close to the enrollment from last fall. The key will be retaining our students during the first critical weeks of the semester and we appreciate the work our managers, staff, and, especially, faculty are doing to reassure students we are with them. This summer has been anything but quiet and I am grateful for the faculty, staff, and managers who have delayed or shortened their own vacation time to address the important issues facing our college.
Student Support: To address technology challenges, all students may request a laptop and WIFI hot spot to assist them in their studies. Our L/LRC team is distributing this equipment to students during designated hours and so far the demand has been high. We appreciate our L/LRC team, led by Treisa Cassens, and our IT team, led by Peter Maharaj, for their work obtaining and distributing these resources to students. In addition to our Drive Up WIFI access in Lot 1, we are also exploring having safe outdoor study spaces on campus to support students who cannot find a quiet space to study at home. The first space is planned on our Gateway Plaza with social distanced tables, plexiglass shield, appointment only service, and WIFI access. We are still working out the logistics of how to allow students on campus and ensure their safety and the security of our employees. We hope to have this in place by mid-September.
Don't forget your mask! Although the number of students on campus this fall will be limited, when they are here, we are providing direction on our expectations. Students must complete a wellness check form on our mobile app before accessing our campus. To view the recent PSA video on safety protocol for students, please check out this video.
The college's HSI Title V Grant focuses on the creation of Completion Teams for each academic pathway (meta major) which are led by faculty peer and data coaches. In addition, each Completion Team includes a counselor, success coach, transfer coach, career coach, financial aid rep, and dean. The purpose of these completion teams is to form support communities and utilize data to inform the support and actions needed within each community. At the core of our Guided Pathways approach is ensuring equity for our students. To ensure equity is grounded in our teams, our peer and data coaches took part in an important kick-off training during the week of August 10-14, led by Title V Project Director, Deidre Porter, Director of IRP Eileen Haddad and Research Analyst Kristina Oganesian, Guided Pathway co-chairs Ruth Gutierrez and Lisa Gaetje, and Peer Coach lead, Steven Estrada. We are off to a strong start in reaching the outcomes of our grant and ensuring all students have the support and resources needed to succeed at Cypress College.
Graduation Packets: Associated Students coordinated the Cypress College Grad Pack Drive Up on August 17-18, 2020.  Students, many with their families in the car, were welcomed by Dave Okawa, Jay Shonkwiler, Ester Plavdjian, Nicolette Garcia, Garret Sepulveda, a.m.erica Olmedo, Joshua Boynton, Harley Tran, and Marielena McDermott.  Recent graduates received a commemorative 2020 Buen Cypress Medallion, Academic Pathway Sash (Business, Career Technical Education, Fine Arts, Health Sciences, Kinesiology, Language Arts, Science/Engineering/Mathematics, Social Science, and/or We Journey Together), picture frame, and diploma cover. This week's event drew almost 900 students. We have scheduled another Grad Pack Drive-Up in late September.
Black Lives Matter Oversight Task Force: The BLM Taskforce Recommendations Report has been released and is located on our website. Although this report is still in the early stages of discussion, our Board is welcome to request a copy for your own review. You can find the recommendations included in our affirmation and commitment to racial equity page, which is prominently displayed on our Cypress College home page and college marquee at the campus entrance along Valley View Street.
Equity Institute Training: The Cypress College Executive Team, Senate Executive Team, academic deans and all of our peer and data coaches who are leading our Guided Pathways Completion Teams – a total of 40 faculty, staff and managers —  are participating in an 8-week course through USC's Center of Race and Equity to provide leadership skills for us to engage in the necessary, and uncomfortable, discussions required to address racial equity at Cypress College.  The course began August 5 and runs every week through September 23 and will result in eight focused projects that will be implemented at the college. I am grateful for the seriousness in which all attendees have embraced the opportunity to become race-conscious leaders, and for Lisa Gaetje and Ruth Gutierrez, our Guided Pathway co-chairs who saw the need for this training and created this space for us to learn together. Our work with the Equity Alliance will expand the number of participants in this work to an additional 60 participants in the coming year.
Our COVID 19 Response Team continued to meet throughout the summer and we thank our Senate for their work in developing recommendations for Cypress College and the District for faculty-student interaction. Cypress faculty, who have been engaged in teaching courses on campus this summer, have put in countless hours developing protocols for student interaction on campus, and their work helped inform the F2F protocols which will be included in our NOCCCD Return to Work guidelines.
Cypress College has a new website! This has been over a year in the making and after countless hours by our Communications and IT Teams, (with special thanks to our web designer, Cari Jorgensen), our official unveiling occurred on August 18. The navigation of our site is much easier for our students, employees, and community members, and although we will continue to modify the content throughout the fall semester, we are proud of our new look and the clear focus on our academic pathways.
Our Opening Day convocation was held virtually this year on August 21 from 9 –11 a.m. Thank you to Marc Posner and his Communications staff who put in countless hours creating the content for Opening Day, and to all our guests and presenters who participated in making this a unique and inspiring morning together. If you missed it, you will be able to view the event on our website. The Opening Day event featured an engaging pre-show with faculty interviews, campus updates, and some entertainment. The program focused on celebrating our students, faculty awardees, and a panel of our Black faculty who discuss their personal and professional experiences with racism. Thank to those who were able to join us!
Buen Cypress! We Take This Journey Together!
Degree and Certificate Attainment for 2019-2020
Here are some key trends:
We had another record-breaking year, awarding more degrees and certificates than any previous year
African-American and Latinx students saw a greater increase in the number of awards earned since 2017-18 (76% and 54%) than White students (22%)
The largest increase in awards was observed among Asian students who more than doubled the number of awards earned since 2017-18 and saw a 136% increase
Degrees and Certificates Awarded 2019-20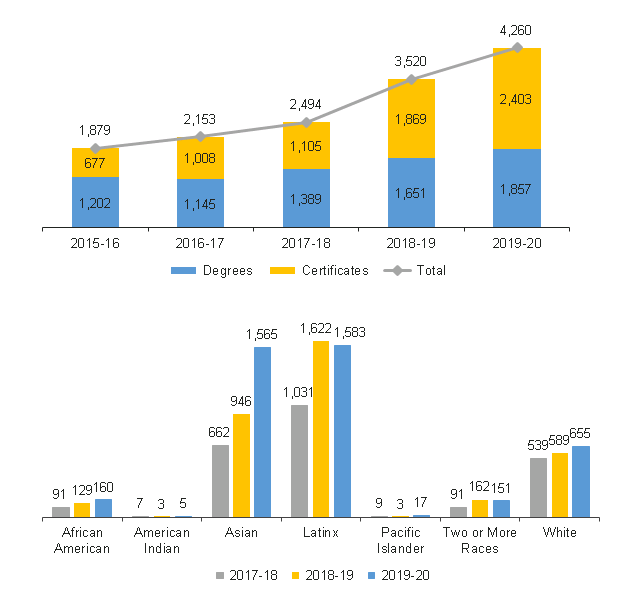 Impacts of AB 705 Implementation
With the implementation of AB 705 in Fall 2019, the completion rate of transfer-level English within one year increased from 46.5% in Fall 2015 to 71.2% in Fall 2019, and the completion rate of transfer-level math within one year increased from 23.2% in Fall 2015 to 43.3% in Fall 2019 (see Figures 1 and 2).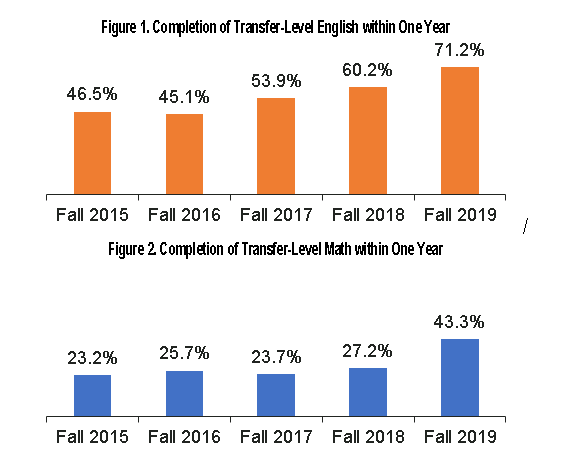 In English, the completion of transfer-level was 1.6 times higher among African American students, increasing from 36.5% to 59.3%, and 1.7 times higher among Latinx students, increasing from 38.2% to 64.8%, whereas for White students, completion rates were 1.5 times higher, increasing from 50.8% to 78.6%.
In Math, the completion of transfer-level was 3.1 times higher among African American students, increasing from 8.6% to 26.8%, whereas White student completion rates were 2.4 times higher, increasing from 22.8% to 55.2%.