New On-Campus Charger Study Space Now Open
Cypress College is providing a new, safe study space on campus for students to use throughout the fall semester.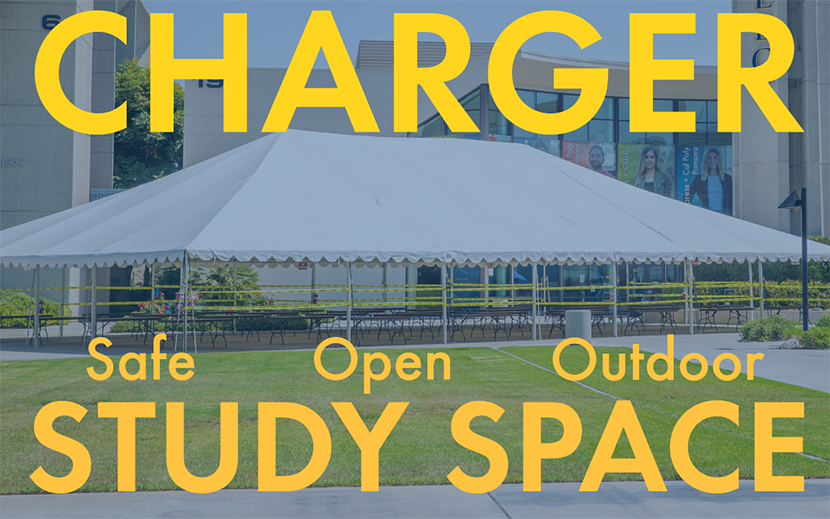 The study space will be available Monday–Thursday 7:30 a.m.–10 p.m. and Friday 7:30 a.m.–5 p.m.  Make a mandatory appointment in two-hour blocks using the college's Cypress Connect app. If you haven't downloaded the app already, please download it here.
To complete your reservation time, please go to our COVID-19 module within the mobile app. Next, complete the required Wellness Check Form, also located in the COVID-19 module in the app, each time before coming onto campus. Wear a mask while on campus and maintain a distance of at least 6 ft. with others.
Additional guidelines are available below:
I made an appointment. How do I access the study space?
You may enter the study space using the designated access area from Lot 1 through Gateway Plaza only.
Will charging outlets be available?
Limited charging outlets will be available in the study space. It is strongly recommended that you charge all of your devices prior to coming on campus.
Will I be able to use the restroom while on campus?
Yes, there will be designated restrooms and hand-washing stations for use. You must wipe down or spray each area touched after each use.
Can I eat while studying?
No, food is not allowed in the study space. There will be designated areas for eating. Please ask a staff member about these designated areas.
Is it OK for me to attend a Zoom class while at the study space?
Certainly! To be considerate of others using the study space, you are required to use head/earphones if you are taking a live Zoom class that requires sound and interaction.
Can I go anywhere else on campus?
No. Students must stay in the study area only. When exiting campus, leave the study space area and return straight to your transportation. Exceptions will be made for students with an on-campus class before or after using the study space; however, these students are also limited to accessing only those areas at the entry point identified by their instructors.
What health and safety precautions are being taken to provide this study space?
You must wear a mask while on campus, and may only remove it when seated at your designated study space and at least 6 feet away from anyone else. Hand sanitizer will also be available to students at every table.
The study spaces must be wiped down and disinfected with provided materials by students and staff after each use, and the campus' Maintenance and Operations team will do a nightly deep cleaning, disinfecting, and sanitizing.