Remote Instruction to Continue During Spring Semester at Cypress College
Cypress College has announced that course instruction will continue in a remote/online format during the spring 2021 semester as a response to the current COVID-19 pandemic. The decision was made as the college works to finalize the course offerings for spring in time for registration to begin in a few weeks.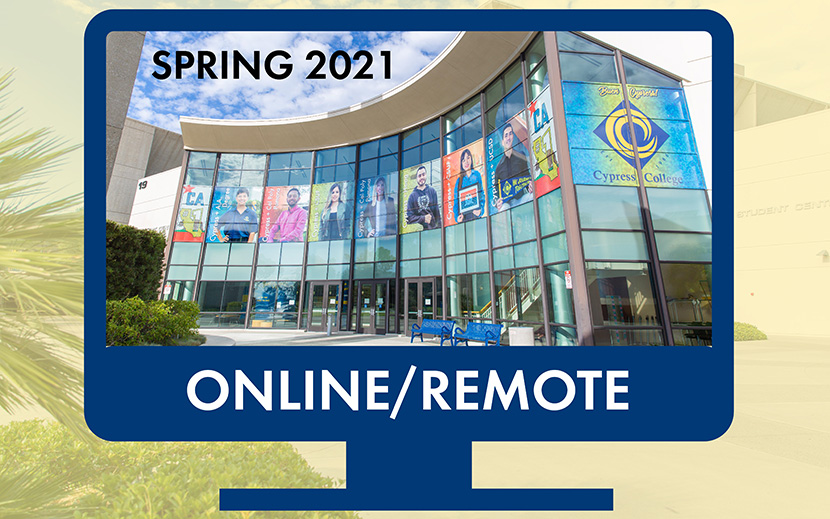 "This decision allows us to balance the safety needs of our students while providing them with certainty about their coursework for the upcoming semester," said Cypress College President JoAnna Schilling, Ph.D. "Although we sincerely wish we could welcome our employees and students back to our campus this spring, this decision was made in the best interest of our students and employees, while allowing our faculty the necessary time to best prepare their courses for continued remote/online delivery."
Spring classes begin January 25, and registration begins November 9. Prospective students are invited to visit www.cypresscollege.edu/admissions/apply-now to apply. Cypress College's spring offerings will be expansive, roughly at the same pre-pandemic level of spring 2020. Nearly all fall courses are being taught remotely with a limited number of face-to-face courses meeting occasionally on campus to meet lab and accreditation requirements. These include courses in Career Technical Education, Health Science, and Kinesiology.
All of the college's student services, activities, and premier support continue to be provided via our virtual services all semester. In addition to free, drive-up WiFi, Cypress College this month initiated an on-campus outdoor student study space — a power and data-equipped, socially distanced gathering spot where students can find a quiet location to study and/or attend virtual class meetings.
Cypress College halted in-person coursework on March 13, 2020, in response to the COVID-19 pandemic. In May, the college notified students that instruction would continue to be remote in the fall semester to allow for the greatest level of preparation possible for students as well as faculty and staff.
For more information about Cypress College, visit www.cypresscollege.edu.
About Cypress College:
Cypress College offers students a pathway to their future in an environment in which employees commit to joining students on their educational journey. The college's half-million-plus alumni include actors, athletes, doctors, executives, mechanics, nurses, and teachers. For some, Cypress College is the ticket into their university of choice, and for others, it provides essential training for a prosperous career. Just one Cypress College class is often all it takes to provide cutting-edge skills that lead to a promotion or a new job.
Cypress College's 16,000 students and the highly qualified teaching faculty are proud of the many excellent academic and vocational programs. Cypress College offers 56 university-transfer majors, 174 career-certificate programs, and degrees in 98 areas of study. The college's traditional semesters begin in January and August, while short-term courses start throughout the year. A Cypress College education costs $46 per unit — $138 for a typical, full-credit class — California's lowest tuition. Financial aid and scholarships are also available to qualifying students.
Cypress College is one of three campuses in the North Orange County Community College District and a member of the 116-campus California Community College system. The college primarily serves the cities of Anaheim, Buena Park, Cypress, Garden Grove, La Palma, Los Alamitos, Seal Beach, and Stanton.
Located at 9200 Valley View Street in Cypress, the college is easily accessible from several Southern California freeways, including the 5, 91, 605, 22, and 405. The campus is just a stone's-throw from Downtown Disney and Knott's Berry Farm.
In response to the global COVID-19 pandemic, all of Cypress Colleges and services are offered remotely. Students can access support services online at cypresscollege.edu/coronavirus.
—30—