ARISE Hub Provides Cypress College with Online Support to Students Struggling with Isolation
In a time when college students might feel particularly isolated from the world due to the repercussions of the COVID-19 pandemic, Cypress College and sister campus North Orange Continuing Education (NOCE) are offering students a bit of reprieve in the form of social and mental health support.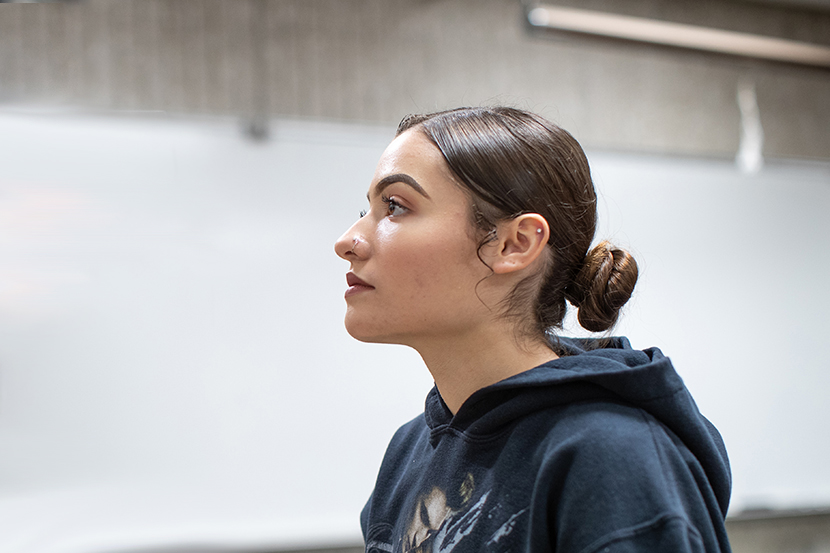 The ARISE (Academics, Relationships, Independence, Self-Advocacy, Emotional Health) Hub, which has locations at Cypress College and other NOCE locations, had served as a space for students, faculty, and staff to come and unwind from the stress of college life. Originally, the facility was designed to be a comforting, stimulus-sensitive space for students with autism and other mental health conditions, but evolved when the hubs realized that all students and faculty could benefit from their services.
Cypress College's ARISE Hub physical space was slated to open this year, but was sidelined due to the pandemic. As on-campus activities were moved to online, facilitators and counselors for the ARISE Hub knew students would need socio-emotional and mental health support more than ever — so they brainstormed ways to pivot and move their efforts to assist students virtually.
NOCE ARISE faculty coordinator Casey Sousa said the facilities and their virtual counterparts were designed with the needs of the college student. The hope is that by providing students and faculty with mental and socio-emotional support, their academics will also improve.
"(The ARISE Hubs) are helpful for everyone: the biggest expansion has been recognizing this holistic approach and having a place for students to go when things are really overwhelming," said Sousa. "So we are an academic institution but all of these areas impact that."
Facilitators have made sure that students are still having the most "real college" experience they can possibly have, in spite of the lack of on-campus activities. To date, the ARISE Hub has hosted virtual talent shows, movie nights, and social hours to keep students connected and socializing.
Cypress College President Dr. JoAnna Schilling, Ph.D. said the college is committed to supporting the health of students, faculty, and staff.
"Now, perhaps more than any point in recent memory, it is important to focus on our wellbeing and the wellbeing of others in our community," Dr. Schilling said. "We have launched ARISE to serve as a virtual Wellness Center for all students at Cypress College. This space is also a symbol of successful partnerships as it was created in partnership with our sister campus, NOCE. Together, we are able to provide social hours for students to connect, study hours and workshops to help guide students with college-related issues, social support and community building, and emotional and mental health wellness support."
Beyond social activities, counselors hope to teach students coping strategies so they can take those skills with them as they move beyond community college to either a four-year university or into the workforce.
"We teach our students self-advocacy so that they can take care of themselves even when we're not around," said Cypress College ARISE Counselor Sneha Kohli Mathur.
Workshops held by the program include coping strategies, mindfulness exercises, guided meditation, and how to deal with "Zoom-fatigue."
For more information about the ARISE Hub at Cypress College, please email Sneha Mathur smathur@cypresscollege.edu, ARISE@noce.edu, or call (714) 484-7465.
About Cypress College:
Cypress College offers students a pathway to their future in an environment in which employees commit to joining students on their educational journey. The college's half-million-plus alumni include actors, athletes, doctors, executives, mechanics, nurses, and teachers. For some, Cypress College is the ticket into their university of choice, and for others, it provides essential training for a prosperous career. Just one Cypress College class is often all it takes to provide cutting-edge skills that lead to a promotion or a new job.
Cypress College's 16,000 students and the highly qualified teaching faculty are proud of the many excellent academic and vocational programs. Cypress College provides a pathway for each of our students, offering 56 university-transfer majors, 174 career-certificate programs, and degrees in 98 areas of study. The college's traditional semesters begin in January and August, while short-term courses start throughout the year. A Cypress College education costs $46 per unit — $138 for a typical, full-credit class — California's lowest tuition. Eligible first-time students qualify for free tuition through Cypress College's Charger Experience promise program. Financial aid and scholarships are also available to qualifying students.
Cypress College is one of three campuses in the North Orange County Community College District and a member of the 116-campus California Community College system. The college primarily serves the cities of Anaheim, Buena Park, Cypress, Garden Grove, La Palma, Los Alamitos, Seal Beach, and Stanton.
Located at 9200 Valley View Street in Cypress, the college is easily accessible from several Southern California freeways, including the 5, 91, 605, 22, and 405. The campus is just a stone's-throw from Downtown Disney and Knott's Berry Farm.
In response to the global COVID-19 pandemic, Cypress College's instruction and services are offered primarily in a remote format. Students can access support services online at cypresscollege.edu/coronavirus.
—30—