Culinary Instructor Nominated for Teacher of the Year
Hotel, Restaurant, and Culinary Arts instructor Chef Amanda Gargano has been nominated as a 2021 Orange County Teacher of the Year. The award is bestowed by the Orange County Department of Education and SchoolsFirst Federal Credit Union, and would have been granted to Gargano at a gala, however, the pandemic has put the in-person celebration on hold until at least fall 2021.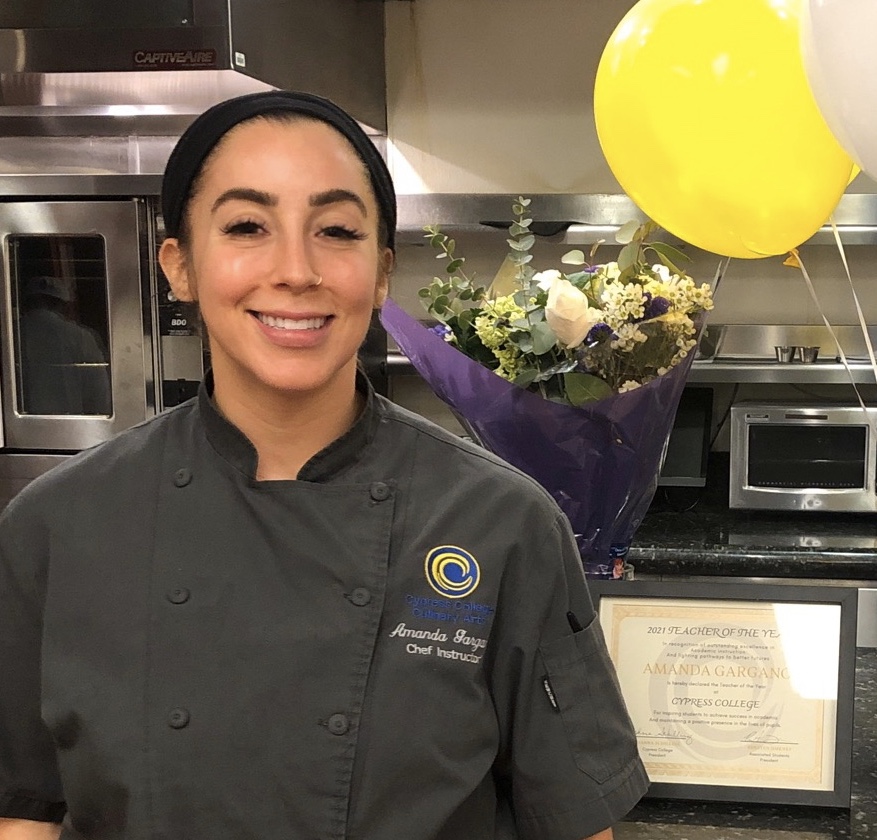 Cypress College President JoAnna Schilling, Ph.D. and Associated Students representatives broke the news to Gargano with a certificate, flowers, and balloons. A presentation last December, sponsored by the OCDoE honored Gargano, and nominees. The acknowledgement ceremony was attended by David Okawa, Marc Posner, Schilling, and Career and Technical Education Dean Kathleen Reiland.
"In course evaluations, it is striking to see such consistently high marks and comments about Chef Amanda's instruction from all students," Reiland says. "Students rave about how wonderfully informative and supportive she is throughout their studies."
Reiland said Gargano seeks creative learning opportunities and industry connections for the HRC Department, and that she is thrilled to have her at Cypress. Gargano is humble but her inspirational instruction has certainly reached the students who nominated her.
"My teaching philosophy has always been to pique my students' curiosity, lead by example, and empower them to be the best version of themselves," Gargano says. "All students are capable of success!"
Nominees came from 28 school districts, three regional occupation programs, and 10 community colleges in the county. Two other North Orange County Community College faculty received nominations — Dr. Amber Rose González of Fullerton College and Erin Sherard of North Orange Counting Education (NOCE).
Each of the 58 nominees will receive a SchoolsFirst tote bag containing a personalized blanket, an all-access pass to OCDE Professional Learning Opportunities, an invitation to the Teachers of the Year gala, and other gifts — including a cash award of $500 from SchoolsFirst. Additionally, the Orange County Teachers of the Year Award Foundation provided each nominee with a gift of $3,000.