Remembering the Ladies, a Celebration of Women's History Month
Back on March 31, 1776, Abigail Adams pled to her husband, John Adams, in a letter to "remember the ladies and be more generous and favorable to them than your ancestors. Do not put such unlimited power into the hands of the husbands. Remember, all men would be tyrants if they could. If particular care and attention is not paid to the ladies, we are determined to foment a rebellion, and will not hold ourselves bound by any laws in which we have no voice or representation."
Women's History Month in particular is a time when we remember all of the women who have made an impact, however big or small, in the world, in our lives, and of course at Cypress College.
Numerous women have been remembered for their accomplishments since the writing of Adams' letter. In 1848, Elizabeth Cady Stanton and Lucretia Mott helped organize the first women's rights convention. The following year, Elizabeth Blackwell became the first woman to get a medical degree and become a doctor. Women's rights were fought for by Sojourner Truth and Susan B. Anthony, among others. In 1932, the world saw the first woman (Amelia Earhart) to fly across the Atlantic nonstop.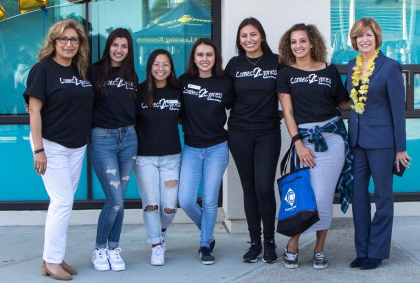 Women were instrumental in the Civil Rights Movement (Rosa Parks, 1955), and in the 1960s, the country saw birth control pills, Equal Pay Act, Title VII, and Title IX.
Tennis star Billie Jean King beat Bobby Riggs in "The Battle of the Sexes" only a few years before Sandra Day O'Connor was sworn in as the first woman to serve on the U.S. Supreme Court, leading to many firsts in government, including the most recent first: a female vice president.
As individuals, we remember our grandmothers, mothers, sisters, and aunts.
As an institution, we would be remiss to leave out the women who have made an impact here on campus. Christine Johnson was our first female president; two others have followed her: Margie Lewis (our ninth president), and JoAnna Schilling (our twelfth and current president). Professor Pat Ganer was our first female Academic Senate president. Geology Professor Dorothy Stout made groundbreaking strides in her field. Coach Margaret Mohr, Gail Taylor (Americana), our women deans (Rebecca Gomez, Katy Realista, Treisa Cassens, Kathleen Reiland, Lisa Gaetje), and so many others past and present have all made an impact on our campus community.
That impact includes you, too, Cypress College students, and everything you've done to be part of this legacy. Please join us in remembering the ladies and celebrating Women's History Month, and share the name and/or a story of one in our comments below.