Aviation & Travel Careers Chair Flies with Blue Angels
Ed Valdez, Cypress College's Aviation & Travel Careers Department Chair, today reached one of aviation's heights by flying with the U.S. Navy Blue Angels. Valdez flew in one of the new F/A-18 Super Hornets out of the Los Alamitos Army Airfield/Joint Forces Training Base, breaking the sound barrier, reaching a g-force of 7.5, and fulfilling a lifelong dream.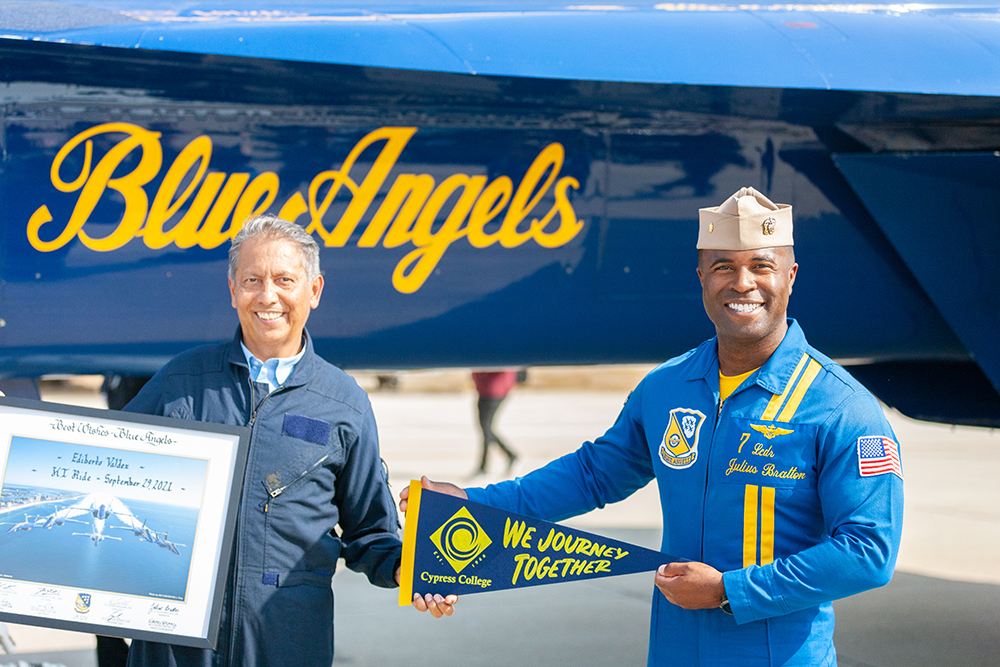 "Ever since I first saw them, I wanted to fly with them," Valdez said of the Naval aviation group. "It has been my dream."
The Blue Angels are celebrating their 75th Anniversary tour, and included Valdez as a VIP guest in the flight event leading up to this weekend's Pacific Air Show in Huntington Beach October 1-3. When asked what being considered a VIP with the Blue Angels meant for him and Cypress College, Valdez was reflective, and a little emotional.
"To the students at Cypress College, I'd say 'You can do it.' I've made it, there were a lot of roadblocks, but I made it, and students can, too."
Valdez was briefed before the hour-long flight on how to prepare for high speeds – the day's flight clocked an indicated MACH of 1.21 – and strong gravitational force. Blue Angel crew members taught him anti-gravity exercises and the Hook Maneuver, to increase blood flow to his upper body and head in the face of forces stronger than seven times his body weight. The possibility of passing out was real but Valdez proved he could be a good student as well as a good teacher.
"No passing out for this guy!" he said upon landing. After deplaning, he said he enjoyed the in-air maneuvers and felt "humbled and blessed to have this opportunity."
In attendance for the event were Orange County Second District Supervisor Katrina Foley, who presented Valdez with a Certificate of Recognition, and Cypress City Council Member Anne Hertz. Cypress College President JoAnna Schilling and Interim Vice President of Instruction and Career & Technical Education Dean Kathleen Reiland also joined to celebrate their colleague's achievement.
"Thanks goes to Cypress College – I'm doing this for all the kids," Valdez said. "It's a great feeling to have them set their lives up and see their success. I tell them to always be putting one foot in front of the other. The destination's important but you have to enjoy the path."
Valdez has taught at Cypress since 2004. He has flown for Champion Air, Skywest Airlines, and occasionally for private Gulfstream G3 aircraft on a contract basis. He recently retired from being a pilot with United Airlines, where he flew Boeing 757 and 767 aircraft.