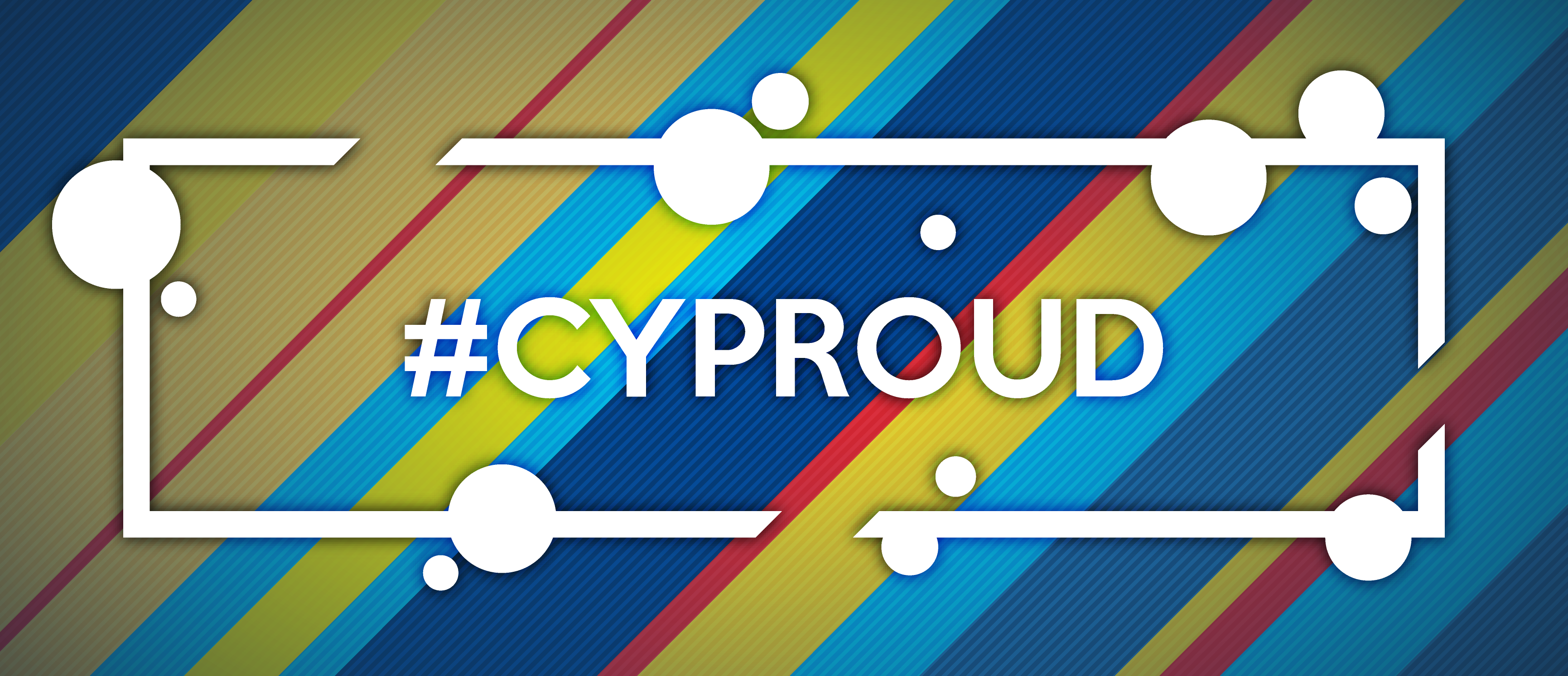 CYProud: Patrick Hale
Student success comes in many different forms, and Cypress College is proud to recognize and celebrate the variety of paths our students take to achieve their dreams. Whether it's transferring to a four-year institution, or receiving an associate degree or certificate and heading into the workforce, we want all of our students to know we are on this educational journey with them and are pleased to feature distinguished #CYProud students for 2021.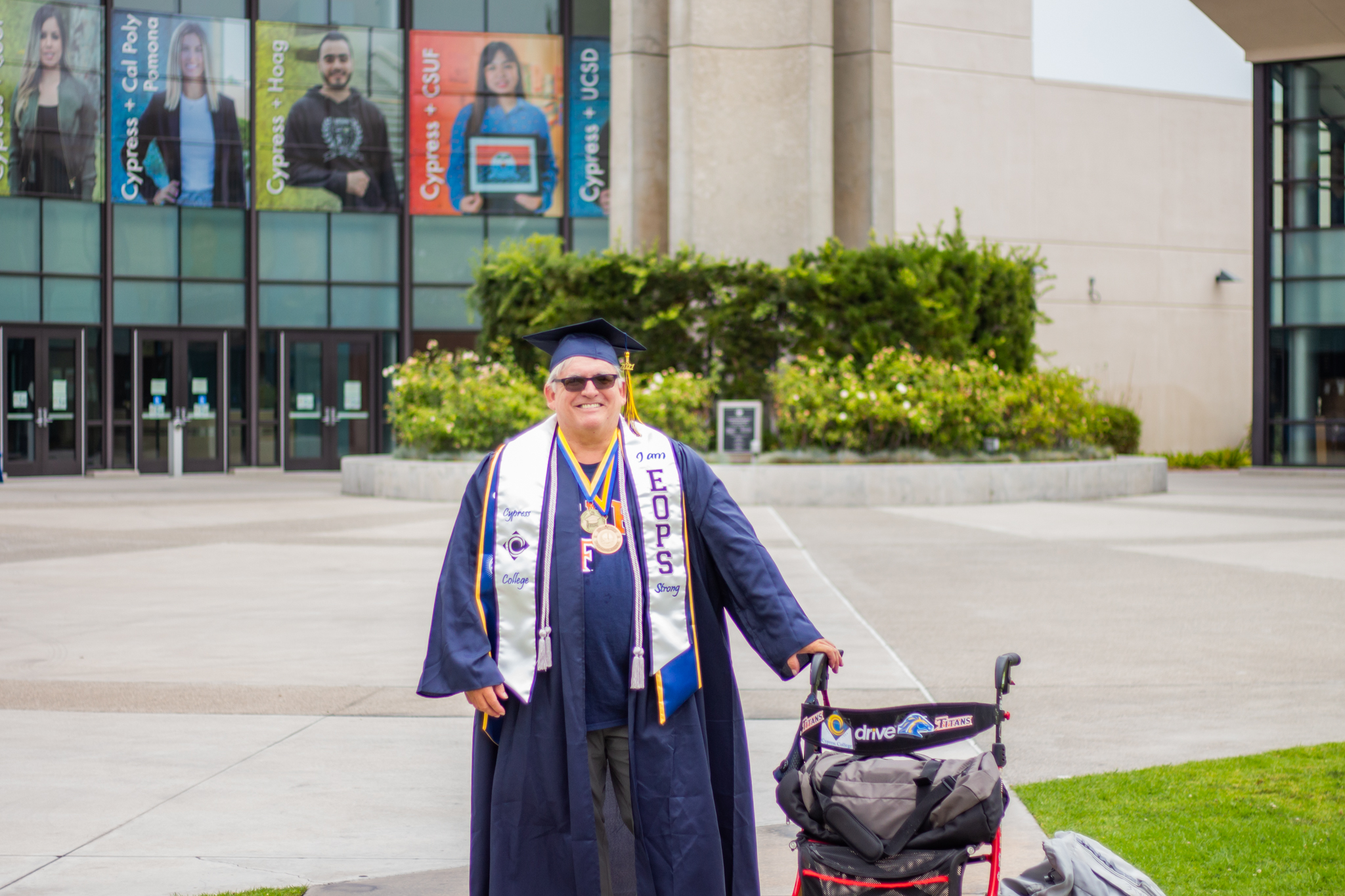 A former girlfriend told Patrick Hale he wasn't just unique, he was Patrick, and truly he has forged his own path through life. It was sometimes hard. He lost his home, close family members, and possessions; along the way, he became dependent on a walker. What he kept, however, was a spirit that motivated him to move forward in his life and turn his focus outward, to others. Now, 40 years after receiving his high school diploma, he has an associate degree in Liberal Arts in Social and Behavioral Sciences and is a junior at California State University, Fullerton, studying Human Services. His strength will surely be an asset in helping others, and his story provides inspiration to anyone else experiencing difficult times to pull through and succeed.
Please tell us about yourself. Where did you grow up? What are your interests? What is your story? 
Born in Newport Beach, I grew up in Huntington Beach with middle-class parents who did not attend college. I love to ski and other nature-related activities. I now do less of these activities as I have degenerative osteoarthritis. Today, I take my walker on adventures. 
I have lost those that meant the most to me growing up, except for my brother, although our relationship is distant. We lost our sister to domestic violence, and in 2015 I lost my best friend: our mother. I lost my home and most of my possessions at the end of 2016. I was in and out of hospitals while being homeless in 2016 and 2018. After I left the last hospital, I concluded that none of that mattered; I had lost the most essential thing: myself. That is when I decided to go back to school and get a college degree. 
What are you most passionate about? Why? 
My passion today is acknowledging who I am, not what I am! One of the driving forces is to use my life experience and pass it on so others might not have to go through the trials and tribulations of my existence (yes, the phrase is redundant but that is life at times). A young friend said I am the strongest person she knows, well not as strong as I care to be. In some ways, I am self-involved. Why? Because I mentor and do things for others because it is who I am, and at the same time it gives me more than monetary things. The main thing I am learning is this is OK, as long as I give to myself first to be effective in helping others. Today, I know where I am going with the rest of my life; it just took 57 years to learn. We all grow up at different times, and I am a grown man.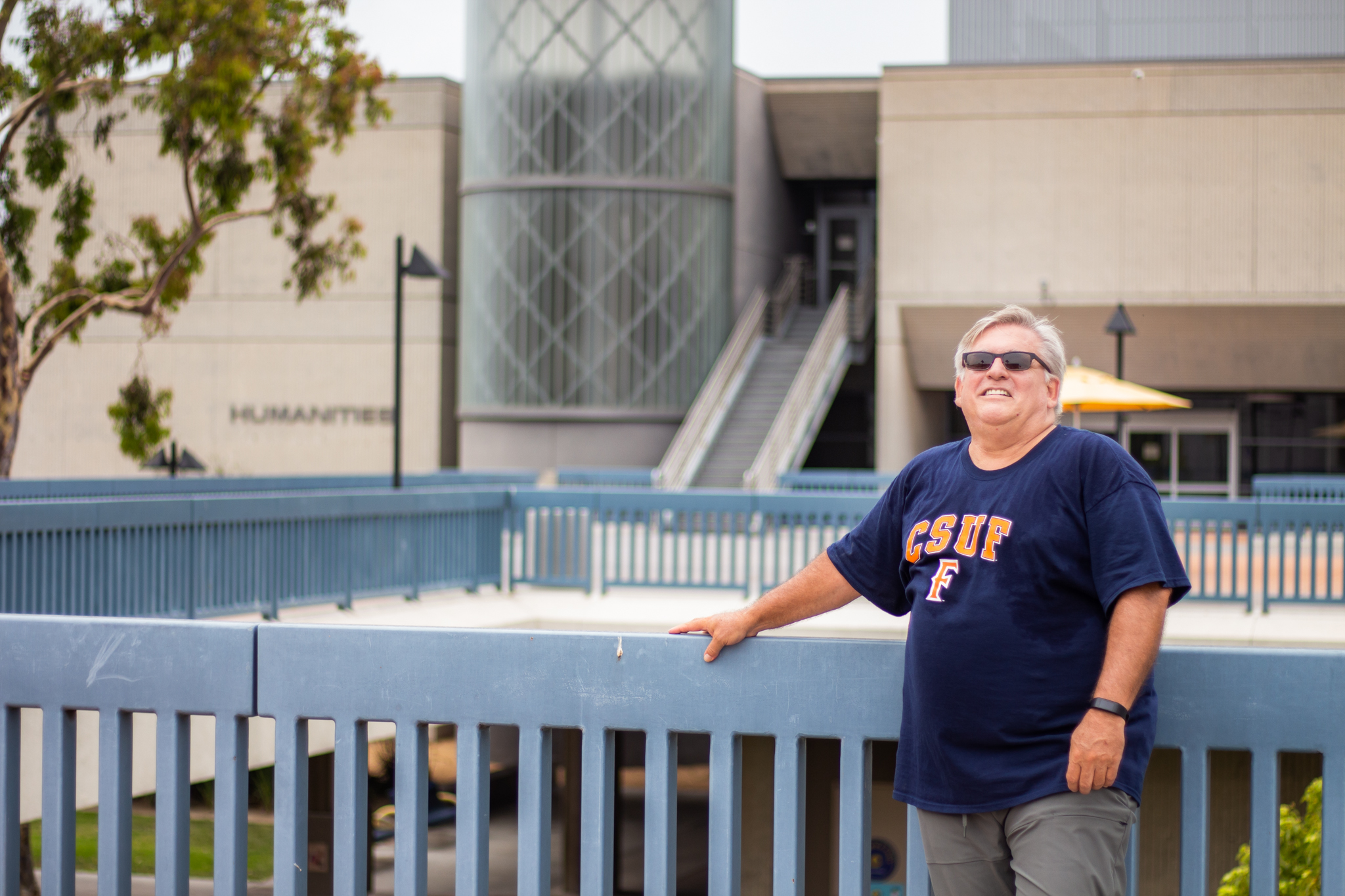 Why did you choose Cypress College? 
Coming back to school was a no-brainer decision; I could no longer deny who I was. I am physically no longer able to do my former profession, which is fine. I started my "Journey" at NOCE, learning how to use a computer for other things than surfing the web. I moved on to Fullerton College as a Computer Information Systems major and realized I did not belong there. The next step was a Human Service and a General Education class at Cypress College. I knew I belonged when I met the person who would be my counselor and my advisor and friend, Alan Reza of EOPS. I completed my first college degree 40 years to the month after receiving my high school diploma – my associate degree, Liberal Arts in Social and Behavioral Sciences. 
What have you been involved in at Cypress College? How has your path unfolded? 
Cypress College affiliations: EOPS, DSS, HCOP Student Ambassador for Allied Health Academy, LIFE Program, FITE Club, Cypress College Wellness Collaborative, Charger Experience.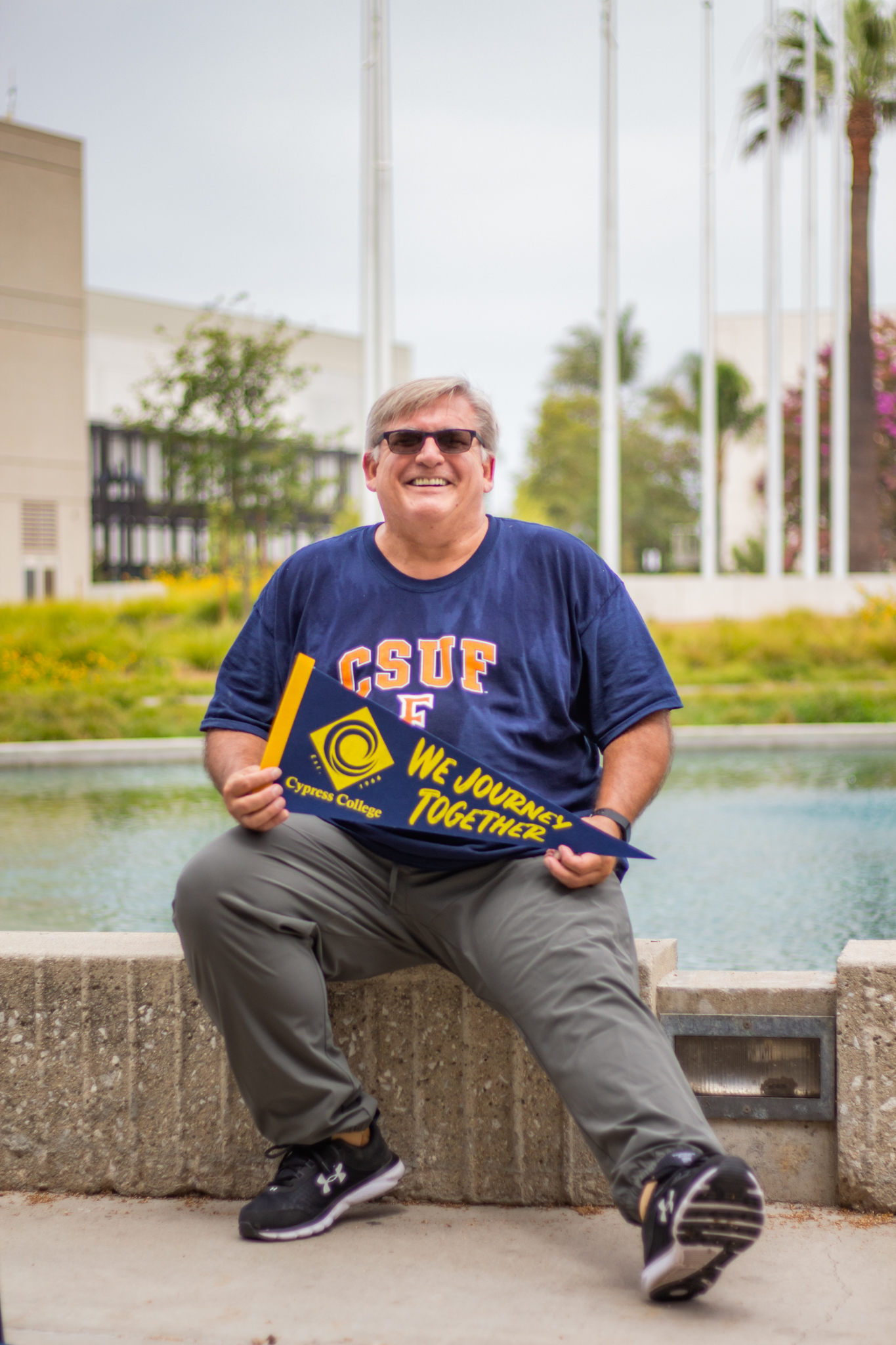 Share a memorable event or experience while you've been a Cypress College student. 
The most memorable (not including my first college degree) would be when I met my best friend at school—a 24-year-old Navy veteran. I sat next to her in an English class, and by the end of that day, I knew we would be friends. We did our first presentation project together, and within a week, the school went on COVID-19 alert; we were now online students overnight. We stayed together throughout and have kept the friendship strong throughout the "Journey" COVID-19 thrust upon us. Our life paths will go different ways, which is OK because I will carry her in my heart and mind for life. College can be a magical time, and the most challenging thing you may have ever tried, but it is worth it all! 
Who are the faculty and staff (in your major, an academic or other support program, etc.) who have helped you get where you are today? 
I could mention professors who have impacted me, but I am trying to keep this brief, so I will leave it to them to know who they are; I keep in touch with them through email. There is one person who I will give credit to by name: Alan Reza, EOPS counselor. He has become my friend and advisor throughout and even after graduating. If you meet one faculty/staff member you can count on, you have accomplished more than most. 
How has Cypress College supported you throughout your time at the college? 
Cypress College allowed me to choose what I wanted to become; if you remember, I state who I am is the most important thing to me, but I also needed to learn what I need to be in my world. My past did not judge me but allowed me to engage in my future each day as you can only live in the present! 
What are your immediate plans after completing your studies at Cypress College (at your transfer institution, in the workforce, etc.)? 
Today, I am a Junior at CSUF majoring in Human Services Generalist for my Baccalaureate.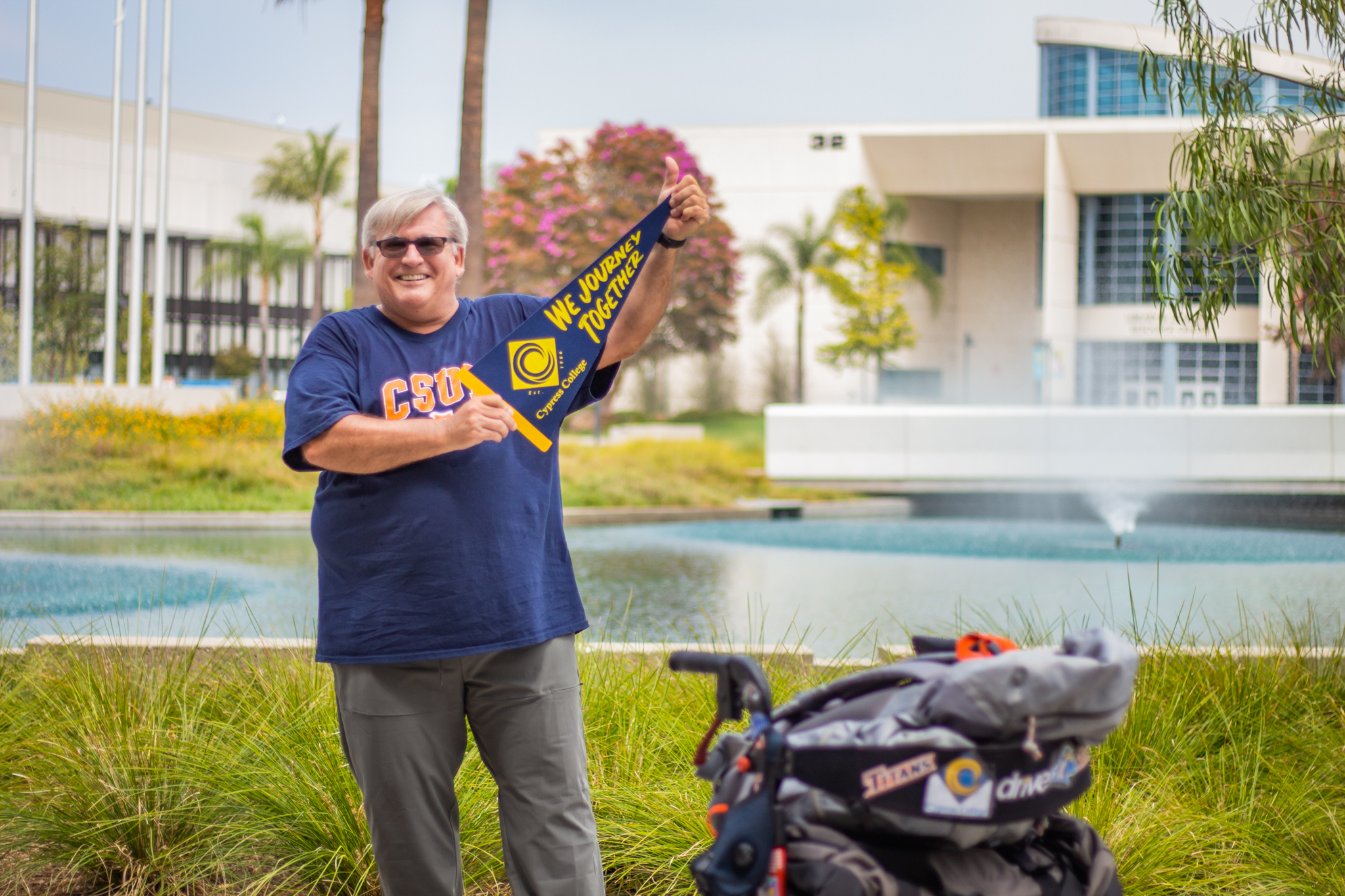 What are your long-term goals? What do you aspire to? 
My long-term goal is to receive my master's in Social Work, MS LCSW from CSULB. I had some bad experiences in the hospitals and institutionalized world of government services and want to make a change as an advocate in Social Work and Human Service in this world. No human being should be treated the way I was when I was homeless and suffering physically and mentally on the streets of the "wealthiest" state in the nation. Upon release from hospitals, I was handed a bus pass and told to go to a homeless shelter at 3 a.m. I'm not trying to be a character in a Shakespearean tragedy; this was how I was treated. It did not matter the color of my skin or gender, I was considered a piece of trash to be pushed aside out of the sight of the hospital social worker who had more important things to do than recognize I was a "Human Being." 
What are you most proud of? 
I am most proud of "myself" and what I have accomplished through this, the first and final stages of my life's adventure. The accolades bestowed upon me by the staff/faculty of Cypress College mean a great deal to me, but what I have been able to do mentoring other students from every background has taught me I am choosing the right path for the rest of my life. I will turn 58 this month, and I have finally found/grown up to be who I should be today. I do belong! 
What one bit of advice would you give to current and future Cypress College students? 
The one piece of advice I can pass along: "Be who you are and who you want to become." If the only reason you are in school is to please your family or community, you do not belong – you exist. 
How have you been impacted by the COVID-19 pandemic? What has gotten you through and/or what have you learned from it? 
COVID-19 has impacted me in many ways but the most significant would be how it taught me to alter the situation at hand and think of your fellow human beings as equals, not to choose sides, but have empathy above all! We all occupy this planet together, so let's stop punishing others who do not think the same as you! 
Is there anyone in particular you'd like to thank? 
I want to thank those who put up with my quirks that make me who I am. I once had a girlfriend who had a nickname for me: she called me "U KNEE Q" because she said I was not just unique, I was Patrick. I wish she could see me now!! 
Is there anything else you'd like to share? 
I only want to thank those who realize each of us is special and stop before you judge because you still have to look in the mirror each day!  
An "I" focused world is inevitably a lonelier O.N.E.! (Author Unknown)