Dr. Schilling Honored by Senator Newman as Citizen of the Month
Cypress College President JoAnna Schilling, Ph.D., was honored by California State Senator Josh Newman as the representative's Citizen of the Month for April.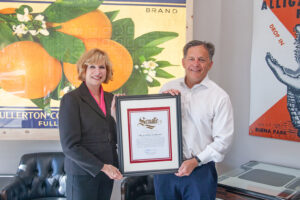 "For the month of April, I was very pleased to have the opportunity to recognize another outstanding community member, Dr. JoAnna Schilling," said Sen. Newman, who represents California's 29 Senate District. "As President of Cypress College, Dr. Schilling has firmly established herself as an exemplary administrator, educator, and role model through her ardent and effective commitment to strengthening and increasing the accessibility of California's community college education system."
Senator Newman's district includes Cypress, along with portions of Los Angeles, Orange, and San Bernardino counties.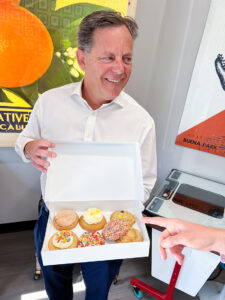 In addition to a certificate of recognition from the California Senate, the honor also came with a box of stuffed cookies.