First In-Person Opening Day in Two Years Celebrates Students, Employees
Faculty and staff gathered in the Campus Theater to celebrate each other, students, and the college during what was the first in-person Opening Day ceremony in 936 days. The ceremony was live-streamed for those who were unable to attend.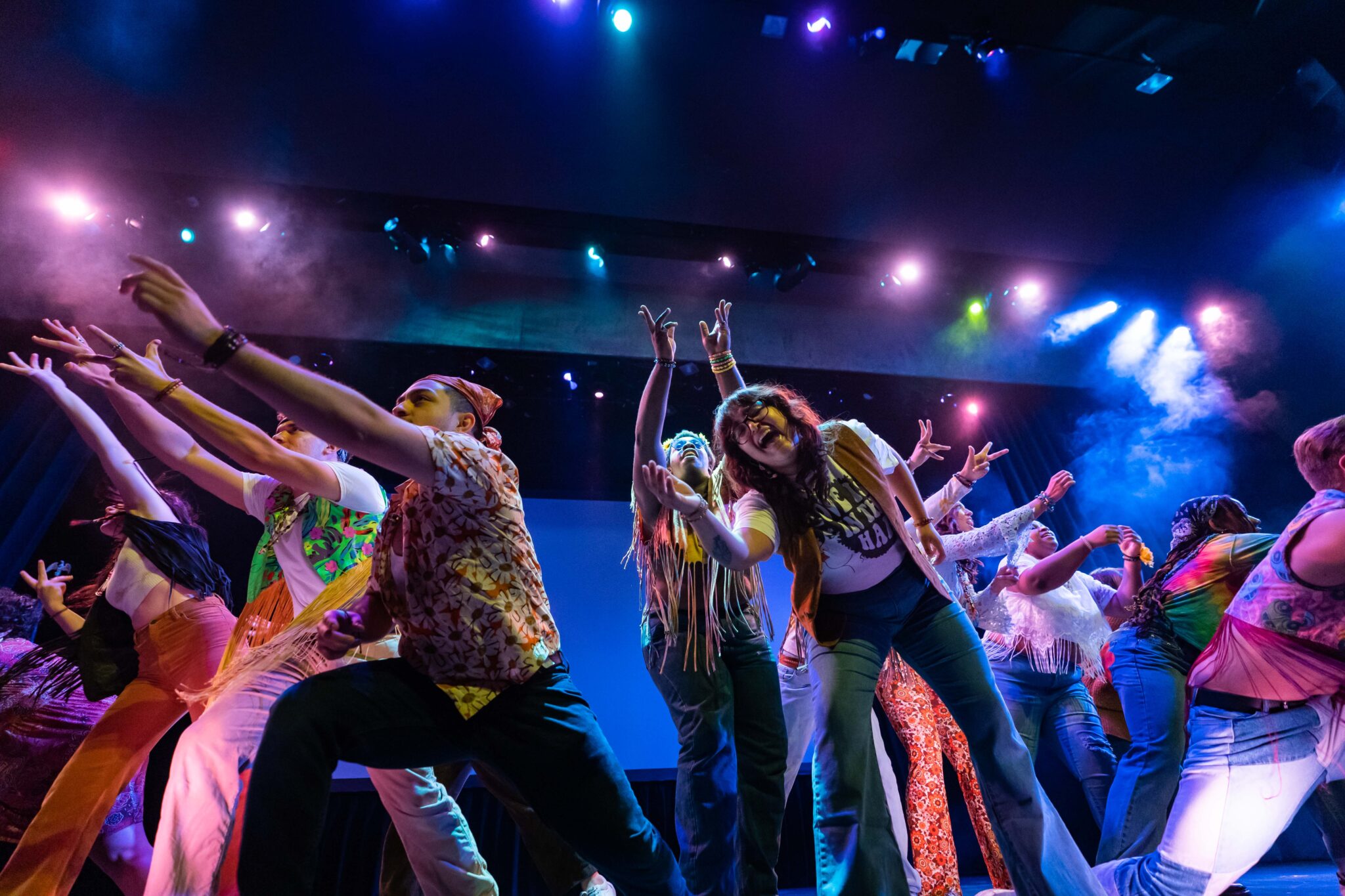 Our theater students opened the ceremony with a rendition of "Age of Aquarius" from the musical "Hair," which was met with resounding applause. Theirs was the first of three performances throughout the event that moved the audience. Meg Alton, A&R technician, closed the performances with an expressive and stirring reading of her poem, "A Call for Unity." Those in attendance gave her a standing ovation.
Steve Auger, DSS alternative media specialist, brought many in the audience to tears during his rendition of "Hello Again," which he sang while a slideshow of quotes about loss appeared on the large screen on the stage. Mortuary Science Professor Jolena Grande introduced this section of the event when she spoke of the pandemic and the process of loss and grief. "Our thoughts cannot help but be clouded by the enormity of loss over the past two years as the pandemic separated us through quarantine and isolation," she said. "Let us embrace our bereavement, express our emotions, and support one another as we traverse the mourning process for all that we have lost these past two years."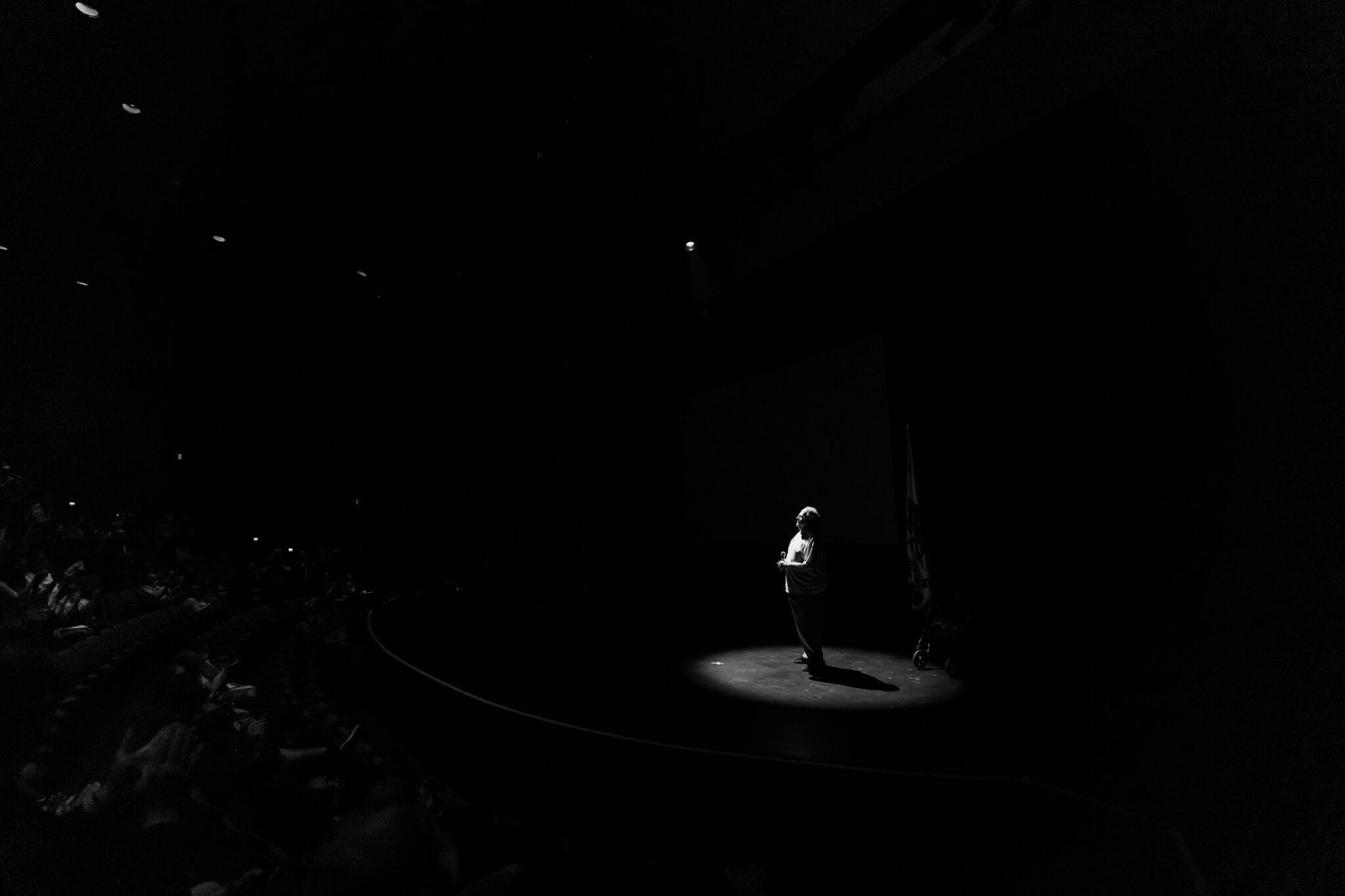 While these past two years have brought loss, they've also brought gains. For the first time in Cypress College history, we now have a Classified Senate, led by Ashley Berry. Berry spoke of the senate's purpose, which is "to advocate for inclusion in the shared-governance process, to encourage each other to partake in professional development and leadership opportunities, and to amplify our voices in the college planning and decision-making processes. Over the past several months, we have dedicated our time to thinking about how to better meet the needs of Cypress College Classified in order to make us more united, boost morale, and continue to develop Classified leaders," she said.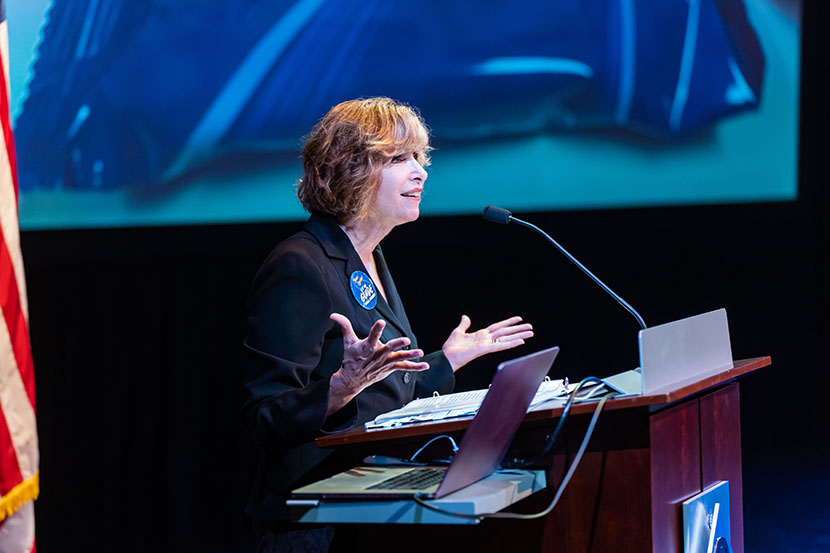 Cypress College President JoAnna Schilling, Ph.D. shared the recognition of our 2022 Presidential Scholars of Distinction, who are selected by faculty in each pathway to represent their disciplines.
Academic Senate President Damon de la Cruz introduced our 2022 Faculty of the Year awards. Mathematics Professor Nicole Ledesma was awarded the Outstanding Full-Time Faculty of the Year award; de la Cruz noted that she "is regarded for both the strength of relationships she builds with her students and the professional environment of her classroom." Francisco Perez, who "started at Cypress College as a Supplemental Instruction leader and has become well-liked and respected by students, faculty, and staff for his knowledge base and genial nature," said de la Cruz, was named the Outstanding Adjunct Faculty of the Year. The Charger of the Year Award went to Sam Gould from Kinesiology/Athletics. He is a founding member of the Cypress Wellness Collaborative here on campus. Gloria Badal was was also recognized for her selection by our students as the campus nominee for Orange County Teacher of the Year.
"We are grateful for the dynamic and innovative work our faculty do," de la Cruz said. "Congratulations to these Outstanding Faculty honorees. Our appreciation for the contributions that each of our faculty make to our students cannot be fully expressed. Thank you for your hard work and dedication."
Dr. Schilling closed out the awards by presenting our annual Diversity, Equity, and Inclusion Award to Ethnic Studies Professor Steven Estrada.
Jessie Chang, Associated Students President for the 2022 to 2023 school year, spoke eloquently as he celebrated the work of faculty and staff, as well as his appreciation of the campus.
"I am very proud to say that to this day my reason for joining the Associated Students continues to be affirmed by the great efforts of the faculty and staff," he said. "Through the efforts of the faculty, I was intellectually and creatively challenged as I gained new perspectives on the world, learned the quantitative elements of reason, and considered what it means to be human. Through the efforts of the staff, my experiences as a student have been stellar and allowed for the necessary academic and personal growth opportunities to be realized."
He spoke of creating events that align with diversity and equity, as well as events that encourage civic engagement. We have no doubt that Jessie will do well in his role in Associated Students.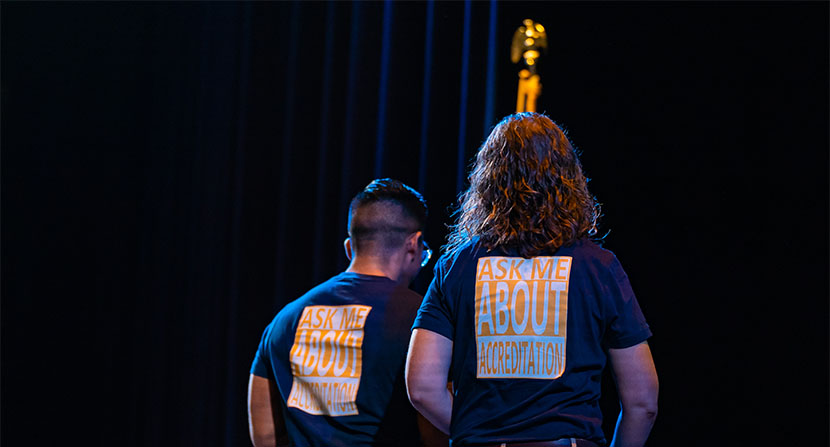 Last spring we held a student symposium to ask our students what they have experienced the past two years, and more than 2,000 students and employees participated in a survey on the future of learning at Cypress College. The results showed that about half of students and employees surveyed would like flexible/hybrid options for learning and work. For more information or questions about the survey results, reach out to Institutional Research & Planning.
Title V Peer Coach Janet Owen Driggs and Title V Data Coach Angela deDios shared the exciting work they are leading in Course Redesign (CoRE). They noted that "students are feeling far less motivated to learn and far less engaged in their education than they did before the pandemic; good relationships with faculty, advisors, and peers exponentially increase a student's sense of well-being and motivation; students are looking for a high touch educational experience, flexibility, a combination of learning modalities, hands-on activities, and good relationships."
When looking at what faculty can do to create a learning environment that addresses these needs, they pointed out that "the Course Redesign provides an equity-minded framework and pragmatic tools that support warm, proactive communication and build strong teacher-to-student and peer-to-peer relationships," while also supporting active learning practices, having tools available across all teaching modalities, and using the nine equity building blocks to identify the characteristics to focus on.
Nora Simoes spoke about another faculty-led initiative, ASCEND. Roughly 20 instructors in our Language Arts division piloted this new evidence-based software and process to enhance student engagement and equity in the classroom. Benefits include faculty receiving insights into how students experience their teaching, while improving student engagement and narrowing equity gaps in student experience. This year, 42 instructors will participate in the initiative.
Jill Bauer, Accreditation Faculty Chair, and Bryan Ventura, Accreditation Liaison Officer, gave an overview of where the college is at in the accreditation process.
Capital Projects Manager Allison Coburn shared completed, active, and featured projects of the college. These include a new LGBTQ+ program center, Fine Arts renovation project, lactation rooms and Mamava pods, electric vehicle charging stations, all-gender restrooms, and affordable student housing.
Dr. Schilling ended the event by sharing a quote she say on a wall during her trip to Jordan in 2018. "As my husband and I entered this small village, we saw on the wall another promise for the future: 'Education is the movement from darkness to light' written in both Arabic and English. Offering hope through education is the work you do. This the work you have embraced. This is the promise you make. So, I am reminding you that what you do is essential. To our students who come here looking for that hope. To finding a way to reconnect with one another. To the future of our democracy and the light we can be… So stop for a moment to remember the importance of what you do. Look around at who is here and remember what you have accomplished with one another."
Celebrate yourself, each other, our students, and Cypress College.