Community Invited to Grand Opening Celebration of Legacy and Puente Centers at Cypress College
Cypress College invites the community to a grand opening and dedication of two new centers on campus that will provide a meeting area and safe gathering space for students in the Puente and Legacy programs.
All are welcome to attend the Legacy Center's and Puente Center's Grand Opening Celebration on September 22 in Humanities 124 and 128. The evening kicks off with a social hour from 4-5 p.m., followed by the Dedication Program from 5-7 p.m. Guests can enjoy refreshments, including Mexican and Soul Food, a mariachi band and drummers, student and parent testimonials and celebrate with fellow supportive students, staff, faculty and community members.
The Puente and Legacy programs are learning communities (groups of students with shared values or goals) providing support and resources for students in their journeys to attend four-year institutions. Led by Legacy Coordinator Regina Rhymes, Cypress' Legacy Program offers a curriculum and interactive activities emphasizing the African-American experience in the United States and is designed for underrepresented student populations in higher academia.
"The spaces are where students study and spend time together, which builds community and nurtures academic success," said Rhymes, who is also a Cypress College sociology professor and department chair. "The spaces offer opportunities to increase exposure to historical and cultural experiences from the African diaspora. Legacy is an expression of and celebration of our students' voices and model for how students can approach homework."
Dr. Therese Mosqueda-Ponce, counselor and co-coordinator of the Puente Program, said Puente's area would function similarly to the Legacy space and offer a place for students, particularly Latina/o/x students, to call their own on Cypress' campus.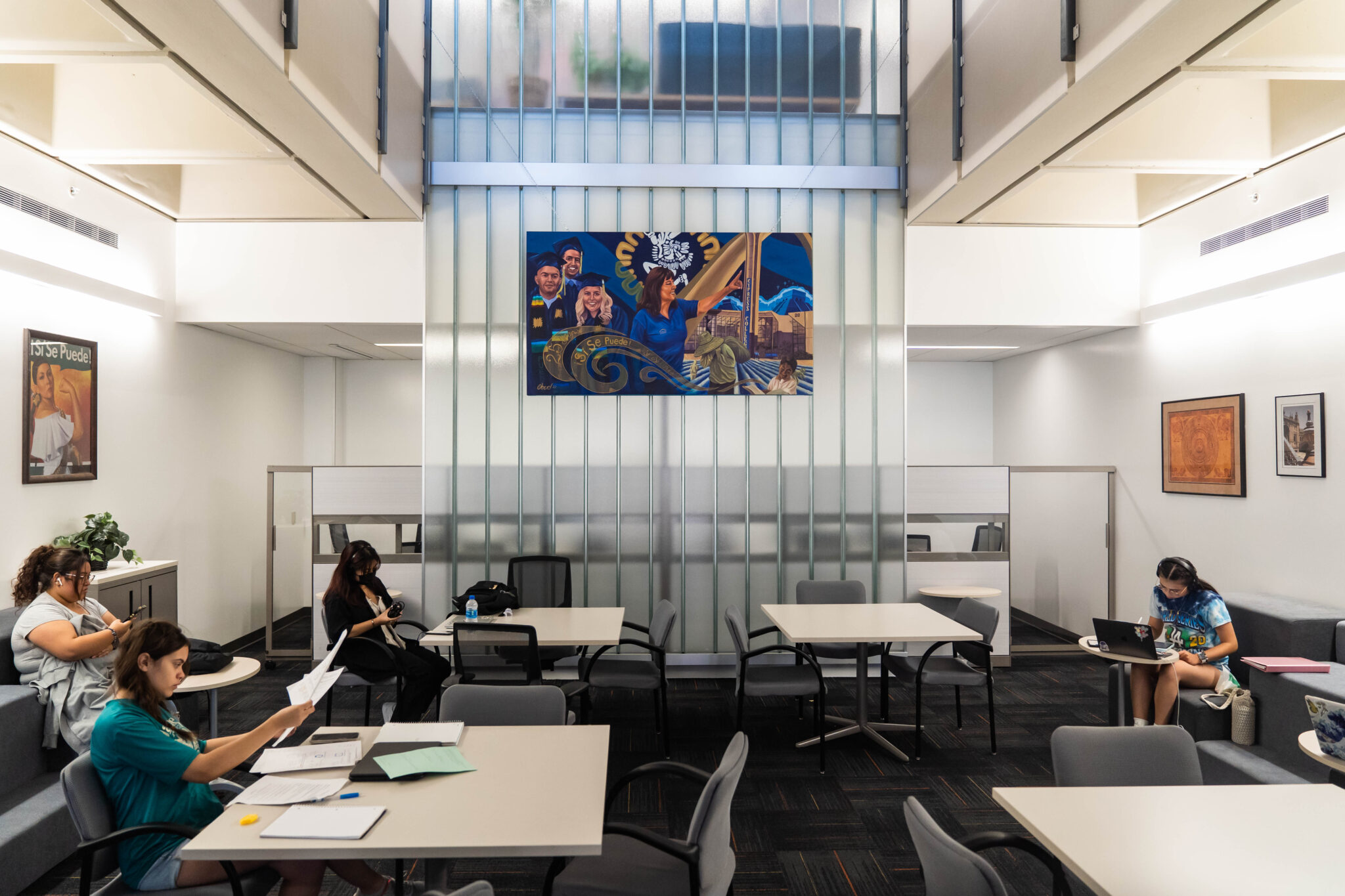 "Our dream for this space is to create a home away from home atmosphere for our Puente students where they can meet to talk, study, play games, and make friends," said Mosqueda-Ponce, who also serves as co-chair of the Latino Faculty and Staff Association of the North Orange County Community College District.
Puente, the Spanish word for "bridge," began in 1981 at Chabot College in Hayward, California and has successfully improved academic achievement for more than 300,000 Mexican-American and Latina/o/x students. The program now has chapters in seven middle schools, 36 high schools, and 65 community colleges across California, including Cypress' program, which kicked off in 1996.
As a college student, Mosqueda-Ponce had access to a space for Latina/o/x students when she attended California State University Fullerton. She said it was much more than a place to kick back and relax. That area was welcoming for Latina/o/x students like her and gave her "a room on campus that I always knew I could go to when I had a break in between classes and didn't have a place to go."
"This was a safe place where I knew I belonged and could find other students just to talk with or study with," she said. "We had tables, chairs, a refrigerator, and a telephone where we could only make calls on campus, but it was my home away from home, which made finishing my Bachelor of Science degree in four years much easier. And now we have a space for our students to feel that sense of belonging on the Cypress College campus."
Formerly The Black Studies Learning Community, the Legacy Program was the first community college initiative in Orange County to concentrate on Black Studies when it was established in 2000. The group aims to help students create close bonds with their peers and instructors and provide an environment conducive to safe, fun, and rewarding learning experiences. As of 2014, the Legacy Program joined Umoja (a Kiswahili word meaning "unity"), a statewide community of educators and learners committed to the academic success, personal growth, and self-actualization of African Americans and other students.
Mosqueda-Ponce said she, Rhymes, and others have worked for years to create spaces like these. Thanks to current support on campus from all levels, including current Cypress College President Dr. JoAnna Schilling, they are finally a reality.
The Grand Opening and Dedication Ceremony of the Cypress College Puente and Legacy Centers is September 22 from 4-7 p.m. The event can also be viewed via livestream.