Cypress College recognized as 2022 Equity Champion of Higher Education for Latinx Students
For Immediate Release
October 31, 2022
Contact: Marc Posner
(714) 484-7006
(Cypress, Calif.) – For the second year in a row, Cypress College has been named a 2022 Equity Champion of Higher Education for Latinx Students for its successful work supporting Latinx students through the successful attainment of an Associate Degree for Transfer (ADT).
Conferred by The Campaign for College Opportunity, the award recognizes California higher education institutions that lead the state in awarding a high percentage of ADTs to its Latinx students. Cypress and other honorees will be recognized at the 2022 Champions of Higher Education for Excellence in Transfer celebration on November 1, 2022, at 10 a.m. on Zoom.
"At Cypress College, 49% of our students identify as Hispanic or Latinx and we have worked with a laser focus to find ways to ensure our students feel welcomed, included, and supported," said Cypress College President Dr. JoAnna Schilling."
Cypress is one of 14 community colleges and eight California State Universities recognized as 2022 Equity Champions of Higher Education for Latinx Students that saw at least 65 percent of their Latinx associate degree-seeking students successfully earn an ADT. The Campaign for College Opportunity also named eight other community colleges and California State Universities as Equity Champions in Higher Education for Excellence in Transfer and Equity Champions of Higher Education for Black Students.
"We celebrate the 30 California Community Colleges and California State Universities that are truly transforming transfer for students," said Jessie Ryan, executive vice president of the Campaign for College Opportunity and former community college transfer student. "The ADT gives students struggling with a complicated transfer maze a clear path to success, and we commend each campus for their dedication to making this the preferred pathway for students across the state."
Cypress College joins the other 2022 Equity Champions of Higher Education for Latinx Students for working with intentionality to support Latinx student success in attaining ADTs.
Berkeley City College
Bakersfield College
Citrus College
Clovis Community College
College of the Desert
Cypress College
East Los Angeles College
Evergreen Valley College
Foothill College
Hartnell College
Glendale Community College
Long Beach City College
Madera College
West Valley College
California State University, East Bay
California State University, Fresno
California State University, Fullerton
California State University, Long Beach
California State University, Los Angeles
California State University, San Bernardino
Sonoma State University
California State University, Stanislaus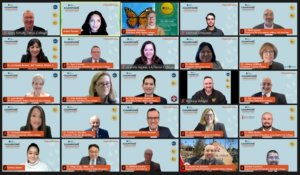 Though transfer is often thought of as a two-year process, under three percent of students in California Community Colleges transfer after two years, and only 23 percent after four years.
In 2010, with then-California State Senator Alex Padilla, the Campaign for College Opportunity sponsored historic transfer reform legislation that created a clear pathway for students to earn an associate degree with guaranteed admission and junior standing into the California State University (CSU) system. The ADT has ensured students can transfer without accumulating excess units, saving them time and money.
To date, California Community Colleges have awarded over 426,000 ADTs. Transfer students with an ADT who enroll in the CSU on a guaranteed pathway are more likely to graduate and accumulate fewer units, earning their bachelor's degree in less time compared to other students.
Get specifics on award categories and how the honorees were selected.
###
About Campaign for College Opportunity:
The Campaign for College Opportunity is a California non-profit bipartisan policy and research organization focused on a single mission: to ensure all Californians have an equal opportunity to attend and succeed in college in order to build a vibrant workforce, economy and democracy. For more information, visit www.CollegeCampaign.org, Facebook.com/CollegeCampaign, or follow @CollegeOpp.
About Cypress College:
Cypress College offers students a pathway to their future in an environment in which employees commit to joining students on their educational journey. The college's half-million-plus alumni include actors, athletes, doctors, executives, mechanics, nurses, and teachers. For some, Cypress College is the ticket into their university of choice, and for others, it provides essential training for a prosperous career. Just one Cypress College class is often all it takes to provide cutting- edge skills that lead to a promotion or a new job.
Cypress College's 16,000 students and the highly qualified teaching faculty are proud of the many excellent academic and vocational programs. Cypress College provides a pathway for each of our students, offering 56 university-transfer majors, 174 career-certificate programs, and degrees in 98 areas of study. The college's traditional semesters begin in January and August, while short-term courses start throughout the year. A Cypress College education costs $46 per unit — $138 for a typical, full-credit class — California's lowest tuition. Eligible first-time students qualify for free tuition through Cypress College's Charger Experience promise program. Financial aid and scholarships are also available to qualifying students.
Cypress College is one of three campuses in the North Orange County Community College District and a member of the 116-campus California Community College system. The college primarily serves the cities of Anaheim, Buena Park, Cypress, Garden Grove, La Palma, Los Alamitos, Seal Beach, and Stanton.
Located at 9200 Valley View Street in Cypress, the college is easily accessible from several Southern California freeways, including the 5, 91, 605, 22, and 405. The campus is just a stone's-throw from Downtown Disney and Knott's Berry Farm.
In response to the global COVID-19 pandemic, Cypress College's instruction and services are now offered both in person on campus and in an online/remote format. Students can access support services online at cypresscollege.edu/coronavirus.
—30—