Spring 2023 Opening Day Focuses on Change
Opening Day speeches highlighted college achievements of the past and what will come next in the months and years to come.
Cypress College's spring 2023 Opening Day event on January 20 welcomed faculty and staff to the new semester with student performances, campus project updates, enrollment information, and one farewell. The ceremony was President JoAnna Schilling's last, and her moving speech shared several of the resources and achievements Cypress College has accrued under her six-year leadership, and what she will take away when she leaves.
"As I look back at my six years at Cypress College, the thing I keep coming back to is not all of the many accomplishments we've achieved together, of which there are many, but the relationships that I've formed with so many of you, the students I've come to know, and mostly, the many acts of kindness demonstrated by so many of you."
Dance Department students opened the event with an energetic performance titled "Goes Beyond the Frame." It was the first of two student contributions to the day. The second came later when Keira Hernandez reprised her dance concert contribution, a tap performance to the song "Change" by Sam Cooke.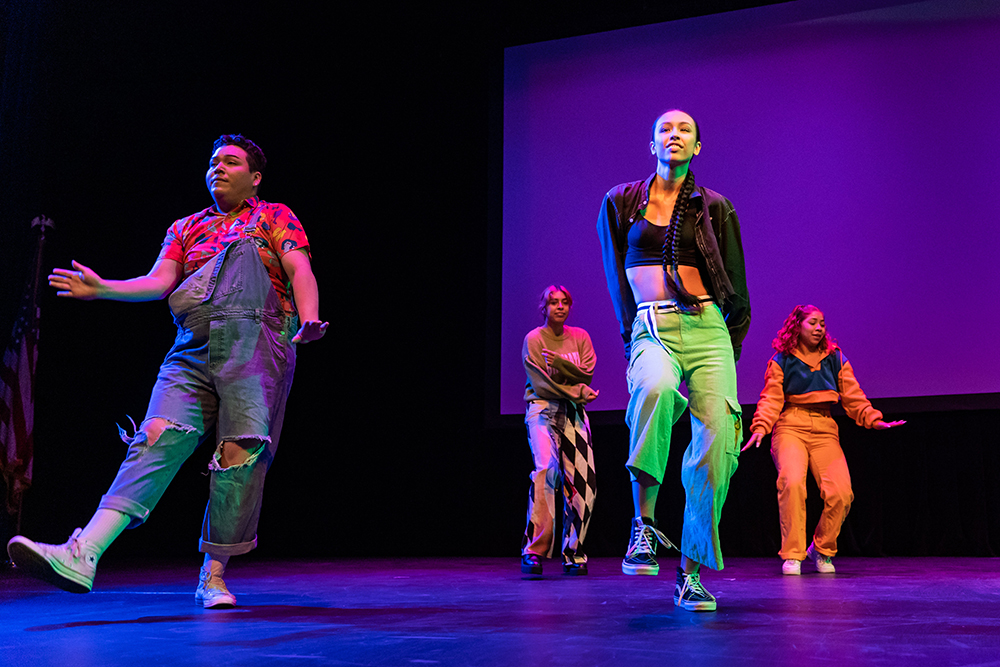 Once the Dance Department concluded, Board of Trustees President Ed Lopez spoke to the audience about staying engaged during the semester ahead. NOCCCD Chancellor Dr. Byron Clift Breland, in his first Opening Day address since being hired, took the podium next and welcomed faculty and staff back to campus for the semester ahead.
Accreditation, enrollment, and proposed student housing plan updates came next, along with a discussion of how colleagues can support students through the Cypress College Foundation. Alum Tara Stadel, who has gone on to study at CSU Fullerton, spoke about how employee-sponsored scholarships directly helped her as a struggling formerly incarcerated student. Her story received a standing ovation.
Classified Senate President Ashley Berry followed to announce this semester's classified staff honors. They went to Ayman Gadalla, Student Engagement Award winner; Tori Felipe, Collaboration with Colleagues Award winner; and the entire Academic Computing team for the Service to Campus Community Award.
After distributing the awards, Ashley spoke of Dr. Schilling's support for classified staff during the president's time. Ashley described Dr. Schilling as classified's "No. 1 fan," then presented the president with a bouquet of roses.
Keynote Speaker Dr. Robert Teranishi, professor of Social Science and Comparative Education, the Morgan and Helen Chu Endowed Chair in Asian American Studies, and co-director for the Institute for Immigration, Globalization and Education at UCLA, followed. His talk focused on engaging students of diverse ethnic and racial backgrounds, and breaking AAPI myths and stereotypes.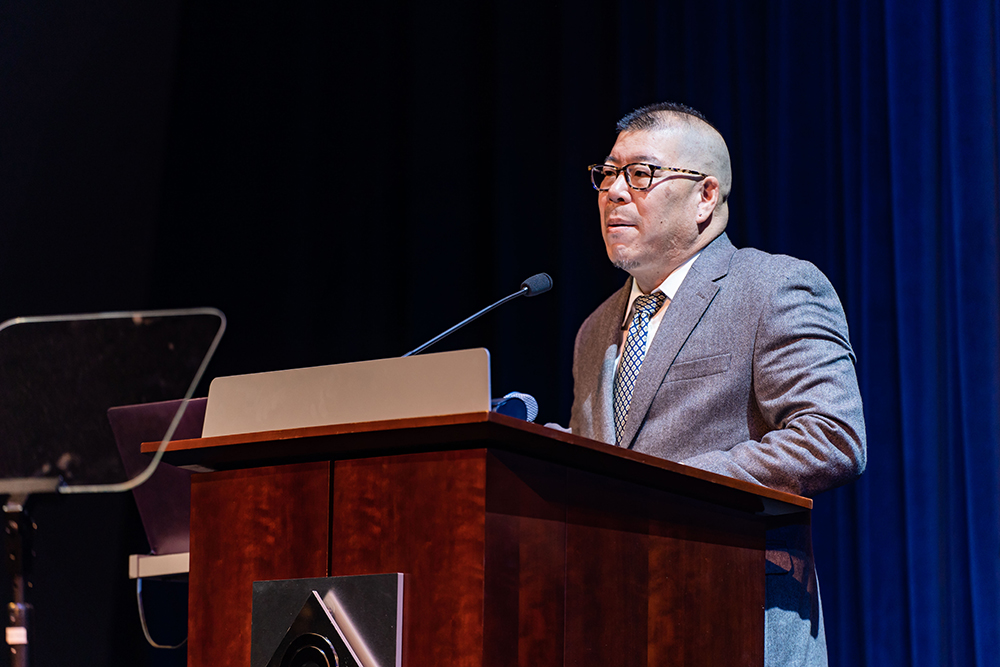 Finally, Dr. Schilling addressed the audience with a look back at her time at the helm of the college, but without crediting herself for the progress made. She listed many ways faculty and staff have focused on students over that time – such as by providing the first food pantry; prioritizing housing, mental health, and students' basic needs; and grounding work in more equitable practices. She also touched on our new construction, of the SEM building and Veteran's Center, and designated spaces – LGBTQ student center, Puente and Legacy student center – and programs to support our formerly incarcerated students, the Charger Experience, Commit2Cypress, mental health counseling, a vital Dual Enrollment program, a Distance Education program.
Additionally, she continued, faculty and staff resources have grown with a DEI Framework, Guided Pathways work grounded in Equity, updated hiring practices, committee work, program reviews, moving Equity to the center of the campus' core values, and establishing a Sustainability Committee, a Classified Senate, and Caring Campus. She credited faculty and staff with this work.
"You made this happen," Dr. Schilling said. "We made this happen."
A new president will be at the next Opening Day ceremony, but Dr. Schilling has left us with a memorable tenure with a student-focused environment in which the entire college can take pride.