Vision 2030 Focus at Opening Day 2023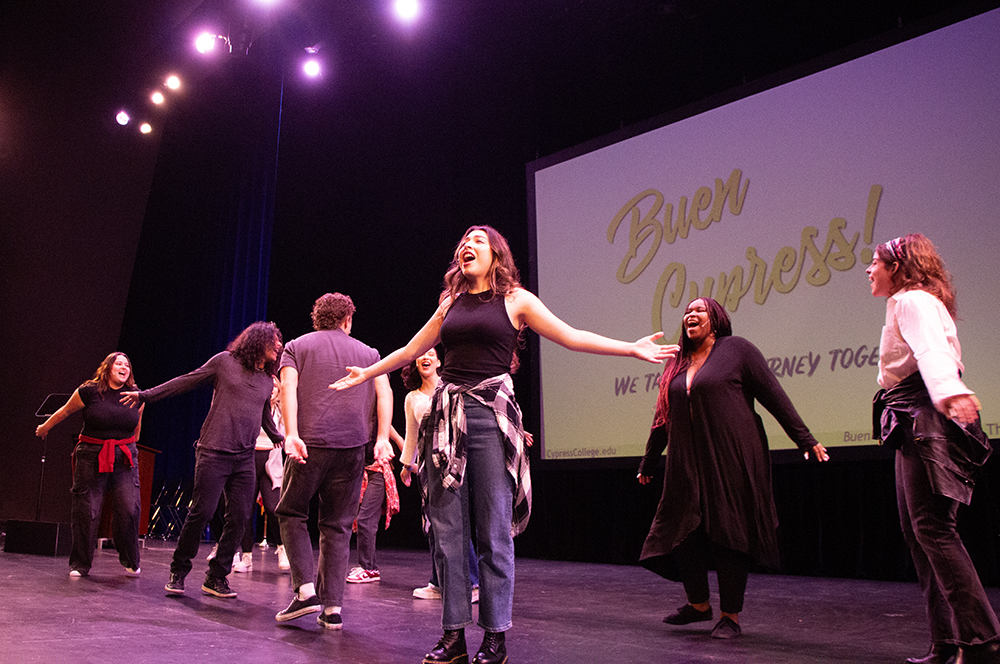 Fall 2023 Opening Day focused on campus updates that align with Vision 2030, "a framework for bold and thoughtful action…to support our students, our communities and our planet." Theatre students opened the event with a rendition of "Seasons of Love" from RENT.
Student speaker Rodney Panopio expanded on the support he received at Cypress College by sharing the story of his educational journey here and the impact our work in the framework has had on him, while Associated Students President Arjun Ayyappan articulated how the Vision 2030 framework is perceived. "Cypress College is more than just a school; Cypress College is a place where all its students — regardless of race, culture, and background — can come together as a collective and call it their home. We're a community that thrives on collaboration alongside the pursuit of knowledge, we're a community devoted to equity and inclusiveness, and we're a community that unconditionally supports the dreams of everyone on this campus."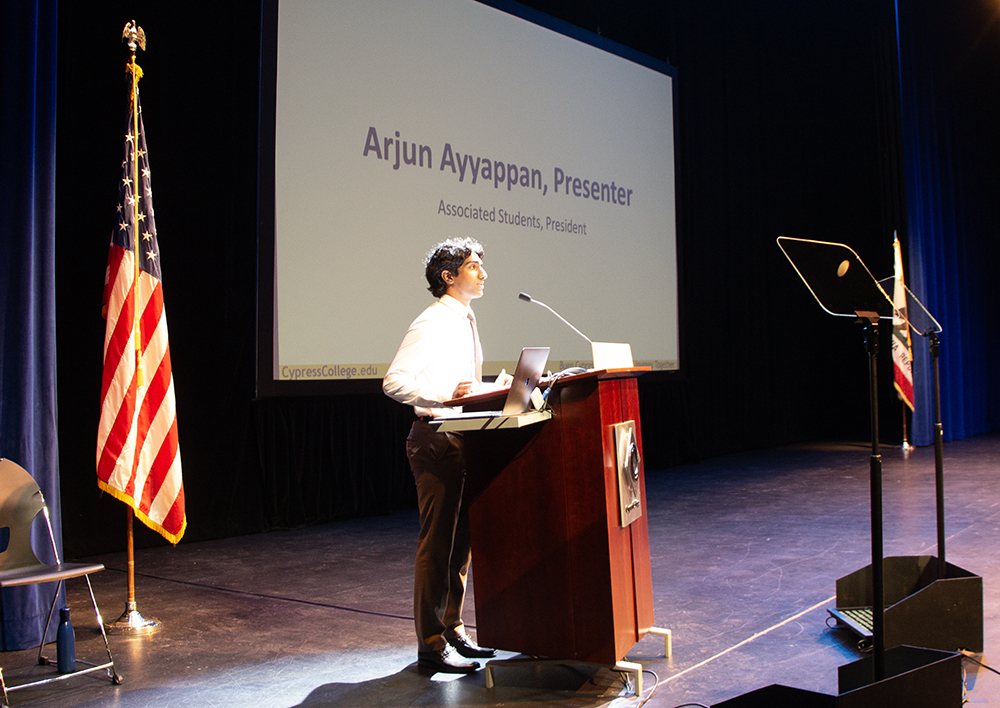 The dreams of everyone on campus are not only supported by Associated Students; they are also supported by Classified Senate and Academic Senate. Classified Senate President Christy Montenegro and Academic Senate President Kathleen McAlister spoke of the integral roles their constituencies have on campus. The work by employees in these roles has led to various awards, including:
Outstanding Full-Time Faculty of the Year — Virgil Adams, Human Services
Outstanding Part-Time Faculty of the Year — Julie Hollinghurst, Diagnostic Medical Sonography
Outstanding Charger of the Year — Angela DeDios, Psychology
Orange County Teacher of the Year — Sarah DeMartino, Mathematics
Diversity, Equity, and Inclusion Award — Anne-Marie Beck
District North Star Award — Ashley Berry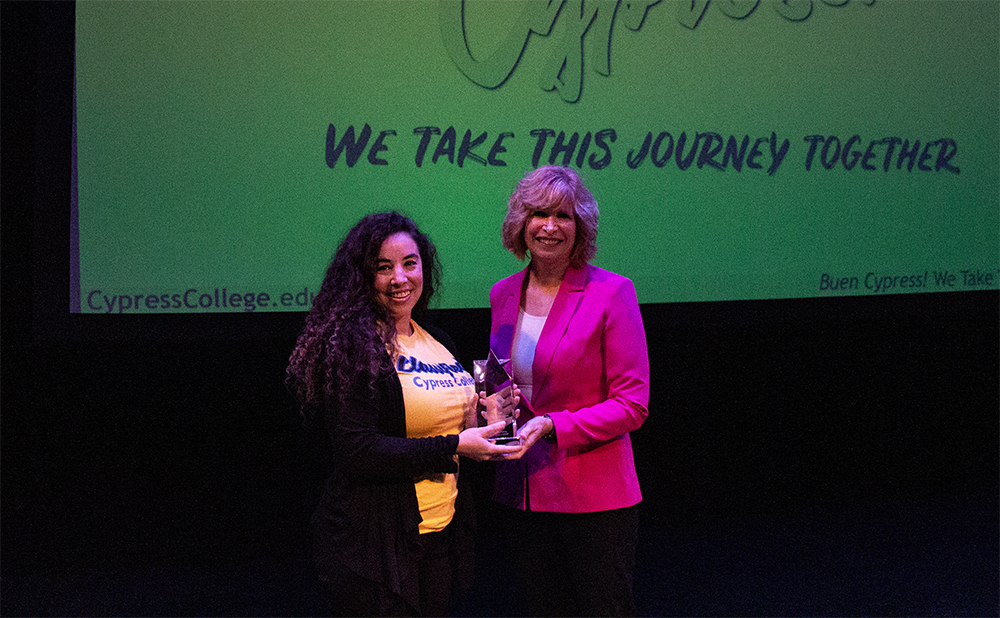 Without faculty and staff, the Vision 2030 framework could not be implemented on campus. These implementations include legislative initiatives such as AB 705 and AB 1705, statewide initiatives such as OER/ZTC, CVC, and Guided Pathways, and Title 5 amendments such as Expanded Credit for Prior Learning and IDEAA.
President JoAnna Schilling shared the highlights of Vision 2030 and reminded attendees that Cypress College "is uniquely positioned to participate in this vision because of the work we already do." Dr. Schilling noted that Vision 2030 calls out dual enrollment; opens doors to justice-involved youth and adults, veterans, and returning adult learners; strengthens STEM education, workforce development, health care, and more. "In each of these programs, Cypress College is well-situated to capitalize on the support our state will be providing."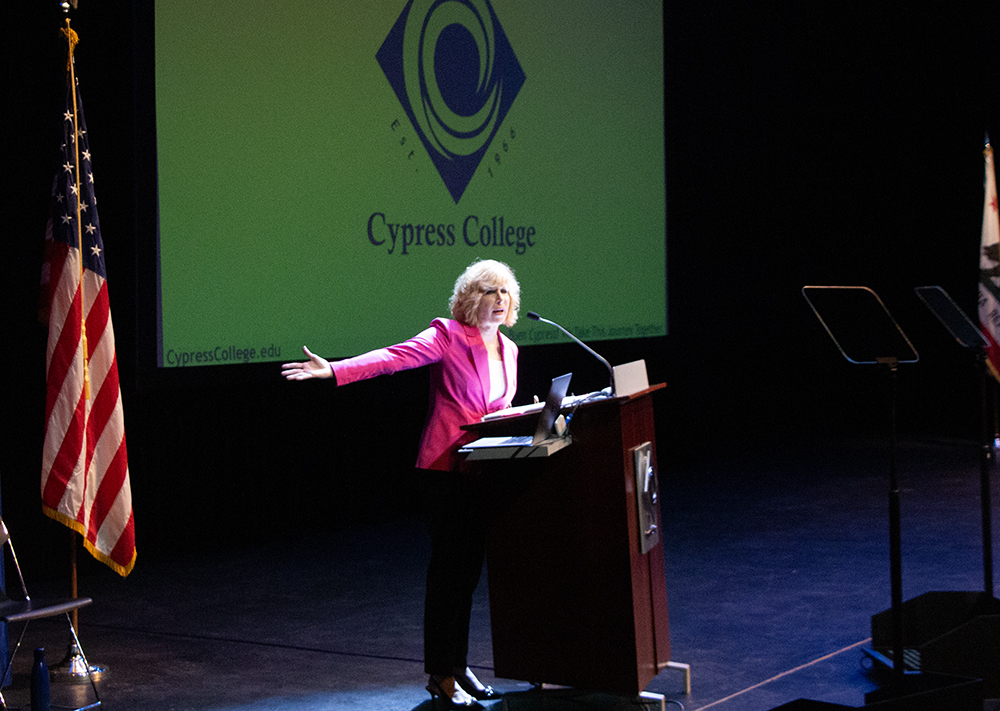 CCC Chancellor Dr. Sonya Christian will be visiting District on November 3 to share her new Vision 2030: Access to Equitable Baccalaureate Attainment. Save the date!
Other Vision 2030-focused accomplishments include:
A feature on "The College Tour" (an Amazon Prime series) that will premiere in late October, and
the ISER, which consists of 200+ pages and over 1,000 pieces of evidence, led by "the Dynamic Duo of Accreditation," Jill Bauer and Bryan Ventura.
The Opening Day preshow highlighted numerous other accomplishments.
Vice President of Instruction Dr. Kathleen Reiland led a faculty panel that provided additional highlights and goals. These included:
Dual Enrollment — Stephanie Teer
California Virtual College (CVC) — Treisa Cassens and Samantha Simmons
Generative AI and ChatGPT — Jeannie Mitsch
Equitable Placement — Kathleen Reiland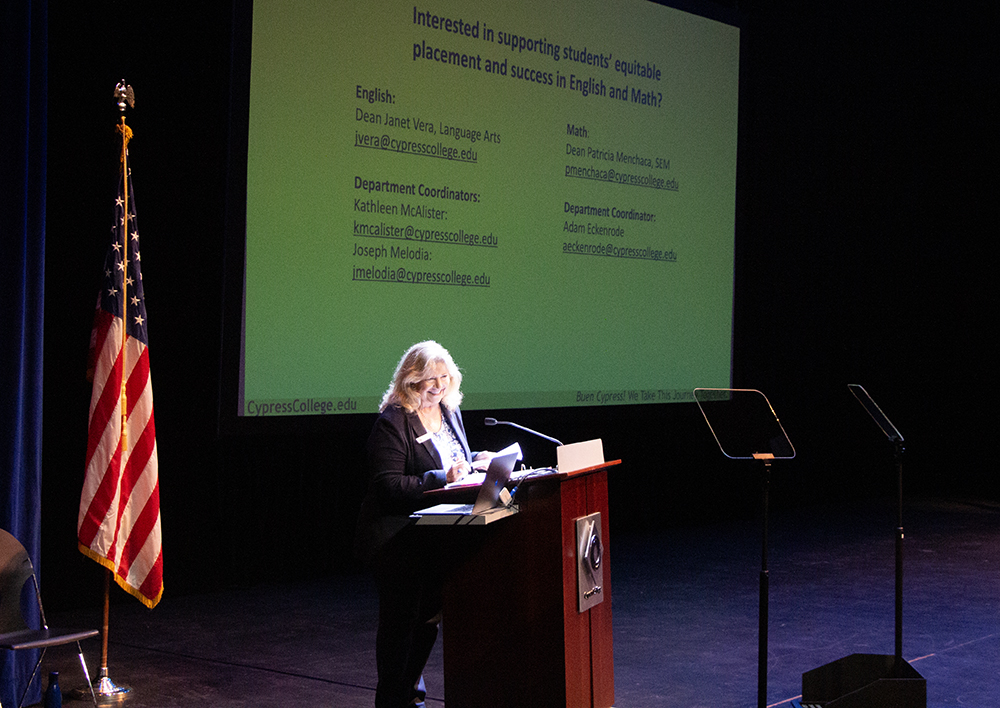 Board of Trustees Vice President Evangelina Rosales and NOCCCD Chancellor Dr. Byron D. Clift Breland both gave speeches welcoming Cypress College employees into the academic year, likening it to a "fresh start."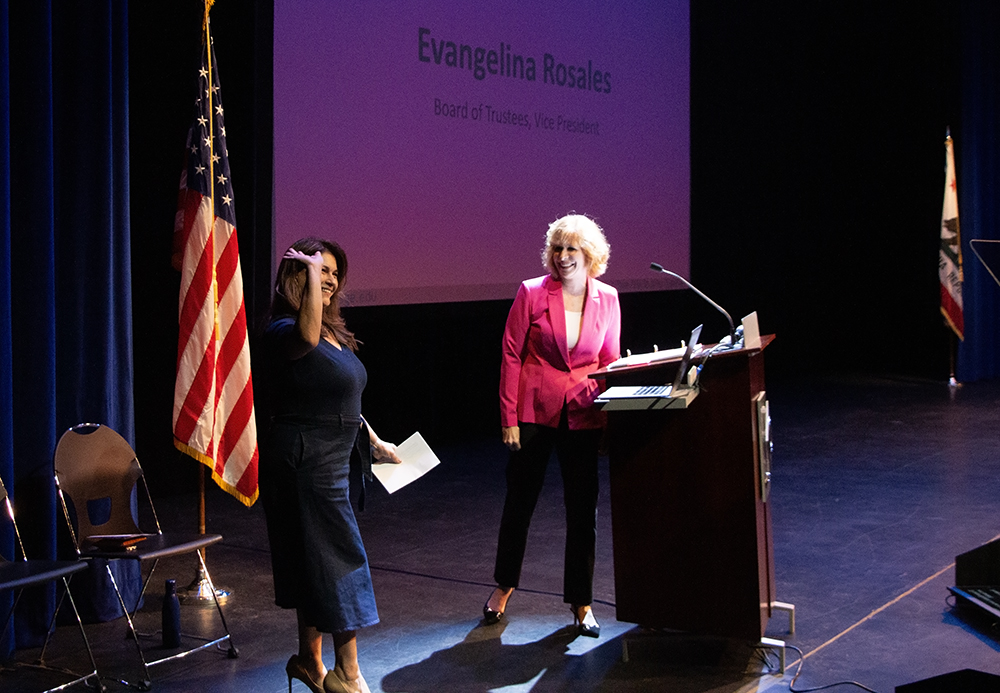 For 42 employees, the fresh start isn't merely metaphorical. This years marks their first at Cypress College, either as a new employee or as a newly promoted employee.
Welcome to the 2023-2024 academic year. We take this Vision 2030 journey together.